August 01, 2011 -
Barry Dorey
Seattle set to swoop in on Zach Miller?
Mention the name Tarvaris Jackson and I'm sure you'll be within arms length of at least three people who think the former Viking can't hack it as a starting quarterback in the NFL.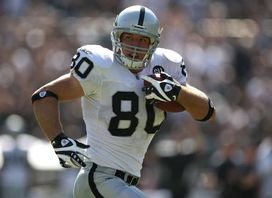 The Raiders need to get back in the hunt for Miller.
The Seattle Seahawks would disagree, and are doing everything in their power to make sure Jackson has the supporting cast he needs to succeed.
After landing wide receiver Sidney Rice last week, the Seahawks are currently in the hunt for free agent tight end Zach Miller. According to our old friend Aaron Wilson of Scout.com, the 25-year-old Miller is in Seattle Monday meeting with team officials.
This is bad news for the Oakland Raiders.
Miller has led the Silver & Black offense in receptions in each of the past three years and has been a key target amongst a group of young and unproven wide receivers.
If the Raiders have any intention of improving on last season's 8-8 record, they'll have to get back into the hunt for Miller's services ASAP.
Hit me up on Twitter: @JoeFortenbaugh