March 13, 2013 -
Joe Fortenbaugh
Seattle strikes again
Well, it's official. I need two tickets to next season's showdown between the San Francisco 49ers and Seattle Seahawks at CenturyLink Field. I don't care about the date, the location of the seats or the cost (a statement my accountant is sure to cringe at reading).
Less than two days after setting the NFL abuzz with their blockbuster trade for wide receiver Percy Harvin, the Seattle Seahawks picked up the phone and closed the deal with another marquee playmaker. Per John Clayton of ESPN, the Seahawks have reached an agreement on a two-year, $15 million contract with free agent defensive end Cliff Avril.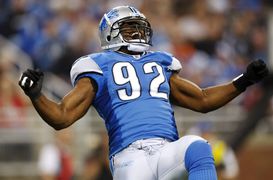 The addition of Avril makes two big moves for the Seahawks over the last three days.
For those scoring at home, that's now one big jolt of electricity for the offense, followed by one Joe Frazier left hook for the defense.
The addition of Avril fills a void on the Seattle defense left by 31-year-old Chris Clemons, who tore the ACL in his left knee during the Seahawks' 24-14 playoff win at Washington. In actuality, the addition of Avril could prove to be an upgrade over Clemons. Despite the 33.5 sacks that Clemons has recorded during his three seasons in Seattle, Avril is five years younger and boasts a resume that includes 29 sacks over the same period of time.
As for the deal, the Seahawks initially look to be coming away from this transaction in good shape. Rather than pay an aging veteran like Dwight Freeney or John Abraham less money to take over Clemons' spot, Seattle managed to spend just $7.5 million per year on arguably the best pass rusher to enter the free agent market this season.
From Avril's perspective, this probably wasn't the type of contract he expected to sign prior to becoming a free agent, but he gets to play on a legitimate Super Bowl contender in Seattle and will be able to hit the market again in two years, when he's only 28-years-old.
Take your $15 million now, say thank you, play hard and cash in again in 24 months.
Everybody's happy.
Your move, San Francisco.
Hit me up on Twitter: @JoeFortenbaugh