March 14, 2013 -
Joe Fortenbaugh
Seattle-Green Bay botch job cost Floyd Mayweather $900,000
In 51 days, Floyd Mayweather Jr. will step into the ring at the MGM Grand Garden Arena in Las Vegas to fight Robert Guerrero in his first bout since scoring a unanimous decision over Miguel Cotto on May 5, 2012.
With humility and reticence forever taking a backseat to swagger and bravado in the Book of Floyd, we can expect to be hearing quite a bit from the pound-for-pound king over the next few weeks.
Which began with Wednesday night's appearance on "Jim Rome on Showtime," where Mayweather took a pause for the cause from promoting his fight to discuss his other favorite national pastime—betting on the NFL.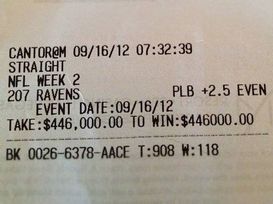 A betting slip posted by Mayweather, after he won $446,000 wagering on the Ravens (+2.5) over the Philadelphia Eagles in Week 2.
Known primarily on twitter for posting pictures of his victorious betting slips, Mayweather told Rome that the most he's lost on a single wager was somewhere in the neighborhood of a million dollars. The most he's ever won? That checks in around $1.1 or $1.2 million, according to Pretty Boy.
But here's where the interview gets interesting. When the replacement officials botched the game-ending offensive pass interference/interception/touchdown call in the Week 2 Monday night thriller in Seattle, the Green Bay Packers weren't the only ones feeling like they had just been gutted.
Mayweather was on the wrong end of that result as well.
"That was $900,000," Mayweather told Rome regarding how much he had put down on the Packers that evening. "I was upset, but it comes with the territory."
Just a drop in the bucket for a guy expected to clear north of $30 million when he improves his record to 44-0 on May 4 against Guerrero.
Hit me up on Twitter: @JoeFortenbaugh