October 15, 2012 -
Joe Fortenbaugh
Sending a message
The New York Giants aren't the type of football team that will win 14 or 15 games during the regular season. That's not how they're built. Year after year, the G-Men find ways to take tasty home matchups against inferior opponents and squander them with lackluster efforts. It happened last year against the Seahawks and Vince Young-led Eagles, and it happened back it Week 1 of this season against the Dallas Cowboys.
But make no mistake about it, because the goal in New York is simple: Get back to the postseason. That's it. This is a team that has demonstrated twice over the last five years that they don't give a damn about playing playoff football on the road against heavily favored opposition. The Giants know the only thing that matters is qualifying for play past Week 17. Once that happens, it's on like Donkey Kong.
And for those of you who may have been sleeping on the defending champs, look no further than Sunday's box score for proof of what this team is all about.
With every reason known to man to put forth their best effort of the season, the San Francisco 49ers got punched in the mouth and sent home crying to mama by a Giants football team that was out to send a message: Despite all the San Francisco hype, the NFC still belongs to the Blue.
The 49ers are out for revenge! Alex Smith is no longer a game manager, he's the real deal! Our defense is the best in the league!
Not so fast.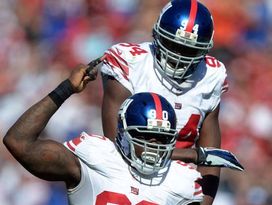 The Big Blue defense was ferocious on Sunday, forcing three turnovers and racking up six sacks.
New York's 26-3 beat down of the Niners was impressive because the Giants took San Francisco's style of football and crammed it down their throats for sixty minutes. Hard-hitting, punishing defense? Big Blue held the 49ers to just 314 total yards and a season-low three points. Run the ball and control the clock? New York rushed for 149 yards (to San Francisco's 80) and held the rock for 32:15. Smart, competent quarterback play? Eli Manning threw for 193 yards and a score, with no turnovers, while Alex Smith threw three picks and posted a QB rating of 43.1.
The Giants didn't beat the 49ers at their own game, they beat them using the game New York perfected and that San Francisco has been imitating. In essence, the Giants blasted the 49ers playing Giants football.
Yes, it's only one game and yes, there are still 11 weeks left in the regular season. But for a 49ers team that was hell-bent on a trip to New Orleans for the Super Bowl, you can't help but think that the Giants just pulled off an Inception-style caper that planted a thought deep within the Niners subconscious.
To win the NFC, we have to beat the Giants.
And to do that, San Francisco will need quarterback Alex Smith to elevate his game.
It's no secret that Smith has gone through a resurrection of sorts under head coach Jim Harbaugh. He's completing 67.7% of his passes this year and posted a career-high QB rating of 90.7 last season. But in three games against the Giants over the last two seasons, Smith has thrown just three touchdown passes with four interceptions and has a QB rating of 73.7.
Playoff games don't take place against teams like Tampa Bay and Jacksonville. They come against organizations like the Giants and Ravens. And to win those matchups, you have to get quality play out of the quarterback position. Smith did a great job when his number was called in last season's divisional round matchup against the Saints, but he flopped in the conference title game against New York, completing only 46.2% of his passes.
This will be the key to how far the 49ers advance in 2012. Not the coaching, not the defense and not home field advantage. It all comes down to quarterback Alex Smith and his ability to execute and deliver when his team is playing from behind and needs to put points on the board.
But until that happens, the NFC belongs to the New York Giants.
Hit me up on Twitter: @JoeFortenbaugh