July 27, 2011 -
Barry Dorey
Serious interest: Will the Jets close on Asomugha?
According to BetOnline.com, the Jets are currently listed at 14-1 to win the Super Bowl this season.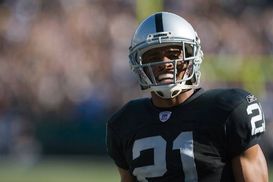 Asomugha and Revis? Good luck beating that duo.
Expect that number to plummet if the team can acquire shutdown cornerback Nnamdi Asomugha to play opposite shutdown cornerback Darrelle Revis.
According to a recent tweet from our old colleague and good friend Michael Lombardi, New York's interest in signing the 30-yeard-old cornerback is serious.
Per Lombardi, "I keep hearing from well placed relible NFL sources that this Jet talk and Nmandi Asomugha is serious and I mean serious."
Meanwhile, the Houston Texans are still in the Asomugha market due in large part to their willingness to pay out the wazoo. But we've been hearing their name less and less as of late which could indicate the Jets are now the frontrunners to get a deal done.
Someone better call Tom Brady. That guy is going to need another receiver.
Are the Jets the Super Bowl favorite if they sign Asomugha? Discuss it here in the NFP Forums!
Hit me up on Twitter: @JoeFortenbaugh