August 09, 2012 -
Joe Fortenbaugh
Shock and awe
In the winter of 1985 there was a wide receiver from a relatively obscure southern college who was about to embark on a journey to the National Football League.
This particular wide receiver had enjoyed a prolific collegiate career, but quickly found that his unimpressive 40-yard-dash time was causing scouts around the league to overlook the remarkable body of work he had produced the four years prior. It appeared as if catching 205 passes in a two-year span didn't mean all that much if you couldn't run a predetermined amount of yards in a straight line at an exceptionally high rate of speed.
At the same time this young wideout was looking to make the jump to the professional ranks, there was a 28-year-old quarterback who was coming off his second Super Bowl win in four seasons. He was good-looking, accurate and, most of all, he was intelligent. And after six professional campaigns, this particular quarterback was entering the prime of his career.
The good-looking quarterback played football for an innovative head coach who had created a brand-new offensive system the previous decade. This head coach didn't care about the young wide receiver's speed. In fact, the coach went so far as to trade his first two draft picks to the New England Patriots so that he could move up in the first round of the 1985 draft to select the young wide receiver.
And just like that, Jerry Rice and Joe Montana were teammates playing under the tutelage of Bill Walsh.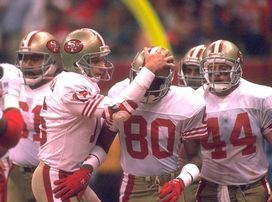 The greatest QB-WR tandem of all time: Joe Montana and Jerry Rice.
It's unlikely that we'll ever see another quarterback-wide receiver tandem in our lifetimes as lethal as Joe Montana and Jerry Rice. In eight seasons together in San Francisco, Montana and Rice won two Super Bowls, made seven trips to the postseason, posted an astonishing regular season record of 95-31-1 (.754) and earned two inductions into the Pro Football Hall of Fame. If a more decorated resume exists, I have yet to see it.
But that doesn't mean today's NFL is without devastating quarterback-wide receiver tandems. Bill Walsh's west coast offense operated by Montana and Rice opened the floodgates and ushered in a new era of professional football. A pass-happy, throw first, throw second approach that saw three quarterbacks record over 5,000 yards during a historic 2011 season.
Today's NFL features plenty of formidable quarterback-wide receiver tandems capable of striking fear in the hearts of defensive coordinators around the league. Here are the ten duos we're most excited to watch in 2012:
1. Matthew Stafford & Calvin Johnson, Detroit Lions: Injuries sustained by Stafford during his first two NFL seasons stalled this connection coming out of the gate, but a healthy 2011 campaign put the league on notice that these guys are the real deal. This tandem led the league in yards per game (105.1) and ranked second in touchdowns (16) last season en route to guiding the Lions to their first playoff berth since 1999. In the process, Stafford became just the fifth quarterback in NFL history to throw for more than 5,000 yards in a season while Johnson landed a $132 million contract—the richest non-quarterback deal in league history.
2. Jay Cutler & Brandon Marshall, Chicago Bears: Cutler isn't the best quarterback in the league and Marshall isn't the best receiver, but in a city where the other receiving options appear few and far between, these two should emerge as one of the game's most prolific tandems. Remember, Cutler and Marshall spent three years together in Denver and from 2007-2008, the Pro Bowl wideout ranked first in the NFL in targets (351) and second in receptions (206). Two games against the tandem in Detroit this season should provide no shortage of aerial firepower.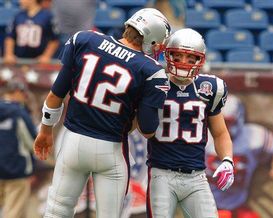 Brady and Welker have made a living eating up defenses eight yards at a time.
3. Tom Brady & Wes Welker, New England Patriots: Tight end Rob Gronkowski may get all the glory, but you can't forget about the guy in the trenches doing the dirty work to set up the scores. Brady and Welker are the football equivalent of a Sugar Ray Leonard jab: fast, precise and unrelenting. If you eliminate the 2008 season that Brady missed with a blown out knee and the 2010 season in which Welker was coming off the same injury, these two hooked up for 357 receptions in three years. That's a mind-blowing 7.7 receptions per game when you factor in the two contests Welker missed due to injury in 2009. These guys will kill you slowly and methodically.
4. Ben Roethlisberger & Mike Wallace, Pittsburgh Steelers: If Brady and Welker are the football equivalent of a Ray Leonard jab, then Big Ben and Wallace are the NFL's version of a Mike Tyson left hook. Over the last two years, Wallace has established himself as one of the game's premier deep threats, with 29 receptions of 25 or more yards in his last 32 games (first in NFL). During that same time span, Wallace also ranks second in the league in yards per reception (18.6, minimum 90 receptions). These two may not hook up as often as some of the other tandems on this list, but don't be fooled. Roethlisberger and Wallace can strike a devastating blow faster than you can reach for that next potato chip.
5. Michael Vick & DeSean Jackson, Philadelphia Eagles: Jackson's vertical speed and elusiveness make him very difficult to defend for the 3-4 seconds required for pass rushers to get to the quarterback. However, the problem for opposing defenses is that Vick's instincts and cut-on-a-dime mobility allow the Eagles signal-caller to extend plays past the 3-4 second window, giving Jackson more time to toast his mark and get free down the field. In the two years that these two have been working together, no QB-WR tandem has recorded a higher yards per reception average (19.2 YPR, minimum 90 receptions). It should be fun to watch this duo go head-to head with the Roethlisberger-Wallace combo on October 7.
6. Eli Manning & Victor Cruz, New York Giants: Credit fellow Giants wideout Hakeem Nicks for stretching the field vertically on the outside, which allowed Cruz to eat up opposing defenses in a variety of ways last year. In just one full season working together—a season that featured only seven starts from Cruz—these two hooked up 82 times for 1,536 yards (third in NFL) and nine touchdowns. In addition, Cruz's 18.7 yards per reception average in 2011 ranked first in the league among receivers with 45 or more catches. Oh yeah, Manning and Cruz also managed to win a Super Bowl last year.
7. Matt Schaub & Andre Johnson, Houston Texans: This duo's injury-plagued 2011 campaign kept Schaub and Johnson from wrecking havoc in the AFC, but it also highlighted how important each player is to the other's success. From 2009-2010, Johnson rolled up 187 receptions for 2,785 yards and 17 touchdowns with Schaub under center, and that's despite the fact that the wide receiver missed three games in 2010. If Houston could go 10-6 and win the AFC South with these two combining to play in just 17 games, imagine what the Texans will do in 2012 if both can stay healthy.
8. Aaron Rodgers & Jordy Nelson, Green Bay Packers: Greg Jennings may be the more recognizable wideout in Green Bay, but Nelson was the more effective member of the receiving corps in 2011. The 27-year-old ranked third in the NFL in touchdown receptions (15) and fifth in yards per reception average (18.6 YPR), but what really makes this tandem stand out is the fact that Nelson led the league in receptions per touchdown last year, at 4.53. That means when Rodgers and Nelson get on the same page, there's a 22% chance it results in a touchdown. Scary.
9. Peyton Manning & Eric Decker, Denver Broncos: After a lengthy and much-publicized courtship, the most coveted player in the history of free agency landed in Denver with a $96 million contract. And while Demaryius Thomas could emerge as Manning's go-to weapon, our money's on former Minnesota standout Eric Decker, who averaged a touchdown every 5.5 receptions with Tim Tebow under center last season. It's no secret that Manning has a knack for making everybody around him better. But with the shoddy defensive backfields that make up the AFC West, the Manning-Decker tandem has the potential to roll up a ridiculous stat line in 2012.
10. Andy Dalton & A.J. Green, Cincinnati Bengals: Last year's numbers weren't gaudy, but for two rookies who had never before played together, Dalton and Green emerged as one of the league's best up-and-coming passing duos. In fact, Dalton managed to guide his team into the postseason despite playing in a division with the Pittsburgh Steelers and Baltimore Ravens, while Green earned a trip to Hawaii for the Pro Bowl. And these two didn't achieve those lofty goals by nickel and diming their way down the field like most rookies, either. Green ranked 17th in the league in yards per reception average last year (16.3) and seventh in receptions of 25+ yards (14). Don't let their ages play tricks on your mind. Dalton and Green can kill you with the long ball.
Hit me up on Twitter: @JoeFortenbaugh