October 25, 2012 -
Joe Fortenbaugh
Shopping for the best BCS Championship odds
So you think that the Oregon Ducks are good enough to win the National Championship. Chip Kelly's crew is going to run the table, head to Miami and then cap off the season by knocking the SEC from their reign atop the National Championship landscape.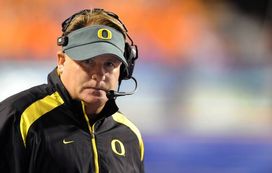 Chip Kelly's Ducks have their eyes on the National Championship.
Then you better start shopping for the best price in order to maximize your payoff come early January.
We've mentioned before that one of the keys to turning a profit betting sports over the long haul is the ability to lock in wagers at the fattest prices. Think about it: Why fire a $100 bet on Oregon to win the National Championship at +375 when you can just as easily grab the Ducks at +425 and make an extra $50?
As we get set to enter Week 9 of the college football season, here's a breakdown of the National Championship odds currently being offered by three offshore sportsbooks. Take note of the wide range of odds in regards to Oklahoma, who is posted as low as +1000 and as high as +2000. For a $100 wager, that's an extra thousand bucks you'd be making backing the Sooners just because you spent the time to shop for the best price.
CURRENT NATIONAL CHAMPIONSHIP ODDS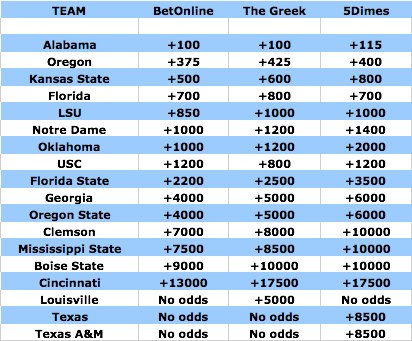 Hit me up on Twitter: @JoeFortenbaugh