June 02, 2011 -
Joe Fortenbaugh
Should Terrelle Pryor head for Canada?
The walls are closing in.
Already scheduled to miss the first five games of his senior season due to a highly publicized suspension, Ohio State quarterback Terrelle Pryor now finds himself caught in the crosshairs of an NCAA investigation that could very well bring the curtain down on his career in Columbus.
There's no doubt that Pryor is feeling the heat. Camera crews and reporters stalk him like hungry lions roaming the African desert in search of their next meal. The freedom to operate that Pryor has so lavishly enjoyed since stepping foot on the Ohio State campus back in 2008 is long gone, replaced by constant surveillance from a group of people who make their living uncovering dirt and exposing lies.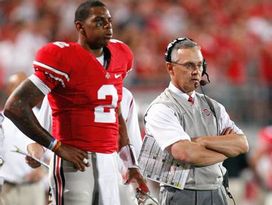 Head coach Jim Tressel (right) is finished at Ohio State. Will Pryor be the next to go?
It's time to get the hell out of Dodge.
Rather than stick around for the conclusion to a story that many predict will end badly, Pryor needs to jump off the sinking ship that is Ohio State and start strategizing his next move. Even if he's miraculously cleared to return to the Buckeyes for the final seven games of the 2011 season, it's unlikely the 21-year-old will be able to regain the locker room, ignore the media and put together enough positive tape to land in the early rounds of the 2012 NFL draft.
So what are his options?
For starters, Pryor could enter the NFL's Supplemental Draft, which is held every summer for players who have run into eligibility issues or who missed the filing deadline for the NFL Draft.
But here's the problem: Pryor is an unpolished pocket passer who needs a lot of work before he is given an opportunity to start in the NFL. Sure, he's a great athlete and does a nice job evading the rush, but the guy has thrown 22 interceptions over his last 26 games and has just one 300-yard passing effort in 39 appearances at Ohio State.
And lets not forget the character concerns. If Cam Newton brought red flags to the table like many suggested, Pryor will no doubt be hit with the same label.
How many NFL teams do you think are willing to surrender a high 2012 selection in order to land a guy like Pryor in the Supplemental Draft? The more likely scenario is that Pryor is taken sometime in the fourth round or later, making him easily expendable should a problem arise or he not develop the way his team expected.
Remember, JaMarcus Russell got three years to produce some of the most God-awful quarterbacking this planet has ever witnessed because he was a first-round draft pick. On the other hand, Kurt Warner was cut by the Green Bay Packers before the start of the 1994 regular season after going undrafted out of college.
The Packers had very little invested in Warner and thus, it was an easy decision to let him go. The Raiders, however, were stuck with Russell because they invested $61 million—with $32 million guaranteed—into the former LSU Tiger.
The lesson Pryor should be taking from this little trip down memory lane is that he needs to improve his stock so that an NFL team is willing to make a legitimate investment in his future. So how does he do that?
It's simple: Pryor needs to check his ego and head for Canada.
While the Great White North won't offer Pryor a vault full of cash or a regular spot on SportsCenter, it will provide the rough-around-the-edges signal-caller with a chance to rehabilitate his image while further developing his skill set.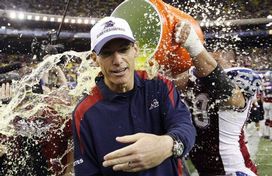 Montreal Alouettes head coach Marc Trestman is considered by many to be an excellent quarterback guru.
The CFL preseason kicks off in two weeks. By heading north, Pryor could escape the media circus that has set up shop in Columbus and begin the process of refining his game. If you recall, quarterback guru Marc Trestman—who had an important role in developing former Florida Gator and 2010 first round draft pick Tim Tebow—is the head coach of the Montreal Alouettes.
Should Pryor get the opportunity to spend five months working with a well-respected football mind like Trestman, while at the same time staying out of trouble and saying all the right things to the media, think about the impact that would have on his stock when he returns to America for the 2012 Draft?
Five months in Canada would help Pryor not only mature as a quarterback, but it would hopefully help him develop as person, as well. Listening to all of the stories coming out of Ohio State this past week, it sounds like this is a kid who needs to be taken down a peg or two.
Why not embrace this opportunity and give yourself a chance to play football this fall?
It sounds a hell of a lot better than running from the media and waiting to be suspended for the entire 2012 season.
Hit me up on Twitter: @JoeFortenbaugh
Hat tip to Thyrl Nelson of WNST Baltimore, who jump-started this conversation when I appeared on his show Wednesday morning.