July 19, 2011 -
Barry Dorey
Sleepers
Updated August 23 @ 10:10am. (new additions are at the bottom)
Any owner can draft Arian Foster with the first overall pick or Andre Johnson with the eight selection of the first round. It doesn't take a whole lot of skill to pull the trigger on the NFL's top talent.
However, what does require knowledge, insight and research is the ability to make out like a bandit in the middle to later rounds with players that go on to outperform their draft status. That's called drafting sleepers, and it can make all the difference in your run to a fantasy championship.
This summer presents an interesting challenge as the free agency period has yet to take place, but we at the National Football Post still feel confident in recommending the following players as our top sleeper candidates for the 2011 season.
Note 1: MDC stands for Mock Draft Central.com and ADP stands for Average Draft Position.
Note 2: We will likely add and possibly subtract some sleepers after the free agency period takes place.
THE QUARTERBACKS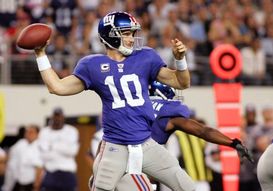 ICONEli Manning quietly put together an impressive season in 2010.
Eli Manning, New York Giants: He's racked up 4,000+ passing yards in each of the last two years and threw a career-high 31 touchdown passes last season. Keep in mind that Manning ranked eighth in fantasy scoring among quarterbacks in 2010, yet has an ADP this summer of just 108.53 (behind Cutler and Freeman). If he cuts down on the interceptions, the value here will be outstanding.
Matthew Stafford, Detroit Lions: Health is a big concern, but Stafford returns to a Lions offense that went from scoring 16.4 points per game in 2009 to 22.6 per game in 2010. New additions Mikel Leshoure (RB, Illinois) and Titus Young (WR, Boise State) provide some much-needed depth to the already solid core of Pro Bowler Calvin Johnson and multi-threat back Jahvid Best. Now, if the former Georgia standout can somehow manage to avoid getting lit up in the pocket…
Kevin Kolb, To Be Determined: Two words: Larry Fitzgerald. If Kolb ends up in Arizona playing for the Cardinals in the weak NFC West, the price tag will be too good to pass up. He's currently the 21st quarterback off the board per Mock Draft Central, so it's not like you're taking a big gamble here. The upside is worth it.
Update: As expected, Kolb has landed in the desert with the Cardinals. We love his value as a QB2 with starting potential.
Sam Bradford, St. Louis Rams: Now that Josh McDaniels is the offensive coordinator in St. Louis, everybody is high on Bradford this summer. We'll bite, but we'd like to see some more consistency at the wide receiver position before committing to the 2010 Offensive Rookie of the Year. Remember, he only threw one touchdown pass over his final five games last season while getting picked off six times.
THE RUNNING BACKS
Daniel Thomas, Miami Dolphins: The dual-threat back rushed for 1,585 yards and 19 touchdowns last season at Kansas State, but more importantly, Thomas could be headed for a boatload of carries in Miami if both Ronnie Brown and Ricky Williams leave via free agency. We're more than willing to pay the ADP price of 86.76 for a guy who could easily rack up 250 touches this season. As a bonus, don't be surprised if Thomas—a converted quarterback—throws for a couple of scores in 2011.
Update: We aren't as high on Thomas now as we were pre-free agency, but still like what he brings to the table. Don't overpay. We have a feeling Reggie Bush could surprise some people this year.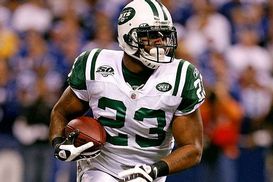 Greene left a sour taste in the mouths of many an owner last season. Expect him to bounce back.
Shonn Greene, New York Jets: After finishing the 2011 campaign ranked 37th in scoring at the running back position, many owners have soured on the former Iowa bulldozer. Good, because he's now the featured ball carrier on an offense that ran the rock 49.1% of the time last season (3rd most in NFL). If Greene can manage 250 rushing attempts at a very reasonable 4.0 yards per carry, he'll be in the 1,000-yard club by season's end. We're actually expecting more.
Bernard Scott, Cincinnati Bengals: Cedric Benson is a free agent and after his recent arrest, who knows where the 28-year-old will be playing this season. Enter Scott and his 4.6 yards per carry career average. If quarterback Andy Dalton ends up under center for the Bengals early in the year, look for the offense to lean on Scott as the rookie gets acclimated to life in the NFL. At a current ADP of 103.17, Scott is pretty much an afterthought.
Update: With Cedric Benson re-signing in Cincinnati, Scott's value is pretty much worthless unless an injury occurs. He's no longer a sleeper.
Mark Ingram, New Orleans Saints: If Reggie Bush returns and Pierre Thomas heads into Week 1 as the starter, we may end up rethinking this one. However, there's a reason the Saints traded back into the first round this past April to land the former Heisman Trophy winner. A powerful runner with deceptive speed who can make it happen between the tackles, we're banking that Ingram wins the starting gig and goes on to produce some solid numbers in Drew Brees' offense. This team won a Super Bowl with the league's sixth-ranked rush offense, but got bounced out of the playoffs last year at Seattle with the 28th ranked rush offense. New Orleans knows the value of running the rock.
Going a bit deeper…
Delone Carter, Indianapolis Colts: Carter's preseason value will depend heavily on whether or not former starter Joseph Addai returns to the team in 2011. If not, don't be surprised if the fourth-round selection from Syracuse wiggles his way to the top spot on the depth chart. Donald Brown has been an injury-plagued bust and what the Colts are looking for is a back who can force opposing defenses to respect their running game…which was nonexistent in 2010 (36.1%, 29th in NFL). Carter is currently going undrafted per Mock Draft Central. Shhhhh.
THE WIDE RECEIVERS
Mike Thomas, Jacksonville Jaguars: Thomas caught 66 passes for 820 yards and four scores in only 11 starts last year, which included 101 targets (33rd in NFL). Keep in mind that former No. 1 Mike Sims-Walker is on his way out of town, meaning Thomas is in line for an increased role in the Jacksonville offense. Not a bad deal for a guy who is currently the 51st receiver off the board. There's a lot of value here.
Mario Manningham, New York Giants: The former Michigan standout is coming off a career year (60-944-9) that concluded with a 17th place fantasy finish. With former starter Steve Smith on the sidelines nursing an injury, Manningham recorded 16 receptions for 346 yards and four scores on 25 targets over the Giants' final three games in 2010. Now that Smith is a free agent, don't be surprised if Manningham ma kes a run at 1,100 receiving yards this season. Playing opposite a beast like Hakeem Nicks makes gaudy numbers like that a reality.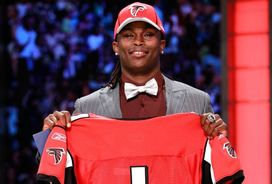 With Roddy White on one side, Jones will be free to eat up the other.
Julio Jones, Atlanta Falcons: He's at a bit of a disadvantage since the lockout has put this year's rookies behind schedule, but Jones will step onto the turf at the Georgia Dome with opposing defenses worrying about Pro Bowl wideout Roddy White and a physical Atlanta running game spearheaded by the 244-pound Michael Turner. With favorable coverage matchups, the NFL's fifth-highest scoring offense (25.9 pts/gm) and 12 indoor games, we find it shocking that Jones currently has an ADP of 187.26. Wake up, people!
Brandon Tate, New England Patriots: With Wes Welker in the slot and Deion Branch now 32-years-old, it's time for some new blood to step up in New England. Tate has explosive speed, averaged 18.0 yards per reception last season and has some guy named Tom Brady throwing him the football every Sunday. He's also going undrafted in most MDC mocks, so there's absolutely no reason why you shouldn't take a late-round flyer here. Think of the upside.
Update: The addition of Ochocinco limits Tate's upside, so you can go ahead and take him off your sleeper list. However, be sure to add Ocho to this year's sleepers.
Patrick Crayton, San Diego Chargers: This one only applies if Crayton holds onto the No. 2 spot on the depth chart in San Diego (Malcom Floyd and Legedu Naanee are both free agents). The seven-year veteran averaged 57.1 yards per game and an impressive 18.4 yards per reception in nine outings with the Bolts last year. That's not too shabby considering he was an afterthought who made only two starts. Anybody who can get vertical for Philip Rivers is going to roll up some numbers.
Update: Vincent Jackson and Malcom Floyd are both back, meaning Crayton is no longer a sleeper candidate.
Going a bit deeper…
Greg Little, Cleveland Browns: Admittedly, this is a long shot. But keep in mind that the 6-3, 220-pound rookie will almost certainly start from Day 1 and could quickly emerge as the top target for second-year quarterback Colt McCoy. Little missed all of last season at North Carolina due to a suspension, so it's been almost two years since he played a meaningful game. Keeper league owners are advised to circle this name.
THE TIGHT ENDS
Jimmy Graham, New Orleans Saints: A basketball player at the University of Miami, Graham is still a bit rough around the edges, but the upside here is impressive. The 24-year-old scored four touchdowns over his final three games last season as quarterback Drew Brees began targeting the 6-6, 260-pounder with more frequency. With Jeremy Shockey now in Carolina and David Thomas headed for free agency, the depth chart is wide open.
Brandon Pettigrew, Detroit Lions: He ranked third among tight ends in both receptions (71) and targets (111) last season en route to an 11th place fantasy finish. The only thing keeping this guy from a top-5 fantasy campaign is a low touchdown total, which should improve in 2011 as a young Detroit offense continues to take steps in the right direction.
Aaron Hernandez, New England Patriots: The rookie from Florida ranked sixth in touchdown receptions among tight ends last season (6) despite taking limited snaps and splitting time with fellow TE Rob Gronkowski. He's athletic, has good speed and knows how to get open down the seam. The presence of Gronkowski will likely scare off many owners, which is why we highly recommend the value Hernandez brings to the table. He's currently the 15th tight end off the board.
Tony Moeaki, Kansas City Chiefs: Last season's numbers (47-556-3) weren't gaudy, but they were an excellent start for a rookie tight end who played on an offense that ran the ball more than any other squad in the NFL (52.3%). Now in his second year and with a level of trust already established between himself and quarterback Matt Cassel, expect Moeaki to see an increase in targets. He's currently going undrafted in the majority of MDC mocks, meaning he makes for an excellent TE2 with the skills to step into the TE1 role.
NEW ADDITIONS
Tim Hightower, RB, Washington Redskins: He's getting drafted between the 7th and 9th rounds, but will likely be the featured back in Washington this season. We don't expect a lot of touchdowns, but we do forsee a lot of touches. The value here is excellent.
Wes Welker, WR, New England Patriots: If he was able to catch 86 passes nine months removed from major knee surgery, don't be surprised if Welker posts 105+ now that he's back to 100%. No way this guy should be falling to the 5th round.
Plaxico Burress, WR, New York Jets: Scored a touchdown in his first preseason game and should see plenty of red zone targets this season, but has an ADP of 83.6 and will probably fall even further on draft day. Plax is definitely worth the price.