March 13, 2013 -
Joe Fortenbaugh
So long, New England
29.9% of Tom Brady's completions over the last two seasons just flew the coop to sign with the quarterback's most notable rival.
The New England Patriots—who balked at the opportunity to pay wide receiver Wes Welker something close to what he wanted—are now left to figure out how best to replace one of the most productive players in franchise history, as Welker bolted town and signed with the Denver Broncos on Wednesday. Per ESPN's Adam Schefter, it's a two-year deal worth a total of $12 million.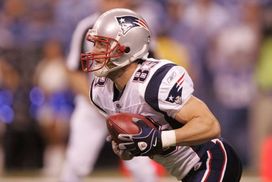 ICONWelker signed a two-year deal with the Broncos on Wednesday.
The move brings the league's most prolific pass-catcher of the last six years to Denver to join forces with future Hall of Fame quarterback Peyton Manning and an offense that ranked fifth in the NFL in passing last season. Manning will now line up on Sundays with Welker, Demaryius Thomas and Eric Decker as his primary targets, along with free agent offensive guard acquisition Louis Vasquez to aid in pass protection.
Meanwhile, the New England Patriots and quarterback Tom Brady are left to figure out who will step up in the passing game to play alongside tight ends Aaron Hernandez and Rob Gronkowski.
Paging Danny Amendola?
With the defending champion Baltimore Ravens left to pick up the pieces after watching a plethora of key contributors bolt town and the Houston Texans still unsure of how to come up roses on the big stage, the Broncos seized control of an opportunity to strike a sizeable blow to one of the AFC's most legitimate contenders. Signing Welker away from the Patriots leaves a gaping hole in the New England offense while simultaneously upgrading a Denver passing attack that was already one of the most lethal in the business.
In six years with the Patriots, Welker amassed a staggering stat line that includes 672 receptions for 7,459 yards and 37 touchdowns in 93 regular season games. Those six seasons also produced five campaigns of 111 or more receptions.
Welker will now have the change to build upon his legacy with Peyton Manning at the controls of a Denver Broncos team that is sure to start feeling the love from Vegas gamblers.
Hit me up on Twitter: @JoeFortenbaugh