February 06, 2011 -
Joe Fortenbaugh
Some fans with Super Bowl tickets could be turned away
DALLAS—By some accounts, it's been a tough week for the city of Dallas. The weather didn't fully cooperate and the media hotel had its share of fire alarms and elevator issues.
Editor's Note: If you drink enough beers, you can sleep right through the fire alarms. Just pretend you're back in college.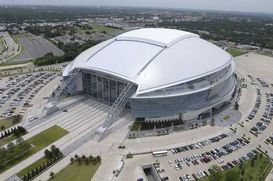 JerryWorld: Selling tickets to seats they don't actually have?
But on the one day where all of the minor issues that plagued Super Bowl week would be put to the side, a new problem surfaced at Cowboys Stadium that makes five inches of snow look like five days at the beach.
Per an NFL statement that was just released in the press box, there are apparently some sections in Cowboys Stadium that have not been fully completed, meaning fans with tickets in those sections could be S.O.L.
Here's the full statement:
"There are a limited number of sections in temporary seating areas inside the stadium that have not been fully completed. We are working to resolve the matter and expect that by game time most of the fans affected will have been accommodated in their seats or relocated to similar or better seats.
Those fans that are affected by this will be directed to the Party Plaza area while the matter is resolved.
Fans who are not accommodated with seats inside the stadium will each receive a refund of triple the cost of the face value of their ticket.
We regret the situation."
So what happens to the guy who paid $3,000 for an $800 ticket? If he's reimbursed $2400, he ends up paying $600 to watch the game from outside?
Hit me up on Twitter: @JoeFortenbaugh