July 30, 2011 -
Barry Dorey
Source: Chiefs bag Kelly Gregg
With the NFL lockout over and an agreement to play football in place, it looks like defensive tackle Kelly Gregg will have to put his ultimate fighting plans on hold for the time being.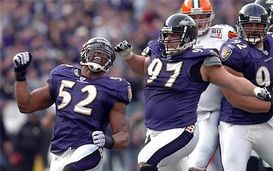 Gregg (center) and Lewis spent nine years together in Baltimore.
Per a league source, Gregg has agreed to a one-year deal with the Kansas City Chiefs.
A ten-year veteran out of Oklahoma, Gregg spent his rookie season in Philadelphia before catching on with the Ravens in 2001. In nine years with Baltimore, Gregg started 124 games and recorded 19.5 sacks.
If your not familiar with Gregg's work, he was the guy on the interior defensive line eating up the blocks that kept Ray Lewis clean and free to destroy opposing running backs.
In Kansas City, Gregg will have an opportunity to compete for the starting nose tackle job with Anthony Toribio and rookie Jerrell Powe.
Hit me up on Twitter: @JoeFortenbaugh