March 15, 2011 -
Joe Fortenbaugh
Source: Ravens, Falcons to meet with Justin Houston
Justin Houston's versatility is drawing the interest of both 3-4 and 4-3 defenses alike.
The former Georgia linebacker is scheduled to meet with Baltimore Ravens linebacker coach Dean Pees on March 21, just one day before his Pro Day, per a league source with knowledge of the situation.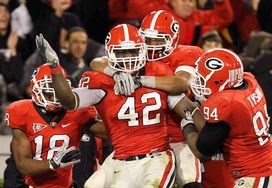 Justin Houston
The 22-year-old from Statesboro, Georgia recorded 56 tackles and 10 sacks in 12 games for the Bulldogs last season. He would likely fit as a rush outside linebacker in Baltimore's 3-4 system.
In addition to his meeting with the Ravens, Houston has a light workout scheduled on March 25 with the Atlanta Falcons at the University of Georgia.
While Houston played linebacker in college, many scouts and personnel executives are projecting him as a defensive end in a 4-3 system at the next level. His versatility and athleticism are two reasons why many believe Houston is a first-round draft pick.
Hit me up on Twitter: @JoeFortenbaugh
CLICK HERE to check out Wes Bunting's scouting report on Justin Houston.