December 10, 2013 -
Joe Fortenbaugh
Source: Sarkisian looks to Baltimore Ravens to fill out coaching staff
New USC head coach Steve Sarkisian won't lead the Trojans in the team's December 21 bowl game against Fresno State, but that hasn't kept the former University of Washington boss from staying busy as he looks to fill out his new coaching staff at Southern California.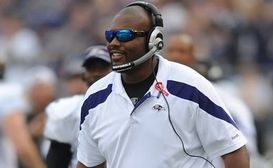 Washington has spent the last three years coaching in Baltimore, where he won a Super Bowl with the Ravens in February.
On the job for just nine days, Sarkisian has already hired Johnny Nansen (running backs), Keith Heyward (defensive backs) and Peter Sirmon (linebackers) away from Washington. And while the 39-year-old is rumored to be interested in bringing Huskies assistants Justin Wilcox (defensive coordinator) and Tosh Lupoi (defensive line) on board at USC as well, Sarkisian is also looking to the NFL ranks for potential hires.
According to a source close to the situation, Sarkisian has offered the offensive line coaching position at USC to current Baltimore Ravens assistant offensive line coach Todd Washington.
The 37-year-old Washington has worked as an assistant offensive line coach in Baltimore since 2011 after a three-year coaching stint at the University of San Diego. Prior to his jump into the coaching ranks, Washington spent eight seasons playing offensive line in the NFL with Tampa Bay (1998-2002) and Houston (2003-2005).
Speaking to the media on Monday, Sarkisian stated that he is close to finalizing his new staff and has already spoken with current USC assistants who will not be retained.
Hit me up on Twitter: @JoeFortenbaugh