December 31, 2014 -
Joe Fortenbaugh
Sources: Dolphins offered Rex Ryan defensive coordinator position
Update (12/31 at 6:45pm PST): I completely dropped the ball on this story and would like to apologize to all parties involved for the incorrect information regarding the Miami Dolphins' interest in former New York Jets head coach Rex Ryan. There is no excuse for this type of error. Miami did not offer Ryan the opportunity to become the team's new defensive coordinator. Again, my deepest apologies to all involved.
Dismissed Monday after six seasons as the head coach of the New York Jets, Rex Ryan won't have trouble finding work if he chooses to return to the National Football League in 2015.
Sources familiar with the situation have informed the National Football Post that the Miami Dolphins offered Ryan a multi-year contract this week worth approximately $8 million to become the team's next defensive coordinator.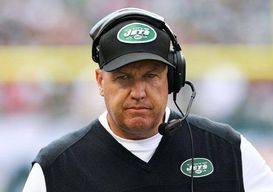 Ryan went 46-50 during the regular season in six years with the Jets.
However, while Ryan built his reputation as the defensive coordinator of the Baltimore Ravens from 2005-2008, the prevailing line of thinking is that the 52-year-old would prefer to accept a head coaching position rather than take a role as an assistant. That assertion is furthered by the recent reports indicating Ryan is scheduled to meet with both the Atlanta Falcons and San Francisco 49ers about their current vacancies.
As for Miami, Dolphins head coach Joe Philbin was noncommittal on Monday regarding the future of current defensive coordinator Kevin Coyle, who has been with the team since 2012. Coyle's defense got off to a hot start in 2014, holding the opposition to just 18.8 points per game with 25 sacks and 18 turnovers through the first eight contests of the season. But with a playoff berth on the line, the Dolphins wilted down the stretch and were torched for an average of 35.2 points per game over the team's final four outings.
The Dolphins' attempt to lure Ryan to Miami clearly indicates that the organization is looking to shake things up on the defensive side of the ball. Whether or not the team succeeds in landing an upgrade remains to be seen, but head coach Joe Philbin has gone just 23-25 with the club since taking over in 2012 and no doubt enters the 2015 campaign on the hot seat.
Hit me up on Twitter: @JoeFortenbaugh