November 21, 2014 -
Joe Fortenbaugh
Start 'em, Sit 'em, Smash 'em
FANTASY QUESTIONS
While the Sunday live chat is no more, I'm still available to answer any and all fantasy questions throughout the week on twitter @JoeFortenbaugh if you use the hashtags #FSTLV and #GMCFF. Fire over some good ones and they just may end up on the Fantasy Sports Network Sunday morning between 10:00am-12:00pm eastern.
WEEK 12 SURVIVOR PICKS
Last week: Washington (loss), Pittsburgh (win), Atlanta (win)
--At this point in the season, I really have no clue which teams you guys have left to use in survivor. So rather than throw out what will likely be repeat selections, hit me up on twitter @JoeFortenbaugh and we can talk it through from there. Best of luck!
FADE OF THE WEEK
Record: 5-5-1
Last week: Kansas City Chiefs (-1.5) over Seattle Seahawks (win)
This week: Green Bay Packers (-9) over Minnesota Vikings
Analysis: This is a huge number to lay on the road, but you've got two teams heading in totally opposite directions in this situation. The Vikings have dropped four of their last six contests and are averaging a paltry 18.1 points per game this season while ranking 29th in the NFL in third down conversions (35.0 percent). That's not going to cut it against a Green Bay Packers team that is more than comfortable playing outdoors in frigid conditions. The Packers have ripped off six victories over their last seven outings and are averaging a stellar 39.4 points per game during that stretch. In addition, take note that the Packers are 5-2 ATS over their last seven meetings with Minnesota.
WESTGATE LAS VEGAS SUPERCONTEST SELECTIONS
Last week: 3-2
Season: 28-27 (.509)
The Big Puma and I are still working through this weekend's card, but here are the selections that are currently under consideration:
NEW ENGLAND PATRIOTS (-7) over Detroit Lions
GREEN BAY PACKERS (-9.5) at Minnesota Vikings
ARIZONA CARDINALS (+6.5) at Seattle Seahawks
NEW YORK JETS (+4.5) at Buffalo Bills
HOUSTON TEXANS (-1.5) vs. Cincinnati Bengals
TAMPA BAY BUCCANEERS (+5.5) at Chicago Bears
DENVER BRONCOS (-7) vs. Miami Dolphins
START 'EM UP
Mark Sanchez, QB, Philadelphia Eagles (vs. Tennessee): We've now seen Sanchez play on both ends of the spectrum and in both instances the Philadelphia quarterback rolled up more than enough fantasy points to justify a spot in the starting lineup. In a 45-21 blowout of the Carolina Panthers, the former New York Jet threw for 332 yards and two scores and in a 53-20 ass-kicking at the hands of the Green Bay Packers, Sanchez again threw for over 300 yards and two touchdowns. It's all about the system and the arsenal when it comes to the Philadelphia Eagles, so feel comfortable riding Sanchez until he gives us a good reason to jump off the train.
Denard Robinson, RB, Jacksonville Jaguars (at Indianapolis): Since taking over as the starting running back in Jacksonville in mid October, the former Michigan quarterback has racked up 419 total yards and four touchdowns through four starts. That's an ultra impressive stat line when you consider the fact that this guy is playing on a lousy offense with a struggling rookie quarterback. Go back to the well with Robinson in Week 12 when he takes on an Indianapolis Colts defense that currently ranks 17th in the NFL against the run (112.9 yds/gm) while surrendering an average of 22.7 fantasy points per game to opposing running backs this season (t-sixth-most in NFL). Also of note, the Jaguars are coming off the bye week here, so they've had two weeks to prepare for this divisional showdown.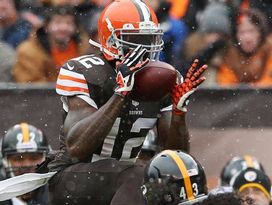 Welcome back, Josh Gordon.
Josh Gordon, WR, Cleveland Browns (at Atlanta): Don't overthink this one. Those of you with Gordon on the roster have likely been stashing the Cleveland wideout for more than a month, so it's time to start reaping the benefits of such discipline and patience. Even if this were a terrible matchup we would advise you to start Gordon, but Atlanta currently ranks dead-last in the NFL against the pass (281.2 yds/gm) while giving up an average of 25.9 fantasy points per game to opposing wide receivers (sixth-most in NFL), so this one is pretty much a no-brainer.
Trent Richardson, RB, Indianapolis Colts (vs. Jacksonville): Richardson is a bust of the highest magnitude, but with Ahmad Bradshaw on the shelf for the remainder of the season due to a broken leg, the former top-three draft pick is about to see an abundance of touches on one of the league's highest-scoring offenses. That's a big plus when you consider the fact that Week 12 offers up a date with a Jacksonville defense that currently ranks 25th in the league against the run (126.2 yds/gm) while permitting an average of 21.9 fantasy points per game to opposing running backs this season (seventh-most in NFL). However, owners are advised to keep a real close eye on backup running back Dan Herron (2012, Ohio State) during this matchup.
Kenny Stills, WR, New Orleans Saints (vs. Baltimore): A roll of the dice based on the way New Orleans has played this year, but with rookie Brandin Cooks out for the season (thumb surgery), Stills is about to see a big boost in the targets department. A big-time playmaker with deep speed for days, Stills could go nuclear on Monday night against a Baltimore defense that currently ranks 21st in the league against the pass (251.2 yds/gm) while surrendering an average of 26.2 fantasy points per game to opposing wide receivers this season (fifth-most in NFL).
Larry Donnell, TE, New York Giants (vs. Dallas): Donnell's last encounter with the Cowboys resulted in seven receptions for 90 yards (season high) on seven targets, so there's no reason to believe the second-year tight end can't take advantage of the Dallas defense for a second time this season. Take note that the Cowboys are currently giving up an average of 11.2 fantasy points per game to opposing tight ends this season (third-most in NFL).
San Diego Chargers, D/ST (vs. St. Louis): We're not willing to buy into the fact that the St. Louis offense can string together two solid performances. Through five home contests in 2014, the Chargers are giving up an average of just 12.8 points per game with 12 sacks and seven turnovers. Ride the lightning in Week 12.
SIT 'EM DOWN
Matthew Stafford, QB, Detroit Lions (at New England): The indoor Lions are heading outside into the frigid New England air to play a non-conference game against the red-hot Patriots just four days before a Thanksgiving divis ional showdown with the Chicago Bears. That's as bad a spot as you will find in the National Football League. And as if that situation wasn't challenging enough, Calvin Johnson is banged up and the Patriots are surrendering an average of just 21.3 points per contest during the team's current six-game winning streak. Expect a rough go of it Sunday for Stafford and company.
Alfred Morris, RB, Washington Redskins (at San Francisco): The Redskins are coming apart at the seams in the most glorious and predictable of fashions, so it's become extremely dangerous to back anybody on this 46-man roster. With the locker room up in arms over RG3's recent comments and crap play, Washington heads west for a showdown with a San Francisco defense that is not only getting healthy, but has given up an average of just 13.4 fantasy points per game to opposing running backs this season (third-fewest in NFL). Stay away.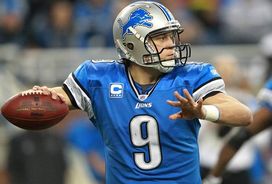 Stafford and the Lions are in a tough spot at New England in Week 12.
Larry Fitzgerald, WR, Arizona Cardinals (at Seattle): The 31-year-old is battling a sprained MCL as he and the Cardinals travel to the most hostile environment in the NFL for a Week 12 divisional showdown with the Seahawks. Take note that Seattle is permitting fewer fantasy points to opposing wide receivers this season than any other team in the business (16.4 pts/gm). In addition, the Seahawks defense is surrendering an average of just 16.7 points per game at CenturyLink Field over the last two seasons. There isn't a whole lot of upside here.
Marshawn Lynch, RB, Seattle Seahawks (vs. Arizona): We fully expect all Lynch owners to have Beast Mode in the starting lineup this Sunday. However, we've including Lynch on this list because we want you to taper your expectations. Arizona currently ranks third in the NFL against the run (80.5 yds/gm), has surrendered just five rushing touchdowns through ten outings and is giving up an average of just 13.1 fantasy points per game to opposing running backs this season (second-fewest in NFL). This one has all the makings of a low-scoring, grind-it-out slugfest.
Andre Johnson, WR, Houston Texans (vs. Cincinnati): Johnson may have notched nine more receptions than counterpart DeAndre Hopkins so far this season, but Hopkins holds the edge in both receiving yards (764-631) and touchdowns (4-1). So with A.J. taking a back seat to the young up-and-comer, we need a really favorable matchup to get behind the Pro Bowl wideout. Sadly, Sunday against Cincinnati isn't that matchup, as the Bengals are currently surrendering an average of just 17.6 fantasy points per game to opposing wide receivers this season (second-fewest in NFL).
Julius Thomas, TE, Denver Broncos (vs. Miami): Just a reminder that Thomas is dealing with an ankle injury and is expected to be a game-time decision on Sunday. In addition, Miami is currently giving up an average of just 5.5 fantasy points per game to opposing tight ends this season (sixth-fewest in NFL).
Miami Dolphins, D/ST (at Denver): Believe it or not, the Dolphins currently rank second in fantasy scoring at the D/ST position. However, Week 12 is not the time to test that ranking out, as the Denver Broncos are coming off an embarrassing loss at St. Louis and will be out for redemption.
Hit me up on Twitter: @JoeFortenbaugh