December 13, 2014 -
Joe Fortenbaugh
Start 'em, Sit 'em, Smash 'em
FANTASY QUESTIONS
While the Sunday live chat is no more, I'm still available to answer any and all fantasy questions throughout the week on twitter @JoeFortenbaugh if you use the hashtags #FSTLV and #GMCFF. Fire over some good ones and they just may end up on the Fantasy Sports Network Sunday morning between 10:00am-12:00pm eastern.
WEEK 15 SURVIVOR PICKS
--At this point in the season, I really have no clue which teams you guys have left to use in survivor. So rather than throw out what will likely amount to repeat selections, hit me up on twitter @JoeFortenbaugh and we can talk it through from there. Best of luck!
FADE OF THE WEEK
Record: 6-7-1
Last week: Houston Texans (-4.5) over Jacksonville Jaguars (won)
This week: Cincinnati Bengals (+1) at Cleveland Browns
Analysis: Johnny Football gets the start, the Bengals get their revenge. Cincinnati was humiliated on their home turf by this Browns team on a Thursday night last month in a game in which Andy Dalton and company mustered just three points and 165 total yards of offense. After that wakeup call, the Bengals promptly ripped off three straight road victories to help re-claim the lead in the AFC North. This game has been circled on the calendar for Marvin Lewis and company November 6. Expect a different result this time around.
WESTGATE LAS VEGAS SUPERCONTEST SELECTIONS
Last week: 2-3
Season: 33-37 (.471)
At this point, the Big Puma and I are simply playing for pride, assuming there is some left to be earned by closing strong over these final few weeks. In either case, here's our card for Week 15:
INDIANAPOLIS COLTS (-6.5) vs. Houston Texans
NEW YORK GIANTS (-6.5) vs. Washington Redskins
BUFFALO BILLS (+4.5) vs. Green Bay Packers
SEATTLE SEAHAWKS (-10) vs. San Francisco 49ers
PHILADELPHIA EAGLES (-3) vs. Dallas Cowboys
CLICK HERE to check out all of the current lines.
START 'EM UP
Tony Romo, QB, Dallas Cowboys (at Philadelphia): The Dallas signal-caller is completing a staggering 69.1 percent of his passes this season (career-high) and is coming off a three-touchdown outing against the sinking ship known as the Chicago Bears. But the real upside here is twofold: First, Romo and the Cowboys are on ten days rest heading into a revenge game against a Philadelphia team that embarrassed the Cowboys in their own building back on Thanksgiving. Second, the Eagles currently rank 26th in the NFL in pass defense (258.1 yds/gm) while surrendering an average of 23.6 fantasy points per game to opposing quarterbacks this season (second-most in NFL). The Las Vegas over/under for this rematch is set at 55.5, so expect to see some fireworks on Sunday night at Lincoln Financial Field.
Jonathan Stewart, RB, Carolina Panthers (vs. Tampa Bay): Stewart carried the ball a season-high 20 times last week in New Orleans in a breakout effort that resulted in 155 rushing yards and one score. Don't look now, but the Oregon product is averaging an otherworldly 7.5 yards per carry over his last two outings, which were road dates at Minnesota and New Orleans. Look for another tasty stat line Sunday in Charlotte against a miserable Tampa Bay defense that currently ranks 20th in the NFL against the run (115.8 yds/gm) while permitting an average of 21.2 fantasy points per game to opposing running backs this season (eighth-most in NFL).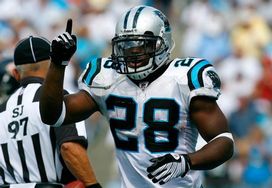 Week 15 offers up a great spot for Jonathan Stewart.
Donte Moncrief, WR, Indianapolis Colts (vs. Houston): Moncrief has hauled in just 27 passes so far through his rookie campaign, but we have a feeling that the Mississippi product could be headed for a big outing in Week 15. Note that while Reggie Wayne is expected to play, the veteran Pro Bowler is dealing with a torn triceps and will likely prove to be highly ineffective against the Texans secondary. That leaves T.Y. Hilton as the other Indianapolis receiver, who has shredded Houston for 31 receptions for 611 yards and six touchdowns in five career meetings against the club. The Texans are all too familiar with this stat line, so expect Houston to roll safety help over the top of Hilton in an effort to neutralize the three-year veteran, opening up the field for Moncrief to make it rain. Take note that in addition to everything you just read, Houston is currently surrendering an average of 27.6 fantasy points per game to opposing wide receivers this season (second-most in NFL).
Justin Forsett, RB, Baltimore Ravens (vs. Jacksonville): Considered nothing more than additional depth on an NFL depth chart prior to the start of the season, Forsett has taken every advantage afforded him in 2014 to rank third in the NFL in rushing with just three games to play (1,080 yards). Through his last four outings, the California product has amassed a healthy 471 rushing yards on 79 carries (5.96 YPC) with five trips to pay dirt. We expect the good times to continue Sunday against a Jacksonville defense that currently ranks 28th in the league against the run (132.5 yds/gm) while giving up an average of 22.4 fantasy points per game to opposing running backs this season (sixth-most in NFL).
Martavis Bryant, WR, Pittsburgh Steelers (at Atlanta): Bryant is coming off a stellar performance against the Cincinnati Bengals (4-109-1) and by all accounts has moved ahead of Markus Wheaton on the Pittsburgh depth chart. This means more targets and more touches, which couldn't come at a better time as the Steelers head to Atlanta on Sunday to challenge a Falcons defense that is on short rest, currently ranks dead last in the NFL against the pass (287.8 yds/gm) and is permitting an average of 26.3 fantasy points per game to opposing wide receivers this season (fourth-most in NFL).
Delanie Walker, TE, Tennessee Titans (vs. NY Jets): It's a gamble simply because the Tennessee Titans are so damn bad, but Sunday's matchup with the New York Jets is definitely worth considering. The Titans will make the switch at quarterback from the injured Zach Mettenberger to Jake Locker, so the hope is that the Washington product checks down to his reliable tight end when things get dicey in the pocket. After all, the Jets are currently surrendering an average of 10.3 fantasy points per game to opposing tight ends this season (fourth-most in NFL).
Cleveland Browns, D/ST (vs. Cincinnati Bengals): The obvious choices (Baltimore, Kansas City, Detroit) are all owned at a high percentage and thus, not worth mentioning. But for those of you looking to stream a widely available D/ST (34% owned in Yahoo! leagues) in Week 15, take a look at the Cleveland Browns. Mike Pettine's crew is giving up an average of just 2 0.8 points per game this season (11th-best in NFL) and has already forced 26 turnovers (third in NFL). In addition, this is the same unit that held the Bengals to just three points and 165 total yards of offense in Cincinnati back on November 6. You could do worse.
SIT 'EM DOWN
Johnny Manziel, QB, Cleveland Browns (vs. Cincinnati): There will be some highlights and there will be some lowlights in Manziel's first career start, which comes against a revenge-minded Cincinnati defense that is permitting an average of just 18.3 fantasy points per game to opposing quarterbacks this season (seventh-fewest in NFL). Look for the former Heisman Trophy winner to pick up some quality yards with his feet, but to struggle through the air as the Bengals bring the heat. Not the worst of options on the board, but the final result won't justify the hype.
All San Diego running backs (vs. Denver): Ryan Mathews (ankle) is banged up, Donald Brown has never lived up to his first-round billing and Branden Oliver has apparently fallen from grace after torching opposing defenses earlier this season. That's a bad combination to feature when walking into a divisional rivalry against a Broncos defense that currently ranks second in the NFL against the run (72.8 yds/gm) while surrendering an average of just 14.3 fantasy points per game to opposing running backs this season (fifth-fewest in NFL). If Mathews plays, he won't handle the full workload. If Mathews sits, Brown and Oliver will split the reps. Nothing good comes from this scenario.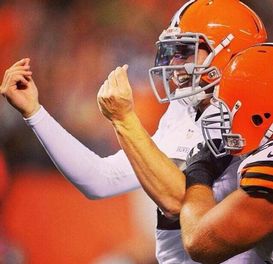 All eyes will be on Manziel Sunday in Cleveland.
Mike Wallace, WR, Miami Dolphins (at New England): The warm weather Wallace has scored just one touchdown over his last four outings and has yet to top 81 receiving yards in a game this season, so it's difficult to like his chances Sunday in New England against Darrelle Revis and the Patriots. This is a classic case of a guy who has failed to produce going up against extremely stiff competition, meaning there's very little upside here.
Eddie Lacy, RB, Green Bay Packers (at Buffalo): Lacy has been an absolute beast over the second half of the season, but it's worth mentioning that both the situation and the matchup in Week 15 warrant a tapering of expectations. For starters, the Packers are working on a short week and traveling to Buffalo to play a non-conference opponent. Second, the Bills currently rank eighth in the NFL against the run (99.2 yds/gm) while giving up an average of just 14.6 fantasy points per game to opposing running backs this season (sixth-fewest in NFL). This isn't a doomsday scenario for Lacy owners by any stretch, but it's not going to be easy rolling up a gaudy stat line in this spot.
All San Francisco wide receivers (at Seattle): The 49ers have a banged up offensive line that has permitted 43 sacks this season (third-most in NFL), a quarterback with no confidence who is in the midst of a horrific regression (QB rating of 85.1, 23rd in NFL) and a Week 15 date in Seattle against the best and most aggressive defense in football. You've got two teams trending in opposite directions here and it's only going to get worse for Niner Nation as their soon-to-be ex-head coach and struggling offense get taken behind the woodshed Sunday at CenturyLink Field. Stay away from everybody in red and gold this weekend.
Coby Fleener/Dwayne Allen, TEs, Indianapolis Colts (vs. Houston): They're cutting into each other's targets and face a Houston defense on Sunday that is surrendering an average of just 5.4 fantasy points per game to opposing tight ends this season (fifth-fewest in NFL). There are better options with more favorable upside out there (Larry Donnell, Delanie Walker).
Houston Texans, D/ST (at Indianapolis): The Texans currently rank fifth in fantasy scoring at the D/ST position, but this is not the week to ride with J.J. Watt and company. Andrew Luck has led the Colts to 25 or more points in each of the team's last four outings against Houston, with a grand total of just three turnovers committed. In addition, the Colts are averaging a rock-solid 425.0 total yards and 29.5 points per game at Lucas Oil Stadium in 2014, so you know the venue suits the situation.
Hit me up on Twitter: @JoeFortenbaugh