September 28, 2012 -
Joe Fortenbaugh
Start 'em, Sit 'em, Smash 'em
Before we get down to business, just a reminder that the GameDay live chat will begin at 10:30am eastern on Sunday and will run for one hour. You'll be able to access the chat through an article posted on the main page of the NFP Sunday morning.
FADE OF THE WEEK (Season: 0-3)
Last week: SAN DIEGO CHARGERS (-3) vs. Atlanta Falcons (loss)
NEW YORK GIANTS (+2.5) at Philadelphia Eagles: This one comes down to the ability of Philadelphia's banged-up offensive line to provide adequate protection against that vicious pass rush from the defending Super Bowl champions. If Michael Vick spends the day running for his life, you can expect the Eagles to once again struggle in the turnover department.
LVH SUPERCONTEST SELECTIONS
A miserable 2-3 effort in Week 3 puts our overall record at a lackluster 6-9. I've got to turn this thing around soon or the year will be lost.
NEW YORK GIANTS (+2.5) at Philadelphia Eagles
CAROLINA PANTHERS (+7) at Atlanta Falcons
GREEN BAY PACKERS (-7.5) vs. New Orleans Saints
KANSAS CITY CHIEFS (-1) vs. San Diego Chargers
SAN FRANCISCO 49ERS (-4) at New York Jets
SURVIVOR SMASH FOR WEEK 4
We've now 2-1 on the season with our survivor selections after picking the Bears to defeat the St. Louis Rams last Sunday. That's nothing to write home about, because losing one week in a survivor contest means the dream is dead. But we'll keep firing regardless.
Week 4: Green Bay Packers OVER New Orleans Saints
FANDUEL WEEK 4 SALARY CAP CHALLENGE
New format this week: Just a $2 entry fee, but there's still a $1,000 prize pool. CLICK HERE to enter. Matt Bowen and I will both be looking to take home the title.
START 'EM UP
Ryan Fitzpatrick, QB, Buffalo Bills (vs. New England): He's tossed three touchdown passes in two of three starts this season and has topped the 300-yard mark in each of his last two outings against the Patriots. In addition, New England is currently surrendering an average of 21.7 fantasy points per game to opposing quarterbacks this season (10th-most in NFL), so we believe Fitzpatrick could be in for a big day, especially if Tom Brady and company turn this game into a shootout.
Cedric Benson, RB, Green Bay Packers (vs. New Orleans): There's nothing like a game against that leaky faucet of a Saints defense to pad your stats and build your confidence. If Benson gets enough carries, he should have no problem bringing home a solid stat line against a team that is currently giving up more fantasy points to opposing running backs than any other unit in the league (33.5 fantasy pts/gm).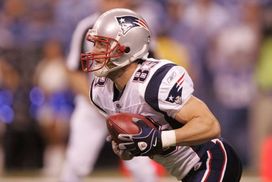 ICONWith Aaron Hernandez out of the lineup, Wes Welker has recorded an abundance of targets.
Wes Welker, WR, New England Patriots (at Buffalo): Welker's been targeted 21 times over his last two starts and should play a big role in New England's quest to end their current two-game losing streak. Take note that despite playing quarterbacks Mark Sanchez, Matt Cassel and Brandon Weeden this year, the Bills are still giving up a staggering 30.2 fantasy points per game to opposing wide receivers (fourth-most in NFL). So what's going to happen now that they have to try and limit future Hall of Famer Tom Brady?
Ryan Williams, RB, Arizona Cardinals (vs. Miami): With Beanie Wells out of commission for the time being, the second-year back out of Virginia Tech now has an opportunity to solidify his spot as Arizona's running back of the future. Williams rolled up 83 yards on just 13 carries last week against the Eagles (6.3 YPC) and should find plenty of running room against a Dolphins defense that is surrendering an average of 18.4 fantasy points per game to opposing ball carriers this year (11th-most in NFL).
Vincent Jackson, WR, Tampa Bay Buccaneers (vs. Washington): The Redskins have given up 32, 31 and 38 points, respectively, to each of their three opponents so far on the season, with fantasy wide receivers averaging a ridiculous 40.3 points per game during those contests (most in NFL). If the $55 million man can't get it going on Sunday, owners might have to think about sending Jackson to the bench for an extended period of time.
Kyle Rudolph, TE, Minnesota Vikings (at Detroit): Rudolph is averaging 6.0 targets per game this season and has scored three touchdowns over his last two outings. And when you throw in the fact that only the Tennessee Titans are surrendering more fantasy points to opposing TEs on the season than the Lions, you've got a favorable situation in which Rudolph should be anywhere but your bench.
St. Louis Rams, D/ST (vs. Seattle): You won't get a whole lot out of this unit over the course of the season, but Sunday is an excellent opportunity to start the Rams D/ST if you're looking to play a favorable matchup. The Seahawks currently rank 29th in the NFL in total offense (269.0 yds/gm) and 26th in scoring (19.0 pts/gm). In addition, Vegas has the total for this game posted at 39, meaning the bookmakers are expecting a low-scoring defensive affair as well.
SIT 'EM DOWN
Jay Cutler, QB, Chicago Bears (at Dallas): Over his last two starts, Cutler is completing just 48.3% of his passes with one touchdown, five interceptions and nine sacks. That's downright dreadful. And we don't see his game improving much on Monday night at Dallas against a Cowboys defense that is currently surrendering an average of just 12.5 fantasy points per game to opposing quarterbacks (second-fewest in NFL) this season.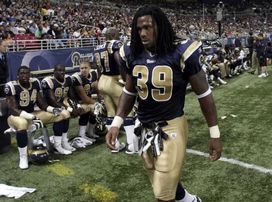 Between a lack of production and a tough matchup, Jackson is better off on the bench this weekend.
Steven Jackson, RB, St. Louis Rams (vs. Seattle): Jackson is averaging just 3.4 yards per carry, has failed to top 60 rushing yards in a game this season and has yet to score a touchdown. Does that sound like a guy you want in your starting lineup? Oh yeah, we forgot to mention that the Seahawks are giving up an average of just 11.8 fantasy points per game to opposing running backs this season (seventh-fewest in NFL). Leave Jackson on the bench.
Steve Smith, WR, Carolina Panthers (at Atlanta): Smith has been kept out of the end zone in each of his three starts this season and has scored a touchdown in just one of his last six games against the Falcons. Throw in the fact that Atlanta is giving up an average of just 17.0 fantasy points per game to opposing wideouts in 2012 (fifth-fewest in NFL) and you're probably better served going with an option that offers more upside in Week 4.
Ahmad Bradshaw, RB, New York Giants (at Philadelphia): The Eagles have done a much better job against the run this season than they did in 2011, surrendering an average of just 13.0 fantasy points per game (t-ninth-fewest in NFL) to opposing runn ing backs so far on the year. Bradshaw will start for Big Blue on Sunday, but Andre Brown is going to handle a portion of the workload after what he did against the Panthers in Week 3. The upside here is limited.
Dwayne Bowe, WR, Kansas City Chiefs (vs. San Diego): Bowe has found the end zone only once in his last four games against the Chargers and is averaging just 36.3 receiving yards per outing during that same stretch. And with the Bolts giving up an average of only 17.1 fantasy points per game to opposing wide receivers this season (sixth-fewest in NFL), you'd be better served going in another direction at the WR position in Week 4.
Brent Celek, TE, Philadelphia Eagles (vs. NY Giants): Celek has been solid so far in 2012 (14-258 on 25 targets), but runs in to a Giants defense this Sunday that has been equally impressive defending the tight end position (5.2 fantasy pts/gm, seventh-fewest in NFL). This isn't a terrible start, but if you have another option with a more favorable matchup, we advise that you go in that direction.
Green Bay Packers, D/ST (vs. New Orleans): Green Bay's defense has been very impressive over the last two weeks, giving up an average of just 12.0 points per game while forcing four turnovers and notching eight sacks. But for as bad as the New Orleans Saints have been this season, keep in mind that Drew Brees and company are still averaging 27.6 points per game and will come out throwing in this one. With a current total of 53.5 points, Vegas is expecting this game to be a shootout.
Hit me up on Twitter: @JoeFortenbaugh