September 06, 2013 -
Joe Fortenbaugh
Start 'em, Sit 'em, Smash 'em
First order of business: Yes, the GameDay fantasy live chat is back for a fifth consecutive year. The party gets underway at 10:30am eastern Sunday morning and runs for one full hour. This is a rapid-fire live chat because we want to answer as many questions as possible, so please keep your queries concise.
To access the chat, hit up the main page here at the NFP on Sunday morning and put an eye on the "Hot News & Rumors" section. You'll see the article that contains the chat approximately 30 minutes before we go live.
WEEK 1 SURVIVOR PICK
INDIANAPOLIS COLTS over Oakland Raiders
Backup option: Pittsburgh Steelers over Tennessee Titans
CLICK HERE for our 2013 guide on how to survive NFL survivor pools.
LOCK OF THE WEEK
Last week: N/A
Season: 0-0
Pick: HOUSTON TEXANS (-3) at San Diego Chargers
Analysis: I understand that this line is long gone, but I fired on the Texans at -3 two weeks ago and would be lying if I told you that there was another bet on the board I liked better than this one. Houston is 15-6-2 ATS over their last 23 games against the AFC while San Diego is 0-4 ATS over their last four home games. But more importantly, we don't see how the Bolts' offensive line is going to hold up under the relentless pressure of the Houston front seven. Quarterback Philip Rivers is going to be under fire all night and with an unproven and inconsistent receiving unit at his disposal, we envision the San Diego offense having a hell of a time trying to move the ball down the field.
LVH SUPERCONTEST SELECTIONS
For the noobs in the house, the LVH SuperContest is regarded by many as the most prestigious NFL handicapping contest in the world. Contestants pony-up a $1,500 entry fee for the right to pick five NFL games per week (vs. the spread, no totals). Sounds easy enough, but you've got to nail close to 70% over the course of the season for a shot at winning this thing. Rumor has it this year will see the most entrants in contest history, at somewhere close to 1,000 participants.
I've gone partners with the Big Puma this season, who just so happens to be on a flight out to Vegas at the current moment for kickoff weekend. Here are our five selections for Week 1:
CINCINNATI BENGALS (+3) at Chicago Bears
NEW ORLEANS SAINTS (-3) vs. Atlanta Falcons
KANSAS CITY CHIEFS (-4) at Jacksonville Jaguars
TAMPA BAY BUCCANEERS (-3.5) at New York Jets
HOUSTON TEXANS (-4) at San Diego Chargers
CLICK HERE for all of the current NFL lines.
START 'EM UP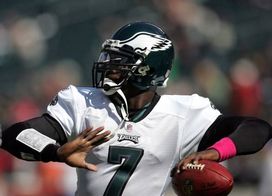 ICONVick will thrive in Monday night's shootout at Washington.
Michael Vick, QB, Philadelphia Eagles (at Washington): In terms of fantasy production, Michael Vick is about as consistent as a post-Mexican fiesta bowel movement. But the upside here is that this is Week 1, the Philly signal-caller is healthy and the Washington Redskins surrendered an average of 21.7 fantasy points per game to opposing quarterbacks in 2012 (fifth-most in NFL). In addition, the real advantage in this spot is that Vick is running Chip Kelly's offense in its NFL debut, meaning the 'Skins have had very little tape to work with during their preparations. There's no shot Vick is at the controls of the Philly offense for all 16 regular season games, so now is as good a time as any to take advantage of both his health and situation.
Isaac Redman, RB, Pittsburgh Steelers (vs. Tennessee): Redman's career stat line is devoid of any marquee performances and features only seven total touchdowns spanning four seasons, but he'll serve as Pittsburgh's feature back for the organization's Week 1 showdown against a Tennessee defense that gave up 22.6 fantasy points per game to opposing running backs in 2012 (t-second-most in NFL). We're not anticipating a monster performance from the Bowie State product on Sunday, but we do believe he'll serve as a productive flex option for Week 1.
Mike Wallace, WR, Miami Dolphins (at Cleveland): Week 1 has arrived which means it's time for Wallace to make good on that $60 million contract Miami handed the big-play wide receiver this past offseason. And rest assured that head coach Joe Philbin and quarterback Ryan Tannehill will look to milk every penny out of their shiny new weapon. In our opinion, the Browns are a team on the rise, but that doesn't necessarily change the fact that this defense gave up an average of 25.4 fantasy points per game to opposing wide receivers last season (fourth-most in NFL). Look for Miami to target Wallace down the field early and often.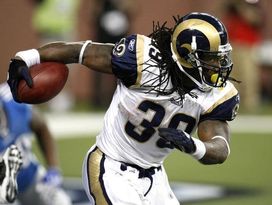 A new uniform will mean big things for Steven Jackson...at least in Week 1.
Steven Jackson, RB, Atlanta Falcons (at New Orleans): The former St. Louis Ram was overvalued on draft day and isn't going to put up the numbers many anticipate he will during the 2013 campaign, but Jackson does get a crack at a banged-up New Orleans defense in Week 1 that surrendered more fantasy points to opposing running backs last season than any other team in the league (24.2 pts/gm). Jackson owners should pay close attention to the Atlanta offensive line in this one, as this unit is a bit shakier than we've seen in years past. Take note that no team in the business gave up more rushing yards last season (2,047) than the Saints.
Pierre Garcon, WR, Washington Redskins (vs. Philadelphia): He's healthy, which is selling point No. 1 when analyzing a wideout who missed six games in 2012 due to a foot injury. Garcon posted lackluster numbers in two outings against the Birds last season (10-94-0), but Monday night is going to feature a shootout between these two NFC East rivals (Las Vegas total: 52 points) which features a porous Philadelphia defense that surrendered an average of 24.4 fantasy points per game to opposing wide receivers last season (seventh-most in NFL). Consider Garcon a solid WR2 for Week 1.
Owen Daniels, TE, Houston Texans (at San Diego): Daniels posted a very respectable stat line last season (62-716-6 on 104 targets) and despite the lack of respect the 30-year-old received during fantasy draft season, it's worth noting that Monday night offers a very favorable matchup against a Chargers team that surrendered an average of 10.5 fantasy points per game to opposing TEs in 2012 (t-sixth-most in NFL). The San Diego defense should be so preoccupied with wideouts Andre Johnson and DeAndre Hopkings, not to mention running back Arian Foster, that Daniels should be able to slide through the cracks for a commendable performance.
Tampa Bay Buccaneers, D/ST (at New York Jets): Rookie quarterback Geno Smith isn't ready for the big stage and with a severely limited arsenal at his disposal, the West Virginia product is going to struggle in a big way come Sunday. Enter the Tampa Bay Buccaneers and their revamped secondary, who should capitalize on multiple turnovers and excellent field position. Take note that with Mark Sanchez under center in 2012, the Jets gave up an average of 12.1 fantasy points per game to opposing D/STs (third-most in NFL).
SIT 'EM DOWN
Cam Newton, QB, Carolina Panthers (vs. Seattle): The Seahawks spent the offseason upgrading their defensive line with the additions of Cliff Avril and Michael Bennett via free agency, surrendered just 14.7 fantasy points per game to opposing quarterbacks in 2012 (second-fewest in NFL) and enter their season-opener with Super Bowl aspirations on the mind. Newton has been a stud during his two seasons in the league, but lacks a consistent WR2 and an effective running game outside of what he can deliver with his own two feet. The former Heisman Trophy winner isn't a terrible Week 1 option at the QB position, but we feel his upside here is limited.
Ryan Mathews, RB, San Diego Chargers (vs. Houston): In 38 career NFL appearances, Mathews has eclipsed 100 rushing yards in a game exactly five times, with the last 100+ yard performance coming back in December of 2011. Additionally, the former Fresno State standout has found the end zone via the ground only 14 times during his three NFL campaigns, with just one total touchdown scored in 2012. Those numbers are about as imposing as the opponent Mathews will face on Monday night at Qualcomm, as the Houston defense gave up fewer fantasy points to opposing running backs in the 2012 than any other team in the league (12.7 pts/gm).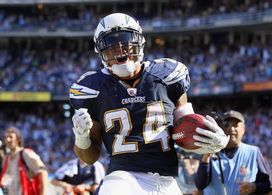 Mathews isn't worth the gamble in Week 1 against Houston.
Kenny Britt, WR, Tennessee Titans (at Pittsburgh): The 24-year-old enters the 2013 campaign in the final season of his five-year rookie deal, so the motivational factor is in full effect when it comes to Britt. But injuries and suspensions have limited the 6-3, 223-pound beast to just 17 games over the last two seasons and we aren't exactly high on his chances for a big performance Sunday against a Pittsburgh Steelers team that ranked first in the NFL in total defense last season (275.8 yds/gm) while surrendering an average of just 18.1 fantasy points per game to opposing wide receivers (sixth-fewest in NFL). Let's get a good look at quarterback Jake Locker before we begin inserting Britt into the starting lineup.
Eddie Lacy, RB, Green Bay Packers (at San Francisco): Yes, Lacy was one of our top sleeper targets for 2013 and yes, we still believe the Alabama wrecking ball is going to reach double-digit touchdowns this season. But Sunday in San Francisco is not the time to experiment. The Niners are loaded on defense, ranked fourth against the run last season (94.2 yds/gm, only seven touchdowns surrendered), and permitted a paltry 13.4 fantasy points per game to opposing running backs last year (second-fewest in NFL). The big performances are coming, but Lacy will have to wait at least another week for that to happen.
Sidney Rice, WR, Seattle Seahawks (at Carolina): With the newly-acquired Percy Harvin down for the count, Rice once again has the opportunity to emerge as Russell Wilson's primary target. The problem is that the 27-year-old former Viking hasn't topped 50 receptions in a season since 2009, has trouble staying healthy and will face a Carolina defense this Sunday that surrendered just 18.3 fantasy points per game to opposing wide receivers last season (seventh-fewest in NFL). In addition, the Panthers are coming back healthy on the defensive side of the ball and have the advantage of playing a home game against a team that will travel across the country for an early start time. Be weary of this one.
Antonio Gates, TE, San Diego Chargers (vs. Houston): Gates turned 33-years-old in June and posted just 49 receptions for 538 yards in 15 games last season, his lowest totals since coming out of Kent State as a rookie in 2003. Throw in the fact that the Texans surrendered just 5.8 fantasy points per game to opposing tight ends last year (second-fewest in NFL) and the possibility that second-year TE Ladarius Green steals some snaps/targets and you have all the reasons you need to find a tight end with higher upside for Week 1.
San Francisco 49ers, D/ST (vs. Green Bay): One of the nastiest defenses in the league (third in NFL in total defense last season), the 49ers should be nowhere near your starting roster this Sunday. In two games against the Green Bay Packers last season, San Francisco gave up a total of 53 points and 676 yards of offense, despite the fact that the Niners won both games. Owners will ride this unit consistently throughout the 2013 campaign, but bypassing this volatile Week 1 matchup is highly recommended.
Hit me up on Twitter: @JoeFortenbaugh