September 14, 2012 -
Joe Fortenbaugh
Start 'em, Sit 'em, Smash 'em
A quick note before we begin: The GameDay live chat will once again take place from 10:30am to 11:30am eastern this Sunday. You'll be able to access the chat through an article posted on the main page of the NFP Sunday morning. In addition, I'll be bringing back the waiver wire/trade bait live chat starting next Tuesday afternoon.
SMASH OF THE WEEK (Season: 0-1)
Last week: NEW ORLEANS SAINTS (-7) vs. Washington Redskins (loss)
PHILADELPHIA EAGLES (-2.5) vs. Baltimore Ravens: Remember last year when the Ravens blasted the Steelers 35-7 at home in Week 1 and then traveled to Tennessee in Week 2 to play a Titans team that was coming off a loss to Jacksonville? Final score: Titans 26, Ravens 13. Let me ask you this: If Baltimore is really as good as they looked on Monday night and Philly is as bad as they appeared last Sunday at Cleveland, then why has this line barely moved? Maybe it has something to do with the fact that this could be a trap game for the Ravens, who might get caught looking ahead to their Week 3 Sunday night showdown with the New England Patriots.
LVH SUPERCONTEST SELECTIONS
Nothing like a 1-4 opening weekend to instill fear in the hearts of the other contestants. Let's try to get this train back on the tracks.
PHILADELPHIA EAGLES (-2.5) vs. Baltimore Ravens
CAROLINA PANTHERS (+2.5) vs. New Orleans Saints
INDIANAPOLIS COLTS (+1) vs. Minnesota Vikings
DALLAS COWBOYS (-3) at Seattle Seahawks
SAN FRANCISCO 49ERS (-6.5) vs. Detroit Lions
CLICK HERE for all of the Week 2 lines.
SURVIVOR SMASH FOR WEEK 2
NEW ENGLAND PATRIOTS vs. Arizona Cardinals: We advanced past Week 1 with Detroit's victory over St. Louis last Sunday, so let's ride with Tom Brady and the Patriots this weekend, who just so happen to be the biggest favorites on the board here in Las Vegas.
FANDUEL WEEK 2 SALARY CAP CHALLENGE
We've cut the league down to just 110 entries this week, but are still offering a prize pool of $1,000. CLICK HERE to get involved in the action.
START 'EM UP
Tony Romo, QB, Dallas Cowboys (at Seattle): Romo completed 75.9% of his passes for 307 yards and three scores in the Cowboys' opener at New York and is coming off ten days of rest in preparation for a road trip to Seattle. The Seahawks can play some defense, but the team still surrendered 20 points last weekend to the two-headed beast of John Skelton and Kevin Kolb. And with rookie quarterback Russell Wilson under center for Seattle, there's a good chance the Cowboys could find themselves in excellent field position throughout the afternoon.
C.J. Spiller, RB, Buffalo Bills (vs. Kansas City): It's almost hard to believe time has gone by so fast that Spiller is already in his third professional campaign. What's even harder to fathom is that last Sunday's monster performance against the Jets (14-169-1) was just the second time the Clemson product rushed for over 100 yards since joining the NFL. With Fred Jackson on the shelf for the next month nursing a knee injury, Spiller's time to shine has finally arrived. Start him with confidence.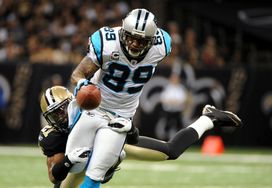 US PRESSWIREWith Cam Newton under center, Smith has rolled up some solid yards against the Saints.
Steve Smith, WR, Carolina Panthers (vs. New Orleans): Since quarterback Cam Newton joined the Panthers in 2011, Smith has rolled up nine receptions for 165 yards and two scores in two games against New Orleans. And did you see this defense's dreadful performance against Washington? I know high schools that could have made it more competitive. Look for Smith and Newton to light up the skies Sunday in Carolina.
Alfred Morris, RB, Washington Redskins (at St. Louis): While Morris was busy carrying the rock 28 times for 96 yards and two scores last week in New Orleans, approximately 1,100 miles to the north the Rams were in the process of surrendering 83 rushing yards and two scores on just 18 carries against the Detroit Lions. This one is a bit of a gamble because you never know which running back head coach Mike Shanahan will feature from week to week. But we're confident that Morris will make for a respectable flex option for Week 2.
Eric Decker, WR, Denver Broncos (at Atlanta): Currently listed at 51.5, no Week 2 game in Las Vegas is posted with a higher total than the Broncos-Falcons Monday night matchup. That's good news for fantasy owners, as this game should be ripe with scoring and high yardage totals. And while Demaryius Thomas may see the red zone targets, keep in mind that Decker was targeted seven times in Denver's Week 1 win over Pittsburgh. Also of note: Falcons CB Brent Grimes is out for the season with an Achilles injury.
Jermaine Gresham, TE, Cincinnati Bengals (vs. Cleveland): Gresham caught only three passes in Cincinnati's Week 1 loss at Baltimore, but the former Oklahoma standout was targeted eight times and faces a Cleveland defense this Sunday that surrendered a staggering 14.1 fantasy points to the Philadelphia tight ends just five days ago. Still not sold? Well then how about the fact that in two games against the Browns last season, Gresham racked up 11 receptions for 126 yards and two scores on 17 targets. Yeah, he likes this matchup.
Cincinnati Bengals, D/ST (vs. Cleveland): Speaking of Cincinnati, you might as well go ahead and start their D/ST as well this weekend because the Browns are coming to town complete with quarterback Brandon Weeden, who threw four interceptions and completed only 34.3% of his passes in Week 1 against the Eagles. Pressure, pressure and more pressure. This unit should produce a very healthy stat line on Sunday.
SIT 'EM DOWN
Matt Schaub, QB, Houston Texans (at Jacksonville): Schaub's thrown for just five touchdown passes in his last four starts against the Jaguars, with two of those outings including passing totals of 225 or fewer yards. With more emphasis being placed on field position, defense and the running game, we don't think Week 2 is the best spot for Schaub to be in your starting lineup.
Kevin Smith, RB, Detroit Lions (at San Francisco): Smith rolled up a respectable 62 yards and a touchdown in Week 1 at home against the Rams, but faces a much stiffer test in Week 2 at San Francisco. Remember, the Niners gave up fewer fantasy points to opposing running backs than any other team in the league last season (11.2 pts/gm) and held Packers RB Cedric Benson to just 18 yards on nine carries last Sunday.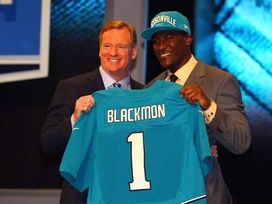 First round pick Justin Blackmon is going to be a baller, but it's going to take some time.
Justin Blackmon, WR, Jacksonville Jaguars (vs. Houston): A quiet debut for Blackmon (3-24-0) at Minnesota last weekend should carryover into the Jaguars' Week 2 matchup against Johnatha n Joseph and the vaunted Houston Texans defense. Blackmon is going to be a playmaker in this league, but this is not the time to insert him into your starting lineup.
Marshawn Lynch, RB, Seattle Seahawks (vs. Dallas): Pete Carroll did everything he could to get Lynch involved in Seattle's Week 1 showdown at Arizona (21 carries for 85 yards), but the Pro Bowl running back was kept out of the end zone and now has to contend with a Cowboys defense that limited the New York Giants rushing attack to just 82 yards in Week 1. Lynch isn't a terrible option for Sunday, but we think it's going to be a tough afternoon with Dallas stacking seven and eight men in the box and daring Russell Wilson to beat them.
Stephen Hill, WR, New York Jets (at Pittsburgh): A terrific debut for the rookie from Georgia Tech in Week 1 as Hill caught five passes for 89 yards and two scores in the Jets' blowout win over Buffalo. But taper your expectations for Week 2 because the Pittsburgh defense is a much tougher unit than what Hill and quarterback Mark Sanchez faced last week against the Bills. And remember, safety Ryan Clark and linebacker James Harrison are both expected to be in the lineup for this one.
Brandon Pettigrew, TE, Detroit Lions (at San Francisco): Pettigrew looked sharp in Week 1 with a stat line that included five receptions for 77 yards against a Rams defense that did a nice job defending the tight end position last season. But keep in mind that in 16 games last year, the 49ers gave up a grand total of just three touchdowns to opposing TEs. This is a tough spot for just about every Lion on the roster with the exception of the unstoppable Calvin Johnson.
Denver Broncos, D/ST (at Atlanta): This is a solid unit that will deliver the goods for fantasy owners in 2012, but a Week 2 road trip to Atlanta isn't the type of matchup you want to mess around with. The Falcons just hung 40 on the Chiefs in Kansas City last Sunday and have the luxury of playing at home inside a noisy dome on Monday night. Hit the waiver wire and find yourself a safer option for Week 2.
Hit me up on Twitter: @JoeFortenbaugh