September 27, 2013 -
Joe Fortenbaugh
Start 'em, Sit 'em, Smash 'em
LIVE CHAT
The GameDay fantasy live chat will kick-off this Sunday beginning at 10:30am eastern. During the 60-minute session we'll be talking starts & sits, injury updates, weather reports, Las Vegas point spreads and more. To access the chat, hit up the homepage of the NFP and look for the article under the "Hot News and Rumors" section.
WEEK 4 SURVIVOR PICK
Last week: Seattle Seahawks over Jacksonville Jaguars (win)
Already played: Indianapolis (Week 1), Baltimore (Week 2), Seattle (Week 3)
This week: DENVER BRONCOS over Philadelphia Eagles
Plan B: NEW ORLEANS SAINTS over Miami Dolphins
Why: The situation favors Philadelphia as the Birds travel to Denver on extra rest to take on a Broncos team coming off a Monday night game. But that's the only thing the Birds have to hang their hats on at the moment. Peyton Manning has won eight consecutive home contests and is 9-1 at Sports Authority Field since joining the Broncos during the 2012 offseason. In addition, Philly currently ranks 30th in the NFL in total defense (438.3 yds/gm), 26th in scoring defense (28.7 pts/gm) and is running an average of just 66.0 plays per game through the first three weeks of the season (15th in NFL). That's not what Chip Kelly had in mind when he signed on in Philadelphia.
MISFIRE OF THE WEEK
Last week: New York Giants (+1) at Carolina Panthers (loss)
Season: 1-2-1
PICK: KANSAS CITY CHIEFS (-4) vs. New York Giants
Analysis: First off, this section will no longer be referred to as the "Lock of the week" because that would imply the pick in question is expected to win. And the only thing a 1-2-1 record guarantees us is that a chain-smoking monkey covered in his own feces has just as good a shot at selecting winners as this writer does.
As for this week's play, we're backing a solid Kansas City defense that enters Week 4 on extra rest over a reeling Giants team that has already surrendered 11 sacks (28th in NFL) and ranks dead last in the league in points allowed (38.3 pts/gm). Take note of the coaching advantage possessed by Kansas City in this spot, as Andy Reid is very familiar with Tom Coughlin and the Giants after having spent 14 years in the NFC East coaching Philadelphia.
LVH SUPERCONTEST SELECTIONS
Last week: 2-3
Season: 7-7-1
WEEK 4
INDIANAPOLIS COLTS (-7.5) at Jacksonville Jaguars
DETROIT LIONS (-3) vs. Chicago Bears
NEW ORLEANS SAINTS (-6.5) vs. Miami Dolphins
ARIZONA CARDINALS (+2.5) at Tampa Bay Buccaneers
KANSAS CITY CHIEFS (-4) vs. New York Giants
CLICK HERE to check out all of the current lines.
START 'EM UP
Tony Romo, QB, Dallas Cowboys (at San Diego): Never mind the fact that Romo currently ranks 15th in fantasy scoring at the quarterback position. The Dallas signal-caller couldn't ask for a better opponent in Week 4 than the one he's facing in San Diego against a Chargers team that currently ranks dead last in the NFL in pass defense (340.7 yds/gm). In addition, the Bolts are surrendering more fantasy points to opposing quarterbacks than any other team in the league (32.9 pts/gm) and just let Jake Locker throw for 299 yards and a score in a 20-17 Week 3 loss. If Locker could light these guys up, Romo can slice and dice them to pieces.
Darren McFadden, RB, Oakland Raiders (vs. Washington): He's averaging just 3.9 yards per carry on the season, but if there was ever an opportunity for McFadden to break out, Week 4 is it. The six-year veteran and his Raiders teammates play host to a Washington defense on Sunday that currently ranks 30th in the NFL against the run (155.0 yds/gm) and is giving up an average of 23.7 fantasy points per game to opposing running backs in 2013 (third-most in NFL). DMC is no longer the type of back you can start without question on a weekly basis, which is why this Sunday is the perfect time to milk this pick for all it's worth.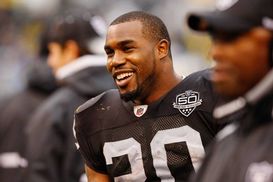 ICONMcFadden owners should be all smiles after Sunday's game against Washington.
Torrey Smith, WR, Baltimore Ravens (at Buffalo): Has yet to find the end zone in 2013, but Sunday's matchup at Buffalo is a tasty one. At the current moment, only three teams in the NFL are giving up more fantasy points per game to opposing wide receivers than the Bills (31.3 pts/gm).
Trent Richardson, RB, Indianapolis Colts (at Jacksonville): It's been one week since the trade that sent 92% of Cleveland nation rushing to the internet to acquire new jerseys, so it's time for the training wheels to come off. Look for Richardson's 13-carry total from Week 3 to increase dramatically this Sunday against a Jacksonville defense that ranks dead last in the NFL against the run (167.7 yds/gm) and is giving up an average of 20.1 fantasy points per game to opposing running backs this season (ninth-most in NFL).
Eric Decker, WR, Denver Broncos (vs. Philadelphia): Caught eight passes for 133 yards and a touchdown in Week 3 against the Raiders and should encounter just as much success this Sunday against a Philadelphia secondary that has been absolutely decimated in 2013. Through three games, only the Redskins (36.0 pts/gm) and the Packers (32.3 pts/gm) have surrendered more fantasy points to opposing wideouts than the Eagles (31.7 pts/gm).
Heath Miller, TE, Pittsburgh Steelers (vs. Minnesota): Through the first three games of the 2013 season, 23 NFL teams have surrendered two or fewer touchdowns to opposing tight ends. Multiply that by three and you have the Minnesota Vikings' total. The Pittsburgh Steelers may be reeling at 0-3, but you can bet they've detected the same weakness we have in Les Frazier's defense.
Kansas City Chiefs, D/ST (vs. NY Giants): On one side you have the Chiefs, who have amassed more fantasy points through three games than any other D/ST in the business. On the other you have the New York Giants, who have given up more fantasy points to opposing D/STs than any other team in the league (20.0 pts/gm). Seems like a match made in heaven to us.
SIT 'EM DOWN
Eli Manning, QB, New York Giants (at Kansas City): He's been sacked a grand total of 11 times through just 12 quarters of football (fourth-most in NFL), has tossed eight interceptions in only three games and is on the road in Week 4 playing one of the breakout defenses of the 2013 campaign. And it's not like that 58.8% completion percentage is going to do anything to change our opinion. Pass.
C.J. Spiller & Fred Jackson, RBs, Buffalo Bills (vs. Baltimore): Qualified for this list last week and will continue to do so until one or both steps up and produces a respectable stat line. Take note that at the moment, the Ravens are surrendering fewer fantasy points to opposing running backs than an y other team in the league (8.5 pts/gm).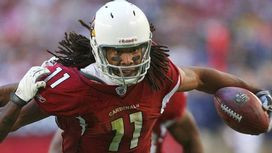 Fitzgerald is staring down the barrel of a matchup with Pro Bowler Darrelle Revis.
Larry Fitzgerald, WR, Arizona Cardinals (at Tampa Bay): There was a lot of preseason talk surrounding the acquisition of quarterback Carson Palmer and how it would help to rejuvenate Fitzgerald's career, but the bottom line is that the 30-year-old from Pittsburgh has recorded just 177 receiving yards on the season while being targeted just 11 times over the last two weeks. Oh yeah, it's more than likely that Fitzgerald will be going head-to-head with Pro Bowl cornerback Darrelle Revis this weekend. Enough said.
Chris Johnson, RB, Tennessee Titans (vs. NY Jets): Is averaging just 3.7 yards per carry on the season, has yet to find the end zone and is six games removed from his last 100-yard performance. Throw in the fact that the Jets currently rank sixth in the NFL against the run (79.7 yds/gm) and are giving up an average of just 9.7 fantasy points per game to opposing running backs this season (second-fewest in NFL) and you have all the reasons you need to look in another direction for Week 4.
Hakeem Nicks, WR, New York Giants (at Kansas City): Three-game stat line reads 9-197-0. And with his quarterback under heavy and consistent pressure while playing on the road in Kansas City this Sunday, it's unlikely that those numbers are headed for a serious swing in a northerly direction.
Tony Gonzalez, TE, Atlanta Falcons (vs. New England): Save for a Week 1 touchdown at New Orleans, Tony G's return from that ever-so-brief retirement has been less than stellar, to say the least (11-93-1 on the season). Expect that trend to continue Sunday night against a Patriots defense that is giving up fewer fantasy points to opposing tight ends than any other team in the league in 2013 (2.1 pts/gm).
Chicago Bears, D/ST (at Detroit): There's a reason Vegas has the Lions favored by three while the total for this NFC North showdown is listed at a lofty 48. Keep that in mind, as well as the fact that Detroit is giving up just 6.0 fantasy points per game to opposing D/STs this season (T2-fewest in NFL).
Hit me up on Twitter: @JoeFortenbaugh