October 10, 2014 -
Joe Fortenbaugh
Start 'em, Sit 'em, Smash 'em
FANTASY QUESTIONS
While the Sunday live chat is no more, I'm still available to answer any and all fantasy questions throughout the week on twitter @JoeFortenbaugh if you use the hashtags #FSTLV and #GMCFF. Fire over some good ones and they just may end up on the Fantasy Sports Network Sunday morning between 10:00am-12:00pm eastern.
WEEK 6 SURVIVOR PICK
Last week: Lost with Detroit, won with Dallas
--Our survivor picks have been, how shall I put this, raw sewage this season, so I think it's time to bring down the curtain on this portion of the Starts/Sits/Smashes column. For those of you still alive in your survivor pools who may be interested in kicking around some ideas, you can always reach out on twitter to get my thoughts…which you can then fade to glory.
PICK OF THE WEEK
Record: 1-3-1
Last week: Chicago Bears (+3) over Carolina Panthers (loss)
This week: Chicago/Atlanta OVER 54
Analysis: Neither team is all that great at playing defense and the two games played at the Georgia Dome so far this season have resulted in an astounding average of 70.5 total points per contest. A square play? You bet. But it's still one I'll be backing on Sunday.
WESTGATE LAS VEGAS SUPERCONTEST SELECTIONS
Last week: 3-2
Season: 12-13
The Big Puma and I are still working on finalizing our Week 6 card, but here's what we're currently leaning towards:
CLEVELAND BROWNS (+2) vs. Pittsburgh Steelers
BUFFALO BILLS (+3) vs. New England Patriots
SEATTLE SEAHAWKS (-8) vs. Dallas Cowboys
MINNESOTA VIKINGS (+1.5) vs. Detroit Lions
DENVER BRONCOS (-8.5) at New York Jets
I'll post the final five plays sometime this weekend on twitter.
START 'EM UP
Eli Manning, QB, New York Giants (at Philadelphia): The smoothest he's played in over two years, Manning's last three outings have seen the Giants signal-caller complete 70.1 percent of his passes for 734 yards and eight touchdowns with just one interception. Ride the hot streak Sunday night in Philadelphia when the two-time Super Bowl winner takes on a dreadful Eagles defense that is currently surrendering an average of 26.2 fantasy points per game to opposing quarterbacks this season (second-most in NFL). This matchup has all the makings of a first-class shootout.
Branden Oliver, RB, San Diego Chargers (at Oakland): Shredded the New York Jets defense last Sunday for 182 total yards and two touchdowns on an impressive 23 touches. Fantasy owners should anticipate another heavy workload for the Buffalo product Sunday at Oakland when the Chargers go to work against an Oakland Raiders defense that ranks 31st in the league against the run (158.2 yds/gm) while giving up an average of 23.6 fantasy points per game to opposing running backs this season (fourth-most in NFL). Another big showing from Oliver and Ryan Mathews may start sweating.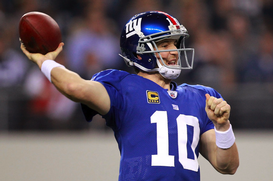 Eli should have a field day Sunday against a lousy Philadelphia defense.
DeSean Jackson, WR, Washington Redskins (at Arizona): Has found the end zone in two of his last three starts and is coming off a monster Monday night performance against the Seattle Seahawks (5-157-1 on 11 targets). Jackson isn't exactly a high volume receiver, but the upside here is that he's more than capable of delivering a respectable fantasy stat line with just one big play. And that's exactly what we anticipate will happen in Week 6 against an Arizona defense that is currently permitting an average of 29.3 fantasy points per contest to opposing wide receviers this season (second-most in NFL).
Joique Bell, RB, Detroit Lions (at Minnesota): Keep an eye on the injury report here because Bell suffered a concussion in Week 4 that kept him out of action last Sunday and he has yet to be 100 percent cleared for this weekend's matchup at Minnesota. But the forecast looks good for the four-year veteran, which is excellent news for fantasy owners as the Vikings currently rank 19th in the NFL against the run (121.8 yds/gm) while surrendering an average of 22.5 fantasy points per game to opposing ball-carriers this season (ninth-most in NFL). As an added bonus, there's a decent shot that backfield mate Reggie Bush will miss Sunday's contest due to an ankle injury sustained in last week's loss to Buffalo, which would free up more carries for Bell.
Mohamed Sanu, WR, Cincinnati Bengals (vs. Carolina): Sanu has found pay dirt in two of his last three starts, but the upside here centers around the fact that Pro Bowl wide receiver A.J. Green will likely miss Sunday's contest against the Panthers after aggravating a pre-existing toe injury during Wednesday's practice. That would put all of Green's targets (25 through four games) up for grabs against a Panthers unit that is currently giving up an average of 23.9 fantasy points per game to opposing wide receivers this year (12th-most in NFL). With teams like the Saints and Chiefs on the bye in Week 6, Sanu makes for an excellent replacement thanks to a very favorable situation.
Delanie Walker, TE, Tennessee Titans (vs. Jacksonville): Don't let Walker's relatively quiet Week 5 performance against the Browns (4-47-0) persuade you to go in another direction this weekend. Remember, this guy commenced the 2014 campaign by finding the end zone in three of his first four outings while averaging a healthy 8.0 targets per game. Owners should expect a bounce-back performance Sunday against a hideous Jacksonville defense that is currently surrendering an average of 13.4 fantasy points per game to opposing tight ends this season (second-most in NFL).
San Diego Chargers, D/ST (at Oakland): We recommended this unit in last week's column and were rewarded with a shutout performance against the New York Jets that included two interceptions and two sacks. While another blank job is unlikely in Week 6, it's hard not to love a matchup that comes against an Oakland Raiders team that currently ranks dead last in the NFL in both total offense (270.0 yds/gm) and scoring (12.8 pts/gm). Take note that this is a much different San Diego defense than we've grown accustomed to seeing over the last decade. These guys come to play and currently rank third in the league in total defense (290.8 yds/gm).
SIT 'EM DOWN
Colin Kaepernick, QB, San Francisco 49ers (at St. Louis): Kaepernick's ability to pick up yards with his feet has kept him semi-relevant this season as it relates to the fantasy football world, but note that the San Fran signal-caller has yet to throw for more than 248 yards in a game and is averaging just 1.4 touchdown passes per outing through the first five contests of the year. In addition, three career starts against the Rams has resulted in an average of just 216.6 passing yards per game with three touchdowns. To make mattes worse, a Monday night road date at division-rival St. Louis is an extremely unfavorable spot for the 26-year-old quarterback, so we recommend looking for a more viable option in Week 6.
Stevan Ridley, RB, New England Patriots (at Buffalo): Don't let last week's 27-carry, 113-yard, one-touchdown effort against the Cincinnati Bengals fool you. Ridley is still an extremely inconsistent and ultra-risky fantasy play who runs into a Buffalo defense this Sunday that currently ranks second in the NFL against the run (71.0 yds/gm) while surrendering an average of just 11.6 fantasy points per game to opposing running backs (third-fewest in NFL). This matchup has "letdown" written all over it.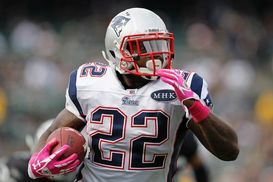 Don't bank on Ridley striking gold for the second week in a row.
Sammy Watkins, WR, Buffalo Bills (vs. New England): Put up a solid 7-87-0 effort on a season-high 12 targets with Kyle Orton under center in Week 5 at Detroit. And while we feel that the switch to Orton increases the value of Watkins dramatically, this Sunday against cornerback Darrelle Revis and the New England Patriots is not the time to test that theory. Revis rounded into form last week when matched up with Pro Bowler A.J. Green, so Watkins has his work cut out for him this weekend.
Zac Stacy, RB, St. Louis Rams (vs. San Francisco): Has notched just one touchdown on the season and has yet to top 71 rushing yards in a game in any of his four appearances this year. In addition, Stacy is battling a calf injury that kept him out of Thursday's practice and, assuming he makes it onto the field in Week 6, has to challenge a San Francisco run defense that is permitting fewer fantasy points to opposing running backs than any other team in the business this year (10.6 pts/gm). This is a poor spot all the way around.
Kelvin Benjamin, WR, Carolina Panthers (at Cincinnati): The rookie from Florida State has turned a lot of heads through the first five games of his career, but Sunday in Cincinnati offers a daunting challenge against a Bengals defense that is pissed off after being humiliated on national television at New England last weekend. Take note that Cincinnati is currently riding an 11-game home winning streak in which the Bengals have given up an average of only 15.27 points per game to the opposition.
Martellus Bennett, TE, Chicago Bears (at Atlanta): Certainly not the worst play in the world considering the fact that Bennett has already found the end zone four times this season, but we thought it was worth mentioning the fact that no team in the NFL is currently surrendering fewer fantasy points to opposing tight ends this season than the Falcons (3.9 pts/gm). And as we say almost every week, the Falcons in the Georgia Dome is a much different team than the Falcons outdoors on the road.
Pittsburgh Steelers, D/ST (at Cleveland): This is no longer the stalwart defensive unit we remember from the turn of the millennium. The Steelers have forced only five turnovers through five games this year and currently rank 21st in the NFL in sacks, with eight. Remember, the last time these two teams got together the Browns hung 27 points on Dick LeBeau's crew and we don't see the scenario playing out much differently this time around.
Hit me up on Twitter: @JoeFortenbaugh