November 07, 2014 -
Joe Fortenbaugh
Start 'em, Sit 'em, Smash 'em
FANTASY QUESTIONS
While the Sunday live chat is no more, I'm still available to answer any and all fantasy questions throughout the week on twitter @JoeFortenbaugh if you use the hashtags #FSTLV and #GMCFF. Fire over some good ones and they just may end up on the Fantasy Sports Network Sunday morning between 10:00am-12:00pm eastern.
WEEK 10 SURVIVOR PICKS
Last week: Kansas City (win), San Francisco (loss)
Plan A: Baltimore
Plan B: Green Bay
Plan C: Tampa Bay
--If still available, Denver, Seattle and Dallas (assuming Tony Romo plays) all make for solid selections.
FADE OF THE WEEK
Record: 3-5-1
Last week: Arizona Cardinals (+4) over Dallas Cowboys (win)
This week: Detroit Lions (-2.5) vs. Miami Dolphins
Analysis: Winners of four of their last five, the Miami Dolphins have looked terrific since coming off the bye at the beginning of October. And while you can make the case that without a New Orleans meltdown in Week 7 and delay-of-game penalty in Week 8 Detroit would be 4-4 instead of 6-2, the fact remains that the Lions are very much in the thick of it at the moment with reinforcements on the way in the form of Pro Bowl wide receiver Calvin Johnson and dual-threat running back Reggie Bush. This is the best game of the weekend that nobody is talking about and, in our opinion, Detroit should be laying the customary 3 points for home field advantage. At -2.5, we're all over it.
WESTGATE LAS VEGAS SUPERCONTEST SELECTIONS
Last week: 2-3
Season: 21-24 (.466)
The Big Puma is attending a bachelor party in Myrtle Beach this weekend, so needless to say, he has been virtually useless when it comes to handicapping this week's card. So yours truly will be driving the caboose in Week 10, with the following plays currently under consideration:
NEW YORK JETS (+5) vs. Pittsburgh Steelers
DETROIT LIONS (-2.5) vs. Miami Dolphins
ST. LOUIS RAMS (+7) at Arizona Cardinals
KANSAS CITY CHIEFS (-2) at Buffalo Bills
NEW ORLEANS SAINTS (-5) vs. San Francisco 49ers
GREEN BAY PACKERS (-7) vs. Chicago Bears
START 'EM UP
Mark Sanchez, QB, Philadelphia Eagles (vs. Carolina): 62 career regular season starts and a Week 9 off-the-bench performance that included 202 passing yards, two touchdowns and a 68.2 percent completion percentage has Sanchez looking more than capable of holding down the fort while Nick Foles recovers from a broken collarbone. The former New York Jet has an impressive big-play arsenal at his disposal for Monday night's showdown with a Carolina Panthers team that currently ranks 25th in the NFL in scoring defense (26.2 pts/gm) while surrendering an average of 22.3 fantasy points per game to opposing quarterbacks this season (seventh-most in NFL).
Bobby Rainey, RB, Tampa Bay Buccaneers (vs. Atlanta): Amassed 121 total yards on 20 touches last Sunday at Cleveland and now gets a crack at the defense that is giving up more fantasy points to opposing running backs this season than any other unit in the business (27.2 pts/gm). Former starter Doug Martin is still nursing an ankle injury that will likely keep him out of action in Week 10 while rookie Charles Sims is also battling an ankle injury, but is likely to suit up as Tampa's No. 2 ball-carrier on Sunday. That should lead to Rainey receiving a plethora of touches in a very favorable matchup.
Kelvin Benjamin, WR, Carolina Panthers (at Philadelphia): Currently ranks tenth in the NFL in targets (78) and has found the end zone in five of nine starts this year. However, owners have soured just a bit on the rookie from Florida State following back-to-back performances that resulted in a combined stat line of only six receptions for 112 yards with zero touchdowns. We advise you not kid yourself into thinking this is a developing trend, as Benjamin and quarterback Cam Newton have a tasty matchup on deck with a Philadelphia Eagles defense that currently ranks 22nd in the NFL against the pass (256.2 yds/gm) while permitting an average of 27.5 fantasy points per game to opposing wide receivers this season (fourth-most in NFL).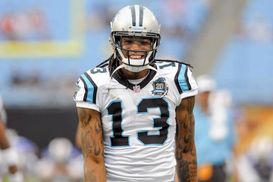 Benjamin should have his way with the Eagles secondary on Monday night.
Ronnie Hillman, RB, Denver Broncos (at Oakland): The San Diego State product found the end zone twice in New England last Sunday and should continue cruising through Week 10 when he and the Broncos travel to Oakland to face a Raiders defense that is currently permitting an average of 24.3 fantasy points per game to opposing running backs this season (second-most in NFL). If Denver gets up big in this one, expect Hillman to see plenty of second half carries in an effort to grind down the clock.
Roddy White, WR, Atlanta Falcons (at Tampa Bay): White is nowhere close to producing the numbers owners are used to seeing from the ten-year veteran, but Week 10 offers up the mother of all fantasy matchups when it comes to wide receivers. The Tampa Bay Buccaneers have been absolutely dreadful this season, a statement that is supported by the fact that the defense currently ranks 31st in the league against the pass (285.2 yds/gm) and dead last in scoring (30.6 pts/gm). In addition, no squad in the NFL is surrendering more fantasy points to opposing wideouts this season than Tampa Bay (30.1 pts/gm). We advise you roll with Matt Ryan, Roddy White and Julio Jones for this one.
Larry Donnell, TE, New York Giants (at Seattle): Donnell made this list last week and responded by catching four passes on eight targets for 25 yards and a touchdown. Not exactly numbers that will set the world on fire, but his trip to the end zone resulted in a respectable fantasy stat line. Jump back on the train for this Sunday's stop in Seattle, where the Seahawks are surrendering an average of 11.5 fantasy points per game to opposing tight ends this season (fourth-most in NFL).
Dallas Cowboys, D/ST (vs. Jacksonville, in London): Currently owned in just 55 percent of Yahoo! fantasy leagues, those of you looking to stream a defense in Week 10 should seriously consider the Dallas Cowboys, who go toe-to-toe with the Jacksonville Jaguars in London on Sunday. Note that Jacksonville currently ranks 30th in the NFL in total offense (313.1 yds/gm), dead last in scoring (15.7 pts/gm) and 31st in turnovers (19).
SIT EM DOWN
Tony Romo, QB, Dallas Cowboys (vs. Jacksonville, in London): Nothing against Romo, as the 34-year-old is in the midst of one of his finest seasons to date. But the guy is banged up and even if the lunatic Cowboys throw him out there in London on Sunday to face the Jagu ars, chances are it will be a run-heavy attack with emphasis on protecting the star quarterback. This is an excellent fantasy matchup for sure, as the Jaguars have been decimated in every phase of the game this season. But the Cowboys need to be smart about how they handle Romo if they want this guy to be ready for a serious postseason run.
Mark Ingram, RB, New Orleans Saints (vs. San Francisco): The former Heisman Trophy winner is currently riding the hottest two-game stretch of his career, with 54 carries for 272 yards and three scores coming against Green Bay and Carolina. But we advise owners to taper their expectations for Week 10 when Ingram and the Saints run into a San Francisco defense that currently ranks fifth in the NFL against the run (85.6 yds/gm) while surrendering an average of just 13.5 fantasy points per game to opposing running backs this season (fourth-fewest in NFL).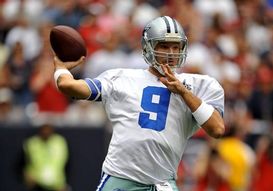 ICONEven if Romo is able to play, don't expect a monster stat line on Sunday.
Mike Wallace, WR, Miami Dolphins (at Detroit): After a relatively hot start to the 2014 season, Wallace has been held to a combined five receptions for 109 yards and no touchdowns over his last two outings (Jacksonville, San Diego). Additionally, note that Wallace has yet to post more than 81 receiving yards in a game this season and has been held to 60 or fewer receiving yards in five of eight outings this year. All of that adds up to a low ceiling when facing a Lions defense that is giving up just 16.6 fantasy points per game to opposing wideouts this season (second-fewest in NFL).
All Buffalo Bills running backs (vs. Kansas City): Fred Jackson (groin) could play in Week 10, but the veteran running back would see limited touches even if he's capable of getting on the field. That leaves Boobie Dixon and Bryce Brown as your primary Buffalo ball-carriers for Sunday's game against a Kansas City defense is permitting an average of just 13.6 fantasy points per game to opposing running backs this season (fifth-fewest in NFL). Note that the total for this game is listed at 41.5 points in Las Vegas, so even the oddsmakers aren't anticipating a high-scoring affair.
Rueben Randle, WR, New York Giants (at Seattle): Has found the end zone just once over his last six outings, hasn't topped 75 receiving yards in a game since September 25 and faces a Seattle secondary on Sunday that is surrendering fewer fantasy points to opposing wide receivers this season than any other team in the league (16.5 pts/gm). If you're going to ride with a New York wideout in Week 10, make it Odell Beckham.
Greg Olsen, TE, Carolina Panthers (at Philadelphia): We fully expect Olsen owners to ride the Carolina tight end in Week 10, but we would be remiss if we didn't mention the fact that the Philadelphia defense is permitting fewer fantasy points to the tight end position this season than any other team in the business (4.5 pts/gm). Also note that Olsen hasn't found the end zone in any of his last three games and has notched just four receptions for 46 yards over his last two outings.
San Francisco 49ers, D/ST (at New Orleans): Held the St. Louis Rams to just 13 points and 263 total yards while forcing two turnovers in a Week 9 loss, but shouldn't be counted on this week in New Orleans. Be advised that when playing at home, the Saints are averaging a total of 31.9 points per game since 2010.
Hit me up on Twitter: @JoeFortenbaugh