September 21, 2012 -
Joe Fortenbaugh
Start 'em, Sit 'em, Smash 'em
Before we get down to business, just a reminder that the GameDay live chat will begin at 10:30am eastern on Sunday and will run for one hour. You'll be able to access the chat through an article posted on the main page of the NFP Sunday morning.
FADE OF THE WEEK (Season: 0-2)
Last week: PHILADELPHIA EAGLES (-2.5) vs. Baltimore Ravens (loss)
Note: Until further notice, this section will now be called the "fade of the week," meaning you should be heading in the opposite direction of this selection as fast as possible. It's tough to call a pick a "smash" when you're a pathetic 0-2 through two weeks.
SAN DIEGO CHARGERS (-3, -115) vs. Atlanta Falcons: The Falcons have to travel west on a short week to take on a 2-0 San Diego team that gets Ryan Mathews and Antonio Gates back in the lineup this weekend. We'll play the situation.
LVH SUPERCONTEST SELECTIONS
A 3-2 effort last Sunday puts my overall record at 4-6 through the first two weeks of the contest. Let's see if I can keep scratching my way back into this thing.
SAN DIEGO CHARGERS (-3.5) vs. Atlanta Falcons
CLEVELAND BROWNS (+3) vs. Buffalo Bills
ARIZONA CARDINALS (+4) vs. Philadelphia Eagles
HOUSTON TEXANS (-2.5) at Denver Broncos
SAN FRANCISCO 49ERS (-7) at Minnesota Vikings
CLICK HERE to check out all of the lines for Week 3.
SURVIVOR SMASH FOR WEEK 3
Well, that was fun. New England sank my survivor hopes for the season with that little display last Sunday against Arizona. But I won't get too down because I still made it one week further this season than I did last year. On that pace, I should be able to win one of these things before I turn 50.
For what it's worth, I'd go with the BEARS (vs. St. Louis) for Week 3.
FANDUEL WEEK 3 SALARY CAP CHALLENGE
The "Beat Joe Fortenbaugh" weekly challenge is back. $1,000 prize pool and an extra $10 to any of you who post more fantasy points than I do this weekend. But that deal only applies to those of you who sign up through the NFP, which you can do by CLICKING HERE. Bring it!
START 'EM UP
Andy Dalton, QB, Cincinnati Bengals (at Washington): The second-year quarterback out of TCU is completing 67.6% of his attempts while averaging 269.5 passing yards per game this season. While it's unlikely that Dalton will become a consistent QB1 in 2012, this is the perfect situation as Cincinnati heads to Washington to take on a Redskins defense that will be without LB Brian Orakpo and DE Adam Carriker, not to mention the fact that this unit is giving up an average of 27.2 fantasy points per game to opposing quarterbacks this season (third-most in NFL). The total for this game is currently listed at 49 here in Vegas, meaning bookmakers are anticipating a good deal of scoring.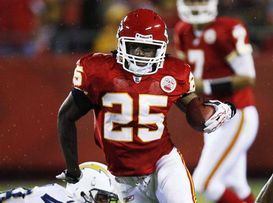 If Charles can't produce this week, it's time to start worrying.
Jamaal Charles, RB, Kansas City Chiefs (at New Orleans): He hasn't performed like a top-20 draft pick through the first two weeks, but Charles will have an excellent chance to rebound this Sunday against a New Orleans Saints defense that is giving up an average of 30.0 fantasy points per game to opposing running backs this season (second-most in NFL). Alfred Morris had a big game against these guys in Week 1 and the Panthers—who did absolutely nothing on Thursday night against the Giants—rolled up 219 rushing yards during their Week 2 home date against the Saints. Hopefully, Kansas City is capable of following the blueprint that has already been laid out for them.
Dez Bryant, WR, Dallas Cowboys (vs. Tampa Bay): This is a bounce-back spot for the Cowboys and, more specifically, Bryant, who caught just three passes for 17 yards at Seattle last Sunday. The Buccaneers are playing their second road game in eight days and are just one week removed from getting gashed by Eli Manning for a staggering 510 passing yards and three touchdowns. Tony Romo should be licking his chops heading into Week 3.
Ryan Mathews, RB, San Diego Chargers (vs. Atlanta): It looks like Mathews is going to make his first start of the season this Sunday, so make sure those of you who paid the high price for his services have him in the lineup this weekend. The Falcons may be 2-0, but they're traveling west off a short week and are currently surrendering an average of 24.1 fantasy points per game to opposing running backs this season (seventh-most in NFL). This is a great situation for San Diego.
Stevie Johnson, WR, Buffalo Bills (at Cleveland): Johnson has found the end zone in each of his first two games and now looks forward to a Week 3 showdown with a Joe Haden-less Browns team that is giving up an average of 35.3 fantasy points per game to opposing wide receivers this season (third-highest in NFL). Start this guy with confidence.
Owen Daniels, TE, Houston Texans (at Denver): Daniels has already been targeted 17 times so far this season and should be heavily involved in Houston's game plan for Denver after watching what tight end Tony Gonzalez did to the Broncos last Monday night. Denver is coming off a short week and is currently surrendering an average of 12.0 fantasy points per game to opposing tight ends (third-most in NFL). Already with Andre Johnson and Arian Foster to contend with, Daniels may be able to exploit some favorable coverage matchups.
Chicago Bears, D/ST (vs. St. Louis): Lost in the shuffle of Chicago's embarrassing offensive display at Green Bay in Week 2 is the fact that the Bears defense limited quarterback Aaron Rodgers to just 246 passing yards while registering five sacks. Julius Peppers and company return home this week on extra rest to take on a Rams offense that is giving up an average of 12.0 fantasy points per game to opposing D/STs this season (t-fifth-most in NFL). Peppers and the rest of Chicago's pass-rushing attack should feast on this banged-up Rams offensive line.
SIT 'EM DOWN
Josh Freeman, QB, Tampa Bay Buccaneers (at Dallas): While his Week 2 performance was relatively solid, keep in mind that Freeman is only averaging 190.5 passing yards per game so far this season, with two interceptions. And while Seahawks quarterback Russell Wilson had a respectable outing against this secondary last week, the Cowboys are surrendering an average of just 14.5 fantasy points per game to opposing signal-callers this year (fourth-fewest in NFL). There are plenty of better QB options available for Week 3.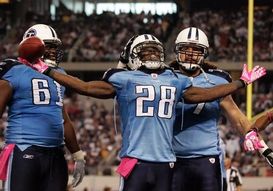 ICONJohnson is currently a liability you can't afford to start.
Chris Johnson, RB, Tennessee Titans (vs. Detroit): Until further notice, send Johnson to the bench. The guy has rushed for just 21 yards on 19 carries in 2012 (1.1 YPC) and has failed to top the 65-yard mark in each of his last six games. It's a sad story, but Johnson has very little fantasy relevance at the moment.
Eric Decker, WR, Denver Broncos (vs. Houston): Decker's only scored ten fantasy points so far this season, has yet to find the end zone and has to contend with a Houston defense on Sunday that is giving up fewer fantasy points to opposing wide receivers than any other team in the league (8.0 pts/gm). With Demaryius Thomas getting most of the red zone love, sit Decker in Week 3 and look for a more viable option.
Michael Turner, RB, Atlanta Falcons (at San Diego): Turner celebrated Monday night's 42-yard effort (2.5 YPC) by getting popped for DUI in the early hours of Tuesday morning. Not good. You know what else is not good? The fact that Turner has rushed for just 74 yards on 28 carries this season. It looks like his best years are now officially behind him.
Kenny Britt, WR, Tennessee Titans (vs. Detroit): The Titans offense is pitiful and the players are already beginning to revolt against offensive coordinator Chris Palmer. And let's not forget that Britt's return to action included just two targets that resulted in one catch for five yards. He's nowhere near 100% and when you couple that with Tennessee's offensive struggles, you simply can't afford to waste a roster spot on a guy with so little upside.
Jermichael Finley, TE, Green Bay Packers (at Seattle): Seattle's hard-hitting safeties have limited opposing tight ends to an average of just 5.7 fantasy points per game this season (seventh-fewest in NFL). This is a tough road environment and if you've followed the line moves this past week, you'll notice the early money is pouring in on the Seahawks. Finley should see his fair share of targets, but this isn't exactly an ideal spot for the Green Bay tight end.
Baltimore Ravens, D/ST (vs. New England): It's a revenge game for the Ravens, but make no mistake about it: New England is going to come out firing after last week's embarrassing home loss to the Arizona Cardinals. Opposing D/STs are averaging just 6.0 fantasy points per game when playing the Patriots (t-sixth-fewest in NFL) and keep in mind that Tom Brady is a career 5-1 against Baltimore. It's not a terrible matchup with tight end Aaron Hernandez out of the lineup, but there are still a good deal of better options out there.
Hit me up on Twitter: @JoeFortenbaugh