September 07, 2012 -
Joe Fortenbaugh
Start 'em, Sit 'em, Smash 'em
Before we jump into the madness that is the first week of the NFL season, I wanted to publicly answer a question that many of you have been asking over the last week. Yes, I will be hosting the Sunday GameDay live chat once again this season. The chat will begin at 10:30am ET, will last for one full hour and you'll be able to access it through a story we post on the main page of the NFP Sunday morning.
And now…
SMASH OF THE WEEK
NEW ORLEANS SAINTS (-7) vs. Washington Redskins: Losing head coach Sean Payton for an entire season definitely hurts, but last I checked, he wasn't the one taking snaps and throwing touchdown passes last season. The Saints went 9-0 ATS at home in 2012 and play host to a rookie quarterback in Robert Griffin III that has virtually no dome experience under his belt. And with the offseason that New Orleans had to endure, you can expect the fans to come out in full force on Sunday. The VooDoo dome is no easy place to cover a spread, let alone win a road game.
LVH SUPERCONTEST SELECTIONS
I shelled out the $1,500 entry fee to enter the legendary SuperContest this season, so I'll be keeping you posted on my selections throughout the year. For the uninitiated, participants pick five games against the spread each week for the entire regular season, with the best record taking home over $400K this year. Some of my plays for Week 1 are as square as they come, but sometimes that's just how I like it.
NEW ORLEANS SAINTS (-7) vs. Washington Redskins
OAKLAND RAIDERS (PK) vs. San Diego Chargers
GREEN BAY PACKERS (-5) vs. San Francisco 49ers
PHILADELPHIA EAGLES (-8.5) vs. Cleveland Browns
CHICAGO BEARS (-9.5) vs. Indianapolis Colts
CLICK HERE for all of the Week 1 lines.
SURVIVOR SMASH FOR WEEK 1
DETROIT LIONS vs. St. Louis Rams: I don't have high expectations for the Lions this season, which is exactly why I want to use them early in the year, at home and as a big favorite. Jeff Fisher is a hell of a coach, but it's going to take some time to clean up the mess he inherited in St. Louis.
FANDUEL WEEK 1 FANTASY CHALLENGE
The "Beat Joe Fortenbaugh" league will start up in Week 2, but we wanted to get as many as you involved at the start of the season as possible. You've got a $60,000 salary cap to draft the best team possible. It's 100% free to enter and features a $1,000 prize pool. There's literally no downside here. CLICK HERE TO ENTER.
START 'EM UP
Carson Palmer, QB, Oakland Raiders: I admit that this selection is a bit of a stretch, but where's the value in us recommending you start Cam Newton? Vegas has this total currently listed at 47, which means they're expecting some scoring in the second half of our Monday night doubleheader. Remember, Palmer now has a full offseason of working with the Oakland receivers under his belt and this is the same guy who threw for 417 yards and two scores last year in San Diego. Don't be shocked if the former Bengal posts a solid stat line in Week 1.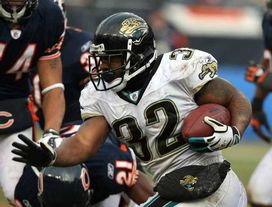 You spent a high draft pick on MJD, so why not start him in Week 1?
Maurice Jones-Drew, RB, Jacksonville Jaguars: So let me see if I have this right: Head coach Mike Mularkey wants to win in his debut as the new boss in Jacksonville, but he only plans to use MJD on third downs because of the running back's lengthy holdout? I'm not buying it. Jones-Drew may see limited touches early in the game, but if the Jaguars keep this thing close and have a chance to pull off the upset late, MJD is going to be on the field.
Pierre Garcon, WR, Washington Redskins: Another game featuring a high total in Vegas (50.5), we fully expect the Saints to blow the Redskins out of the water in RG3's debut. However, that means the 'Skins will be forced to throw the ball late in an effort to stay in the game, giving Garcon plenty of targets and a nice opportunity to roll up some garbage time numbers.
Ronnie Brown, RB, San Diego Chargers: Take note that we don't expect Brown to have a monster performance at Oakland on Monday night, but he makes for a respectable flex option for those of you in deeper leagues. With starter Ryan Mathews likely waiting until Week 2 to make his return to the lineup, Brown should see plenty of touches against a defense that surrendered an average of 20.9 fantasy points per game to opposing running backs last season (seventh-most in NFL).
DeSean Jackson & Jeremy Maclin, WRs, Philadelphia Eagles: We've been hammering this one for a while and see no reason to change our minds heading into the weekend. The Birds are averaging a ridiculous 31.8 points per game over their last four season openers and travel to Cleveland this Sunday to take on a Browns team that has nobody excited. Make sure Jackson and Maclin are in your lineups for Week 1. They're going to produce.
Kyle Rudolph, TE, Minnesota Vikings: Let's put this sleeper pick to the test in Week 1, shall we? Rudolph is coming off a solid preseason and figures to play an important role in the Vikings offense this season. We aren't saying he's going to roll up the type of numbers that would make you want to sit Rob Gronkowski, but he is facing a Jacksonville defense that gave up an average of 9.0 fantasy points per game to opposing tight ends last season (t-fourth most in NFL).
Seattle Seahawks, D/ST: Pete Carroll's crew finished the 2011 campaign as a top-eight fantasy D/ST and travels to Arizona on Sunday to play a Cardinals team that surrendered an average of 11.5 fantasy points per game to opposing defenses last season (second-most in NFL). Did you watch the Cardinals offensive line during the preseason? Dreadful.
SIT 'EM DOWN
Rookie quarterbacks: Most of them are on the road and none of them have taken a real NFL snap. Chances are you drafted these guys back in August as your QB2s, so why throw them to the wolves in Week 1 when we have no date or film study to rely upon? RG3 is worthy of a start in much deeper fantasy leagues, but we'd rather start Christian Ponder or Jake Locker over the rest of these guys.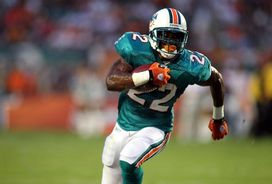 Bush is in for a stiff test Sunday at Houston.
Reggie Bush, RB, Miami Dolphins: Saying that Bush is the most explosive weapon on the Miami offense is like saying the Big Mac is the best burger on McDonald's menu. Maybe I'm a snob, but I'd rather order my running backs from a menu that has no prices listed next to the entrees, rather than one who comes with fries and a drink as part of a $6 value meal. Bush is going to struggle in Week 1 against a Houston defense that has lofty expectations for this season.
Stevie Johnson, WR, Buffalo Bills: He's staring down the barrel of a one-on-one showdown with Pro Bowl cornerback Darrelle Revis for Sunday's opener at New York and the emerging thought process here in Vegas is that the Jets are going to win and cover this football game. Take caution if you plan to insert Johnson into your starting lineup for Week 1.
Donald Brown, RB, Indianapolis: Maybe he's finally ready to assume the starting role in Indianapolis, maybe he isn't. But one thing's for sure: Since Lovie Smith took over as the head coach in Chicago, the Bears defense is surrendering an average of just 12.8 points per game in Week 1. These guys know how to come out swinging.
Santonio Holmes, WR, New York Jets: We mentioned above how some of the pros here in town like the Jets this weekend, but we aren't willing to pull the trigger on Holmes until we see that the New York offense can move the football. You're not supposed to put too much weight behind what you witness during the preseason, but it's tough to back any member of the Jets offense after watching what this unit did during the month of August.
Jermichael Finley, TE, Green Bay Packers: Finley missed three of four preseason games with a thigh injury, but is expected to start Sunday against the San Francisco 49ers. Just keep in mind that San Fran gave up an average of just 5.9 fantasy points per game to opposing tight ends last season (t-4th fewest in NFL). You may be better served going in a different direction here.
San Francisco 49ers, D/ST: They may be the top-rated D/ST unit at most fantasy publications, but San Francisco has a date with Aaron Rodgers and the Green Bay Packers at Lambeau Field on Sunday. This analysis basically writes itself.
Hit me up on Twitter: @JoeFortenbaugh