September 05, 2014 -
Joe Fortenbaugh
Start 'em, Sit 'em, Smash 'em
Welcome back to the National Football Post's weekly cornucopia of fantasy, gambling and survivor ramblings. I trust that each and every one of you enjoyed those precious summer months and that you are all now settled in and ready to begin the march to both fantasy glory and trash talk supremacy. So, without further adieu…
LIVE CHAT
I honestly hate having to start this column off on a down note, but the weekly Sunday fantasy live chats have to be shelved for the time being. No, I don't plan on extending my weekly Saturday night craps sessions into the early Sunday morning NFL hours. The truth of the matter is that there is a new fantasy venture I'm fortunate enough to be a part of this season and it just so happens to take place during our Sunday morning chat sessions. The good news is that this opportunity will still allow each of you to get your fantasy questions answered. In addition, I'm always available on twitter @JoeFortenbaugh to assist in any way possible. While I can't get into many of the details just yet, keep an eye on twitter for an announcement that will be coming in the immediate future.
WEEK 1 SURVIVOR PICK
Plan A: Chicago Bears over Buffalo Bills
Plan B: Philadelphia Eagles over Jacksonville Jaguars
Why: The Bears are currently a 7-point favorite playing host to a Buffalo Bills team that went 2-6 on the road last season and still has the underachieving E.J. Manuel holding down the quarterback position. Chicago's defense may not be elite, but it sure as hell is good enough to avoid getting run over by a Bills offense that ranked 19th in the league in total yardage and 22nd in scoring last season. While the Eagles are the safer play for Week 1, there won't be many opportunities after this weekend to utilize Chicago with comfort, which is preciously why we are burning Jay Cutler and company on Sunday.
PICK OF THE WEEK
Record: 0-0
Pick: TAMPA BAY BUCCANEERS (-2.5) vs. Carolina Panthers
Analysis: This line has been all over the place since hitting the market a few months back, as evidenced by the board over at SBRodds.com. The Buccaneers originally opened as a 2-point favorite, but heavy and frequent action has forced an adjustment all the way to Tampa Bay -3 at some shops. While we jumped on the Bucs +2 at the opening price, we're still confident giving this one out at the current price of -2.5. Cam Newton is banged up and has virtually no offensive firepower at his disposal for a hot and humid date in Tampa with a Bucs defense that will be vastly superior to what we saw last season.
LVH SUPERCONTEST SELECTIONS
Season: 0-0
Note: The Big Puma and I are currently still in the process of finalizing our Week 1 card, but here are the plays we're debating:
Tampa Bay Buccaneers (-2) vs. Carolina Panthers
Pittsburgh Steelers (-6.5) vs. Cleveland Browns
Chicago Bears (-7) vs. Buffalo Bills
San Diego Chargers (+3) vs. Arizona Cardinals
Cincinnati Bengals (+2) at Baltimore Ravens
New Orleans Saints (-3) at Atlanta Falcons
Tennessee Titans (+3.5) at Kansas City Chiefs
The final plays will be posted Saturday on twitter.
START 'EM UP
Colin Kaepernick, QB, San Francisco 49ers (at Dallas): Nothing cures a case of the offensive yips quite like a showdown with not only the league's worst defense, but a defense that surrendered over 300 passing yards six times to opposing quarterbacks last season. Expect Kaepernick and his deep arsenal to engage in a shootout with Tony Romo and the Cowboys on Sunday.
C.J. Spiller, RB, Buffalo Bills (at Chicago): Yes, he'll once again lose touches to the ageless Fred Jackson, but with second-year quarterback E.J. Manuel struggling all through the preseason, the Bills will need to lean heavily upon their most reliable weapons for Sunday's matchup at Chicago. The Bears made some much-needed upgrades to their defense during the offseason, but it's worth keeping in mind that this club ranked dead last against the run in 2013 (161.4 yds/gm) while surrendering an average of 24.5 fantasy points per game to opposing running backs (second-most in NFL).
Emmanuel Sanders, WR, Denver Broncos (vs. Indianapolis): Eric Decker's in New York and Wes Welker has been suspended for the first four games of the season due to a violation of the league's policy on performance enhancing drugs, which frees up a boatload of targets for the newly-acquired Sanders. The former Steeler has the speed to blow the top off of opposing defenses and with Demaryius Thomas on the outside and Julius Thomas roaming the middle, the Colts can only devote so much manpower to accounting for Sanders.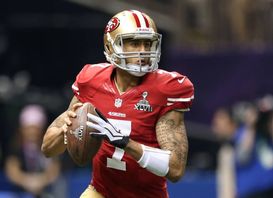 Kaepernick and the 49ers should shred the Dallas defense.
Joique Bell, RB, Detroit Lions (vs. NY Giants): The Big Blue defense is going to have its hands full trying to limit a Detroit aerial arsenal that features Pro Bowler Calvin Johnson and former Seahawk Golden Tate. And while Reggie Bush will still see his fair share of the touches, we have a feeling new head coach Jim Caldwell will afford Bell ample opportunities to pound the rock between the tackles. Consider the three-year veteran a solid RB2 in leagues with ten or more teams.
Brandin Cooks, WR, New Orleans Saints (at Atlanta): Vegas has this total set at 52 points in anticipation of a shootout between these two high-flying offenses, which is always excellent news for fantasy owners. This suspect Falcons secondary ranked 21st in the league against the pass last season (243.6 yds/gm) while giving up an average of 23.8 fantasy points per game to opposing wide receivers (11th-most in NFL), but the key here is that as familiar as these two teams are with one another, Atlanta knows very little about rookie Brandin Cooks. And while his targets may be limited as he continues to build a rapport with quarterback Drew Brees, look for Cooks to strike enough to warrant a spot in your starting lineup as a WR3 this weekend.
Antonio Gates, TE, San Diego Chargers (at Arizona): The 34-year-old, 11-year veteran isn't what he used to be, but this is Week 1 and Gates is ready to come out swinging. No team in the National Football League surrendered more fantasy points to opposing tight ends last season than the Cardinals (14.0 pts/gm) and that was before linebackers Daryl Washington (suspension) and Karlos Dansby (free agency) exited the starting lineup. Remember, quarterback Philip Rivers absolutely loves targeting Gates in the red zone and with Pro Bowl cornerback Patrick Peterson locking down wideout Keenan Allen on the outside, Gates should wind up seeing more than his fair share of action.
Tampa Bay Buccaneers, D/ST (vs. Carolina): This unit is overflowing with talent and is now under the tutelage of defensive mastermind Lovie Smith, so expect a big step forward in both the points surrendered and yards allowed departments this season for the Buccaneers. Panthers quarterback Cam Newton is banged up and nowhere near 100 percent, not to mention the fact that approximately 53 percent of his co mpleted passes last season are no longer on the roster. Vegas has this total lined at 38.5 points, so expect a gritty, grind-it-out affair.
SIT 'EM DOWN
Cam Newton, QB, Carolina Panthers (at Tampa Bay): First off, there's no guarantee that the Carolina quarterback plays this weekend as he continues to recover from offseason ankle surgery combined with the fact that he just suffered a couple of fractured ribs two weeks ago. In addition, even if Newton does take the field he'll find himself in a showdown with what we feel is one of the league's top-5 defenses in 2014. Look for a healthier option with a more favorable matchup.
Bernard Pierce, RB, Baltimore Ravens (vs. Cincinnati): Sure, it seemed like a sound idea to draft Pierce knowing that starting running back Ray Rice would miss the first two games of the season due to a suspension. The problem, however, is that Pierce's first start of the year comes against a Cincinnati defense that ranked fifth in the NFL against the run last season (96.5 yds/gm) while giving up an average of just 13.5 fantasy points per game to opposing running backs (third-fewest in NFL). And don't forget, the Bengals have Pro Bowl defensive tackle Geno Atkins back in the lineup.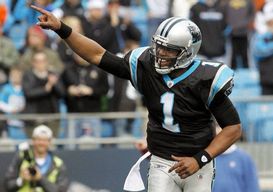 A banged-up Newton has a tough matchup with Tampa Bay's defense on Sunday.
Keenan Allen, WR, San Diego Chargers (at Arizona): We love what Allen did as a rookie last season (71-1,046-8) and think he's got a very bright future ahead of him as Philip Rivers' top offensive weapon. Unfortunately, Week 1 offers up a road date with one of the NFL's premiere shutdown cornerbacks in Patrick Peterson, so we're advising fantasy owners to look for another option for this Sunday's slate of action.
Ben Tate, RB, Cleveland Browns (at Pittsburgh): In Cleveland's six road games at Pittsburgh since 2008, the Browns are averaging a pathetic 7.3 points per contest. Quarterback Brian Hoyer is coming off ACL surgery and wide receiver Josh Gordon has been suspended for the season, giving more credence to the notion that Cleveland is going to struggle moving the rock against this Steelers defense. The upside here is severely lacking, to say the least.
Mike Wallace, WR, Miami Dolphins (vs. New England): Wallace has a date with an upgraded New England defense that surrendered an average of just 21.7 fantasy points per game to opposing wide receivers last season (13th-fewest in NFL) and that was before the addition of Pro Bowl cornerback Darrelle Revis. Remember, with starting center Mike Pouncey out of commission for the foreseeable future, the Dolphins offensive line could struggle giving quarterback Ryan Tannehill the requisite amount of time needed to get the ball out of his hands and down the field to Wallace. Not a terrible play, but limited upside here.
Kyle Rudolph, TE, Minnesota Vikings (at St. Louis): Rudolph is one hell of a tight end, but he needs an upgrade at the quarterback position in order to maximize his potential. But that's not the only problem with this play for Week 1. Minnesota travels to St. Louis on Sunday to take on a loaded Rams defense that surrendered fewer fantasy points to opposing tight ends than any other team in the league last season (5.7 pts/gm). Rudolph will make for a solid TE1 in 2014, but this is not the week to test out that theory.
Denver Broncos, D/ST (vs. Indianapolis): One of the highest rated fantasy defenses entering the season thanks to the offseason additions of pass rusher DeMarcus Ware, cornerback Aqib Talib and safety T.J. Ward, owners should be very careful about starting the Broncos in Week 1 against Andrew Luck and that explosive Colts passing attack. Vegas has this total lined at 56 points for a reason and it's not because they feel that this will be a grind-it-out affair. Our prediction is that Denver jumps out to an early lead, forcing Indy to put the ball in the air for four quarters in an effort to play catch-up.
Hit me up on Twitter: @JoeFortenbaugh