December 06, 2014 -
Joe Fortenbaugh
Start 'em, Sit 'em, Smash 'em
FANTASY QUESTIONS
While the Sunday live chat is no more, I'm still available to answer any and all fantasy questions throughout the week on twitter @JoeFortenbaugh if you use the hashtags #FSTLV and #GMCFF. Fire over some good ones and they just may end up on the Fantasy Sports Network Sunday morning between 10:00am-12:00pm eastern.
WEEK 13 SURVIVOR PICKS
--At this point in the season, I really have no clue which teams you guys have left to use in survivor. So rather than throw out what will likely amount to repeat selections, hit me up on twitter @JoeFortenbaugh and we can talk it through from there. Best of luck!
FADE OF THE WEEK
Record: 5-7-1
Last week: Arizona Cardinals (-1.5) over Atlanta Falcons (loss)
This week: Houston Texans (-4.5 at MGM) at Jacksonville Jaguars
Analysis: Three cheers for the Jacksonville Jaguars, who won for just the second time this season and third time at home since the commencement of the Gus Bradley era with last Sunday's 25-24 comeback victory over the reeling New York Giants. Now that we've got that little introduction out of the way, let's talk about why the Houston Texans are going to cover the number in this football game. For starters, Houston has already forced an NFL-best 28 turnovers this season, while Jacksonville has given the ball away 24 times through just 12 games (24th in NFL). In addition, the Texans are 5-2 ATS over their last seven road games and 4-1 ATS over their last five outings against teams with a losing record. Meanwhile, Jacksonville is 3-10-2 ATS over its last 15 games overall and 17-36-1 ATS over its last 54 home dates.
WESTGATE LAS VEGAS SUPERCONTEST SELECTIONS
Last week: 1-4
Season: 31-34 (.476)
Brutal two-week stretch for myself and the Big Puma that dealt a swift and decisive blow to any chance—no matter how absurd—we had of finishing in the money this season. We'll be back with a revamped game plan in 2015, but for now the goal is to close out this campaign with as much gusto as possible.
HOUSTON TEXANS (-5.5) at Jacksonville Jaguars
PHILADELPHIA EAGLES (-1) vs. Seattle Seahawks
GREEN BAY PACKERS (-12.5) vs. Atlanta Falcons
DETROIT LIONS (-9.5) vs. Tampa Bay Buccaneers
TENNESSEE TITANS (PK) vs. New York Giants
CLICK HERE to check out all of the current lines.
START 'EM UP
Kyle Orton, QB, Buffalo Bills (at Denver): The nine-year veteran's numbers have taken a hit in recent weeks due largely to the fact that rookie wide receiver Sammy Watkins has been playing with a hip injury, but we still feel strongly about Orton's prospects in Denver on Sunday. For starters, there's a good chance that Peyton Manning and the Broncos get out to an early lead on Buffalo, forcing Orton and the Bills to put the ball in the air at a frequent pace. In addition, the Denver defense is currently surrendering an average of 21.9 fantasy points per game to opposing quarterbacks this season (seventh-most in NFL), so it's not as if this will be the stiffest challenge Orton has faced in 2014.
Joique Bell, RB, Detroit Lions (vs. Tampa Bay): Come Sunday against the Buccaneers, Bell will be 10 days removed from a season-high 23-carry Thanksgiving day performance against the Chicago Bears that resulted in 91 rushing yards and two scores. Owners are advised to ride the 229-pound back for the second week in a row as Bell and the Lions challenge a Tampa defense that currently ranks 19th in the NFL against the run (116.0 yds/gm) while surrendering an average of 20.6 fantasy points per game to opposing running backs this season (10th-most in NFL).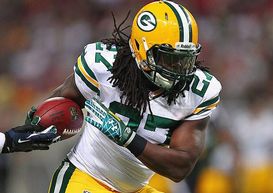 Lacy should see 20+ carries against the Falcons on Monday night.
Kenny Stills, WR, New Orleans Saints (vs. Carolina): In the two games New Orleans has played since losing rookie wide receiver Brandin Cooks (thumb) for the season, second-year pass-catcher Kenny Stills has hauled in 13 receptions for 260 yards and a touchdown on a respectable 15 targets. Owners should anticipate another solid stat line from the Oklahoma product on Sunday against a Carolina defense that is leaking out 27.6 points per game (29th in NFL) while permitting an average of 25.2 fantasy points per game to opposing wide receivers this season (eighth-most in NFL).
Eddie Lacy, RB, Green Bay Packers (vs. Atlanta): The Alabama product has carried the ball a healthy 46 times over his last two games with trips to the end zone via the ground & pound in two of his last three starts. But what's surprising here is that Lacy has become a big factor in the Green Bay passing attack as well, with 21 receptions and three scores over his last six contests. Look for another solid effort Monday night against an Atlanta Falcons defense that is currently permitting an average of 23.0 fantasy points per game to opposing running backs this season (third-most in NFL). Lacy should become the beneficiary of plenty of second half rushing attempts courtesy of a sizeable Packers lead.
Golden Tate, WR, Detroit Lions (vs. Tampa Bay): Despite his role as the No. 2 receiver in Detroit behind Pro Bowler Calvin Johnson, Tate currently ranks sixth in the NFL in both targets (116) and receptions (80). Additionally, the former Seattle Seahawk has been targeted at least ten times in seven of his last nine starts, so you know the opportunities will be there. That's a big time plus in Week 14 when the Tampa Bay Buccaneers and their leaking faucet of a secondary come to Ford Field having surrendered an average of 25.6 fantasy points per game to opposing wide receivers this season (sixth-most in NFL).
Kyle Rudolph, TE, Minnesota Vikings (vs. NY Jets): The Notre Dame product comes with limited upside due to the presence of inconsistent rookie signal-caller Teddy Bridgewater, but for those of you who failed to land one of the "Big Three" (Gronk, Graham, Thomas) back in August, Rudolph makes for a nice option in Week 14. For starters, the four-year veteran is averaging a respectable 5.5 fantasy points per game (standard scoring) since coming back from groin surgery. In addition, the New York Jets—who have quit on the season—are currently surrendering more fantasy points to opposing tight ends than any other team in the business (11.0 pts/gm). Take note that Rudolph is currently still available in 44 percent of Yahoo! leagues.
Minnesota Vikings, D/ST (vs. New York Jets): They're currently available in 45 percent of Yahoo! leagues and play host to the Jets on Sunday. How much more analysis do you need?
SIT 'EM DOWN
Ben Roethlisberger, QB, Pittsburgh Steelers (at Cincinnati): Since Big Ben lit the league on fire with 12 touchdown passes spread out over two games, the two-time Super Bowl winner is averaging just 1.3 TD tosses per start with five interceptions and eight sacks. Expect more of the same Sunday against a Cincinnati defense that is currently surrendering an average of just 17.3 fantasy points per game to opposing quarterbacks this season (fifth-fewest in NFL). In addition, be advised that Roethlisberger has thrown for one or fewer touchdown passes in ten of his last 11 showdowns with the Bengals.
Lamar Miller, RB, Miami Dolphins (vs. Baltimore): Miller has just one 100-yard rushing effort under his belt this season and has been limited to 15 or fewer carries in 11 of 12 outings this year. That's not a good sign when entering a Week 14 showdown with a Baltimore Ravens defense that currently ranks fourth in the NFL against the run (86.2 yds/gm) while giving up fewer fantasy points to opposing running backs than any other team in the league (12.7 pts/gm). For as bad as this Baltimore secondary has been in 2014 due to a variety of injuries, the Ravens' run defense has performed admirably.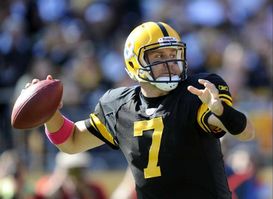 Cincinnati has Big Ben's number.
Keenan Allen, WR, San Diego Chargers (vs. New England): The second-year receiver out of Cal has been red hot over the last two weeks, catching 17 passes for 225 yards and three scores on 24 targets. But Week 14 against cornerback Darrelle Revis and the New England Patriots—who are coming off a loss at Green Bay—is a far greater challenge than what the highly suspect St. Louis and Baltimore secondaries offered. Take note that the Patriots are giving up an average of just 19.4 fantasy points per game to opposing wide receivers this season (fourth-fewest in NFL).
Fred Jackson, RB, Buffalo Bills (at Denver): Believe it or not, last Sunday against the Cleveland Browns was the first time in 2014 that Jackson carried the ball more than 12 times in a game (21 rushing attempts). Unfortunately for the eight-year veteran, those 21 carries resulted in just 70 yards with no touchdowns. Take a pass on Jackson and all of the other Buffalo running backs in Week 14 due to the fact that A) The Bills will likely be throwing all game in an effort to stay close to Peyton Manning and B) The Broncos defense is currently surrendering an average of just 14.5 fantasy points per game to opposing running backs this year (fifth-fewest in NFL).
Mike Evans, WR, Tampa Bay Buccaneers (at Minnesota): The rookie from Texas A&M had found the end zone six times in four games prior to getting blanked (4-49-0) against the Bengals in Week 13. Unfortunately, we think Evans is in for more of the same Sunday at Minnesota against a Vikings defense that currently ranks sixth against the pass (219.1 yds/gm) while permitting an average of just 21.7 fantasy points per game to opposing wideouts this season (13th-fewest in NFL). Remember, Evans and the Buccaneers are a warm weather team heading outdoors for a very cold game December game.
Greg Olsen, TE, Carolina Panthers (at New Orleans): The Panthers have quit on the season and Olsen hasn't found the end zone since October 12 (six games). That's a bad combination of factors when traveling to New Orleans to play a Saints defense that—despite looking absolutely hideous at times—is surrendering an average of just 5.0 fantasy points per contest to opposing tight ends this season (second-fewest in NFL).
Seattle Seahawks, D/ST (at Philadelphia): Seattle has held the opposition to 20 or fewer points in each of its last three outings with six turnovers and seven sacks. That's an impressive run, but Week 14 offers up a different set of circumstances as the Seahawks have to travel across the country to face Chip Kelly's well-rested Eagles team. Take note that Philadelphia has won ten straight matchups at home while scoring an average of 35.6 points per game.
Hit me up on Twitter: @JoeFortenbaugh