September 13, 2013 -
Joe Fortenbaugh
Start 'em, Sit 'em, Smash 'em
LIVE CHAT
This weekend's GameDay fantasy live chat has been cancelled due to the fact that I'll be in the air headed to Seattle for Sunday night's 49ers-Seahawks showdown. However, I'll be answering start/sit questions on twitter from now up until kickoff and I hope to score an internet connection on the flight so I can stay in contact with everybody on Sunday morning. You can reach me at @JoeFortenbaugh with any questions you have between now and 1:00pm eastern.
WEEK 2 SURVIVOR PICK
Last week: Indianapolis Colts over Oakland Raiders (win)
This week: BALTIMORE RAVENS over Cleveland Browns
Why: The Ravens were humiliated in their season-opener at Denver last Thursday and now return home riding a few days of extra rest to face a shaky Cleveland team that fell 23-10 at home to Miami in Week 1. Baltimore head coach John Harbaugh is 33-7 at home since joining the organization in 2008, which includes a perfect 5-0 mark against the Browns.
LOCK OF THE WEEK
Last week: Houston Texans (-3) at San Diego Chargers (push)
Season: 0-0-1
PICK: PHILADELPHIA EAGLES (-7) vs. San Diego Chargers
Analysis: Yep, I'm on the Chip Kelly train. On the heels of a 33-27 victory at Washington that saw the Birds roll up over 300 yards of offense during the first half, Philadelphia plays host to a San Diego team that will be traveling across the country on short rest for an early kickoff (1:00pm ET). Chargers head coach Mike McCoy and company have just five days to get ready for an offense that decimated a Redskins team who had all summer to prepare.
BONUS PICK
FLOYD MAYWEATHER, JR. (-230) over Canelo Alvarez
Note: Wait until late Saturday afternoon/early Saturday evening to fire on Mayweather. This line is going to drop after all of the Floyd hater/Canelo lover/underdog dreamer money comes pouring in over the next 30 hours.
LVH SUPERCONTEST SELECTIONS
Last week: 2-2-1
Week 2
PHILADELPHIA EAGLES (-7.5) vs. San Diego Chargers
BALTIMORE RAVENS (-6.5) vs. Cleveland Browns
NEW ORLEANS SAINTS (-3) at Tampa Bay Buccaneers
ARIZONA CARDINALS (+1.5) vs. Detroit Lions
SEATTLE SEAHAWKS (-3) vs. San Francisco 49ers
CLICK HERE to check out all of the current Week 2 lines.
START 'EM UP
Eli Manning, QB, New York Giants (vs. Denver): Threw for 450 yards and four scores last week at Dallas and now returns home to face a Broncos team that surrendered 362 passing yards and two touchdowns to Joe Flacco in Week 1. Vegas currently has the over/under for this game listed at 55, which means the bookmakers are anticipating a high-scoring affair.
DeAngelo Williams, RB, Carolina Panthers (at Buffalo): The 30-year-old from Memphis should not be a mainstay in your starting lineup, but Week 2 offers a favorable matchup against a Buffalo defense that surrendered 273 rushing yards to the Patriots in Week 1. Against one of the better defensive units in the league last Sunday (Seattle), Williams amassed 100 total yards on 20 touches (5.1 YPC). He'll function as a nice RB2/flex option for Week 2.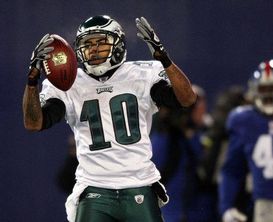 DeSean Jackson and company should be in your starting lineup until further notice.
Mike Williams, WR, Tampa Bay Buccaneers (vs. New Orleans): Caught four passes for 52 yards and a score in Week 1 against the Jets and is in the enviable position of going head-to-head with a shaky New Orleans secondary in Week 2. Without a doubt, Tampa WR Vincent Jackson will command most of defensive coordinator Rob Ryan's attention, leaving Williams in favorable 1v1 matchups that should lead to a respectable fantasy stat line.
The Philadelphia Eagles (vs. San Diego): As noted above, the Chargers are in a bad spot here, having to come all the way across the country on short rest for an early start time. But that's not main reason why we love Michael Vick, LeSean McCoy, DeSean Jackson and Brent Celek this weekend. In Chip Kelly's NFL debut, the Eagles ran 52 plays for 322 total yards and 26 points at Washington in the first half alone. This is going to be a tough unit to slow down on Sunday, so feel free to throw just about every member of the Philadelphia offense into your starting rotation until further notice.
Stevie Johnson, WR, Buffalo Bills (vs. Carolina): Commenced his new relationship with rookie quarterback E.J. Manuel in unspectacular fashion, catching just three passes for 39 yards. But one of those receptions went for a touchdown and we wouldn't be the least bit surprised to witness Johnson in the end zone again on Sunday against a Panthers defense that gave up 320 passing yards at home to Russell Wilson in Week 1. Consider Johnson a WR3 for owners in leagues with ten or more teams.
Jordan Cameron, TE, Cleveland Browns (at Baltimore): Busted loose for nine receptions, 108 yards and a score last Sunday against the Dolphins and faces a Baltimore defense this week that surrendered a staggering 110 yards and two touchdowns to Denver tight end Julius Thomas in Week 1. With wide receiver Josh Gordon still out of action due to a suspension, anticipate quarterback Brandon Weeden looking Cameron's way early and often come Sunday.
Baltimore Ravens, D/ST (vs. Cleveland): Yes, we envision a solid performance from tight end Jordan Cameron on Sunday, but that's where it ends. Cleveland's offense looked anemic in Week 1 against the Dolphins, mustering only 291 total yards and just ten points. Meanwhile, Baltimore is pissed off about their season-opening debacle at Denver and comes into this matchup on extra rest.
SIT 'EM DOWN
Colin Kaepernick, QB, San Francisco 49ers (at Seattle): This most certainly will not be a popular selection amongst the San Francisco faithful, but we'll be avoiding dual-threat signal-caller Colin Kaepernick this weekend. In his lone start at CenturyLink Field, Kaepernick completed just 52.8% of his passes for 244 yards with one touchdown and one interception in a 42-13 blowout loss. In addition, take note that over their last 16 home games, the Seahawks have permitted just nine rushing touchdowns, with very few of those coming by way of the opposing quarterback.
Maurice Jones-Drew, RB, Jacksonville Jaguars (at Oakland): This is already looking like a highly questionable fantasy draft pick after MJD amassed just 45 total yards on 15 touches in a Week 1 home loss to the Chiefs. Now Jones-Drew and company have to head all the way across the country to face an Oakland Raiders defense that surrendered only 89 rushing yards on 20 carries to Indianapolis running backs in Week 1. We're staying away from MJD until he shows us something.
Look for the Ravens to employ Miami's strategy for Richardson on Sunday.
Greg Jennings, WR, Minnesota Vikings (at Chicago): The Vikings can invest all the time and money they want into the wide receiver position, but if the team doesn't have a quarterback who can get these guys the football, what's the point? Jennings' much anticipated Minnesota debut was an absolute bust as the former Green Bay Packer caught just three passes for 33 yards on seven targets. A looming Sunday matchup with Chicago corners Charles Tillman and Tim Jennings shouldn't lead to a bounce-back performance.
Trent Richardson, RB, Cleveland Browns (at Baltimore): Richardson is a beast, but it's no easy task rolling up respectable numbers when the opposing defense is stacking the box and daring the quarterback to throw the football. That's the game plan that worked for Miami in Week 1, as Richardson was bottled up and limited to just 47 rushing yards on 13 carries (3.6 YPA). Look for the Ravens to implement the same strategy in Baltimore on Sunday.
Antonio Brown, WR, Pittsburgh Steelers (at Cincinnati): The Steelers offense took the field against the Tennessee Titans last Sunday, but that's pretty much it. Pittsburgh was limited to a pathetic 194 total yards and nine points and now has the unenviable task of hitting the road for a Monday night game against the standout Cincinnati defense. Brown will get his targets, but if the 25-year-old doesn't bust at least one big play, we expect his fantasy stat line to be unimpressive, at best.
Tyler Eifert/Jermaine Gresham, TEs, Cincinnati Bengals (vs. Pittsburgh): Combined for eight receptions and 82 yards in the Bengals' Week 1 loss at Chicago, indicating that these two will be cutting into each other's stat lines for the foreseeable future. Throw in the fact that Pittsburgh surrendered just 6.4 fantasy points per game to opposing tight ends last season (fifth-fewest in the NFL) and owners are better served looking for another option at the TE position in Week 3.
Denver Broncos, D/ST (at NY Giants): This unit was ultra-hyped heading into the season, but their Week 1 performance (393 yards and 27 points allowed) didn't exactly send fantasy owners cruising to victory. Expect more of the same in Week 2 at New York, where Vegas has installed an over/under of 55 points. There are better matchups on the board to target than this one.
Hit me up on Twitter: @JoeFortenbaugh