September 08, 2011 -
Barry Dorey
Start 'Em, Sit 'Em, Smash 'Em
Welcome back, boys and girls. I hope you had a relaxing summer because Week 1 is here and school is officially in session.
While my Start 'Em, Sit 'Em, Smash 'Em column is appearing on Thursday this week, the regular day moving forward will be Friday, so adjust your schedules accordingly. In addition, we're adding a lock of the week and survivor selection to the column this season and I encourage all of you to share your own picks in the comments section below.
Before we get started, I wanted to let you all know that the NFP has partnered up with the good folks at FanDuel again this season to bring you guys a slew of weekly fantasy challenges. Here are two to keep an eye on for Week 1:
$300 challenge, FREE entry: What's the downside here? It costs nothing to play and you're guaranteed a $5 profit if you can score more points than yours truly.
$300 challenge, $5 entry: You'll make $10 for beating me in this format and will have a better chance of cashing in on the big payday, as we'll likely have fewer entries in this league than the free one.
Lets get after it.
SURVIVOR SMASH: WEEK 1
Cleveland Browns: They're a 6.5-point home favorite against a Bengals team that will start rookie Andy Dalton at quarterback.
POINT SPREAD SMASH OF THE WEEK
PITTSBURGH STEELERS +2 at Baltimore Ravens: They've come away victorious in two of their last three trips to Baltimore and have won six of the last eight meetings overall (including the postseason).
START 'EM UP
Josh Freeman, QB, Tampa Bay Buccaneers: The Lions may have one of the most ferocious defensive lines in all of football, but the backend of their secondary is still a work in progress, as Detroit surrendered 19.1 fantasy points per game to opposing quarterbacks last season (12th most in NFL). Freeman continues to improve as an NFL signal-caller and closed out his 2010 campaign on a strong note, tossing nine touchdown passes and zero interceptions over his final four games. We think he's in a good spot here.
Beanie Wells, RB, Arizona Cardinals: No Tim Hightower (traded), no Ryan Williams (injured) and a home date with a Carolina defense that ranked 23rd against the run last season (123.8 yds/gm). Wells may have an injury history that raises some red flags, but he's good to go for Week 1 and should see a very healthy dose of touches.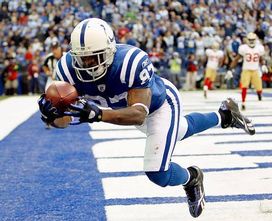 Panic over Reggie Wayne? It's not like Kerry Collins is a rookie.
Reggie Wayne, WR, Indianapolis Colts: Don't be scurred, it's just Kerry Collins. Yes, panic has swept the nation due to the neck injury that has beset All-World quarterback Peyton Manning, but Collins still knows how to throw the football. And Reggie Wayne is still a Pro Bowl receiver. And Houston ranked dead last in the NFL in pass defense last season. Wayne will see enough targets on a fast track to justify a spot in your starting lineup.
Frank Gore, RB, San Francisco 49ers: What is it about the Seattle Seahawks that scares you? The fact that they went 2-6 on the road last season while giving up an average of 29.3 points per game (which includes the 40-spot San Fran dropped on them December 12), or is it the stat that opposing running backs averaged 21.8 fantasy points per game against this unit in 2010 (seventh-most in NFL)? Gore just got paid, so expect new head coach Jim Harbaugh to make sure he and the Niners get their money's worth.
Stevie Johnson, WR, Buffalo Bills: With Lee Evans no longer on the roster, it may be a bit tougher for Johnson to get open as he has now become the focal point for opposing defenses. But the upside here is that he should see plenty of targets against a Kansas City secondary that gave up 21.5 fantasy points per game in 2010 (13th most in NFL).
Lance Kendricks, TE, St. Louis Rams: ALERT! This isn't so much of a "start" recommendation as it is a "watch this guy because he could be a hot waiver wire acquisition next week" sort of analysis. The rookie from Wisconsin found the end zone in each of the Rams' final two preseason games and takes on a Philadelphia defense this weekend that A) gave up more fantasy points to opposing tight ends than any other team in the league last season (9.9 per game) and B) has a ton of youth and inexperience at the linebacker position. Don't be shocked if Kendricks puts up a solid stat line on Sunday.
Cleveland Browns, D/ST: Defensive coordinator Rob Ryan may be gone, but he left behind an ever-improving unit that ranked 14th in scoring among fantasy D/STs last season. That may not be too impressive in your eyes, but remember, Cleveland plays host to the Cincinnati Bengals and rookie quarterback Andy Dalton this weekend. If there were ever a time for this unit to shine, Week 1 would be it.
SIT 'EM DOWN
Matt Ryan, QB, Atlanta Falcons: Did you know that in eight road games last season, Ryan completed just 58.7% of his passes with 13 touchdowns (1.6 per game) and six interceptions for a QB rating of 83.0? Those numbers don't exactly jump off the page at you, do they? Now add in the fact that he's got a date with a Chicago defense that surrendered only 15.9 fantasy points per game to opposing quarterbacks last year (seventh-fewest in NFL) and you have one tough matchup to open the season.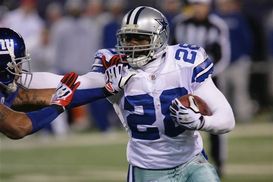 ICONJones has some upside in 2011, but a Week 1 showdown in New York looks like trouble.
Felix Jones, RB, Dallas Cowboys: Jones has appeared in 17 road games during his three-year career. The highlights from those 17 games include only two total rushing touchdowns and exactly zero performances with more than 83 yards on the ground. Now take into account that he's headed to New York on the 10th anniversary of 9/11 to take on a Jets defense that gave up an average of just 12.9 fantasy points per game to opposing running backs last season (second-fewest in NFL). Can you see why we're taking a pass?
Mike Sims-Walker, WR, St. Louis Rams: He'll be covered by either Nnamdi Asomugha, Asante Samuel or Dominique Rodgers-Cromartie. That's all you need to know.
Ryan Mathews, RB, San Diego Chargers: Here's my theory on Mathews: Until this guy shows me something, I'm taking a pass. Mathews topped 80 rushing yards in only one game last season, is injury prone and will likely watch bruiser Mike Tolbert handle the goal line work. Consistent production on a weekly basis is the only way this guy will make it to the Starts section.
A.J. Green, WR, Cincinnati Bengals: I love his skill set and think he could eventually develop into one of the best receivers in the league. But you have to remember that Green is an inexperienced rookie who has an inexperienced rookie throwing him the football. The targets will probably be there, but the question is whether or not they will be accurate. Give this kid some time to get acclimated to life in the NFL.
Zach Miller, TE, Seattle Seahawks: As far as I can tell there are two problems with starting Miller this Sunday. First off, San Francisco surrendered an average of just 4.6 fantasy points per week to opposing tight ends last season (fewest in NFL). Second, the Seahawks have protection issues with their offensive line, which could force the team to keep Miller in on passing downs in an effort to help block for Tarvaris Jackson. Either way, there isn't a lot of upside here.
St. Louis Rams, D/ST: This is a unit on the rise that has an abundance of potential in 2011. However, Michael Vick, DeSean Jackson and LeSean McCoy are coming to town this weekend. Those guys know how to put up some points.
Hit me up on Twitter: @JoeFortenbaugh