December 17, 2010 -
Joe Fortenbaugh
Starts & Sits: Playoff Edition
What to watch for this weekend:
Podcast Mania: The NFP is rolling out the big guns for Week 15 as three podcasts are coming your way over the next two days. Bunting and Miller will be previewing Saturday's bowl games, Bowen and I have you covered for Week 15 in the NFL and a new twist is being introduced at the NFP as I'll be talking with professional sports handicapper Marco D'Angelo about his picks for the first half of the college bowl season. Tune in!
Birds at Big Blue: The second-installment of this NFC East rivalry gets underway at the new Giants stadium Sunday at 1:00pm in what should be another classic Philly-New York showdown. The Giants are currently a 3-point favorite, just like the Eagles were when they hosted New York back in November.
The Final Four: The NFP takes on CBSSports in a rematch of last year's NFP Expert's Fantasy League Championship game, while RotoWorld butts heads with No. 1 seed Yahoo! Sports in the other semi-final. CLICK HERE TO FOLLOW THE ACTION.

The start of bowl season: BYU (-11.5) vs. UTEP, Northern Illinois (-1.5) vs. Fresno State and Troy (-3) vs. Ohio. Bowl season is upon us!
More fantasy playoff action!: The NFP (#1 seed) takes on WithLeather.com (#4 seed) while 99-Rated Swagger (#2 seed) goes head-to-head with Gunaxin.com (#3 seed) in the Procter & Gamble Blogger's Fantasy League. CLICK HERE to check out Matt Sebek from JoeSportsFan.com's Week 14 recap and CLICK HERE to give yourself a chance to win a trip to the Pro Bowl in Hawaii!
Week 15 Salary Cap Challenge: There's a new twist we've added to this week's challenge: owners that can post a higher Week 15 total than myself will win their entry fee back! With the way I've been drafting as of late, the majority of you should have no problems earning yourself a freeroll this weekend. CLICK HERE to join the Week 15 NFP/FanDuel Salary Cap Challenge!
And now, your motivational moment of the day…
Movie Videos & Movie Scenes at MOVIECLIPS.com
START 'EM UP
Jason Campbell, QB, Oakland Raiders: Jason Campbell in the Start category? No, your eyes aren't deceiving you. The former Washington Redskin signal-caller torched the Jaguars last Sunday for 324 yards and two scores en route to a passer rating of 127.6 and has a very favorable Week 15 matchup against a Denver Broncos secondary that is surrendering 20.9 fantasy points per week to opposing quarterbacks (fourth-most in NFL). The Broncos have lost eight of their last nine games, are giving up 28.9 points per contest (worst in NFL) and appear to have officially quit on the season, meaning Campbell's likely line for a big day.
Jonathan Stewart, RB, Carolina Panthers: After frustrating owners for the majority of the 2010 season, J-Stew has been red hot down the stretch as the third-year running back has amassed 323 rushing yards and one touchdown on 51 carries over his last three games. More importantly, Stewart's averaging a rock-solid 6.3 yards per carry over his last three outings and appears to finally be running behind a healthy pair of legs. If the Panthers have any intention of trying to notch their second win over the season on Sunday, the smart play would be to attack the Cardinals via the ground game, where Arizona ranks 30th in the league (143.3 yds/gm). Be sure to keep in mind that for as bad as the Panthers have been this season, the Cardinals are giving up a staggering 25.2 fantasy points per week to opposing running backs (second-most in NFL).
Santana Moss, WR, Washington Redskins: The veteran wideout has found the end zone twice in his last four games and is coming off an impressive 14-point Week 14 fantasy performance (7-82-1, 10 targets) against the Tampa Bay Buccaneers. Moss has been inconsistent at times this season, but keep in mind he's averaging a healthy 8.5 targets per game and has a soft matchup this Sunday against a Dallas Cowboys team that ranks 27th in pass defense (254.4 yds/gm) and is currently surrendering an average of 29.5 fantasy points per week to opposing wide receivers, which is more than any other team in the league. If the Washington offensive line can keep quarterback Donovan McNabb upright on Sunday, Moss should produce a respectable stat line.
UPDATE: With Rex Grossman getting the start in place of Donovan McNabb this Sunday, Moss' value takes a hit. Consider him a WR3 at best.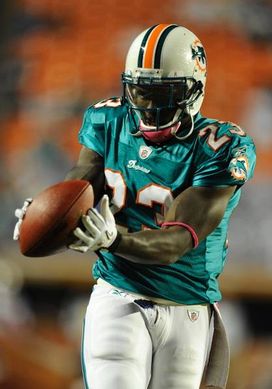 ICONThis is the matchup Brown owners have been waiting for.
Ronnie Brown, RB, Miami Dolphins: Brown hasn't logged a 100+ yard game all season and is currently riding a four-game touchdown drought, which may have you wondering why we like him this Sunday. It's simple, as the veteran running back has a very favorable matchup (good weather, too!) against a Buffalo Bills team that ranks dead last in the NFL in run defense (165.8 yds/gm) and is currently surrendering an average of 23.4 fantasy points per week to opposing ball-carriers (fourth-most in NFL). Keep in mind that when these two teams got together back in Week 1, Brown amassed 85 total yards and one touchdown for one of his most productive fantasy games of the season.
Kenny Britt, WR, Tennessee Titans: Britt's return to the starting lineup after suffering a hamstring injury resulted in an underwhelming four-catch, 39-yard performance against the Indianapolis Colts back in Week 14. However, owners are advised to get the second-year receiver back in the starting lineup for this Sunday's divisional showdown with a Houston Texans secondary that ra nks dead last in pass defense this season (279.9 yds/gm) and is allowing an average of 26.2 fantasy points per game to opposing wide receivers (second-most in NFL). Randy Moss has been a total bust since joining the Titans, which should be one of the main reasons quarterback Kerry Collins targets Britt early and often in Week 15.
Kevin Boss, TE, New York Giants: The New York tight end has found the end zone in four of his last six games as Boss continues to quietly deliver respectable fantasy totals for savvy owners. As far as Week 15 matchups are concerned, you won't find a tight end anywhere in the league that is walking into a more favorable situation than the 26-year old from Western Oregon. Boss and Big Blue play host to a Philadelphia Eagles defense on Sunday that A) will be without starting MLB Stewart Bradley and B) is giving up more fantasy points to opposing tight ends (10.0 pts/gm) than any other team in the league. With wide receiver Steve Smith back on the shelf, Boss should see a healthy dose of targets heading his way this weekend.
Dallas Cowboys, D/ST: This unit has been an utter disaster in 2010 as the Cowboys currently rank 21st in scoring among fantasy D/STs. However, if you're an owner that has been playing the waiver wire week-to-week in search of a quality matchup, this could be the squad for you. The Cowboys play host to a freefalling Washington Redskins team on Sunday that currently ranks 27th in scoring (18.3 pts/gm) and 16th in total offense (338.2 yds/gm). In addition, the Redskins have scored fewer than 20 points in each of their last four outings and are currently giving up an average of 10.8 fantasy points per week to opposing D/STs (sixth-most in NFL). This unit is no lock to produce, but it's certainly one of the more favorable matchups on the Week 15 schedule.
SIT 'EM DOWN
Ryan Fitzpatrick, QB, Buffalo Bills: Let's call a spade a spade and admit that Fitzpatrick has turned out to be a very nice waiver wire pickup this season. However, Week 15 is one of the most important weeks of the fantasy season which means owners need to be extra vigilant and realize that Fitz hasn't thrown for more than 160 yards in either of his last two games and has tossed multiple TD passes just one time over his last seven outings. Wide receiver Lee Evans has been shut down for the season, which gives Fitzpatrick one less weapon at his disposal entering a Sunday showdown in Miami against the NFL's sixth-ranked pass defense (200.6 yds/gm). In addition, the Dolphins are giving up an average of just 15.6 fantasy points per game to opposing quarterbacks this season (seventh-fewest in NFL) and have surrendered a grand total of only 15 touchdown passes in 13 games (sixth-fewest in NFL).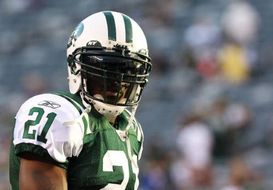 It's been a while since L.T. has found the end zone.
LaDainian Tomlinson & Shonn Greene, RBs, New York Jets: Tomlinson hasn't scored a touchdown since October 17 (seven games) and has failed to top 50 rushing yards in each of his last four games. Meanwhile, Greene hasn't found the end zone since October 11 (eight games) and has rushed for under 75 yards in each of his last nine contests. With these two ball-carriers stealing each other's touches on Sunday, owners should expect a couple of low fantasy totals against a Pittsburgh Steelers defense that ranks first in the NFL against the run (60.1 yds/gm) and is surrendering a measly 11.3 fantasy points per week to opposing running backs (fewest in NFL). Remember, Dick LeBeau's unit has allowed just four rushing touchdowns in 13 games this season (fewest in NFL).
Anquan Boldin, WR, Baltimore Ravens: If you exclude his December 5 outburst against the Pittsburgh Steelers (5-118-1, 9 targets), Boldin is averaging just 4.2 fantasy points per week over his last five outings. Not exactly what you were hoping to read heading into a semifinal playoff game this weekend, huh? While the former Arizona Cardinal has the ability to turn one catch into a solid fantasy week, keep in mind that Boldin has a tough matchup vs. a New Orleans Saints team that ranks fourth in the NFL in pass defense (213.7 yds/gm) and is giving up just 13.9 fantasy points per week to opposing wide receivers (second-fewest in NFL). Weather could be a factor here as well, so be sure to keep that in mind on Sunday morning.
Rashard Mendenhall, RB, Pittsburgh Steelers: The third-year ball-carrier out of Illinois has been the definition of a workhorse back this season. But owners need to recognize that Mendenhall has topped 75 rushing yards in only two of his last eight games and has been held scoreless over his last two outings. Expect Week 15 to be another tough go for the Pittsburgh running back as Mendenhall goes head-on with a New York Jets team that ranks third in the NFL in run defense (88.5 yds/gm) and is surrendering only 12.4 fantasy points per week to opposing running backs (second-fewest in NFL). Owners are advised to look for another option.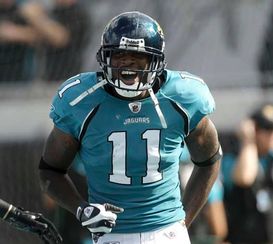 MSW's opportunities will likely be limited on Sunday.
Mike Sims-Walker, WR, Jacksonville Jaguars: Despite scoring three touchdowns over his last five starts, MSW has caught four or fewer passes in eight of his last nine outings, meaning PPR owners should definitely be looking for another option. The problem with this Sunday's game at Indianapolis for Sims-Walker owners is two-fold. First, look for Colts defensive ends Robert Mathis and Dwight Freeney to put some serious pressure on quarterback David Garrard, making it difficult for the Jacksonville signal-caller to take shots down the field. Second, the Jags know that if they want to come away with a victory, they'll need to feature a heavy dose of their potent ground attack against the league's 29th ranked run defense (141.1 yds/gm). In addition, keep in mind that Indy is surrendering just 17.9 fantasy points per week to opposing wide receivers (fifth-fewest in NFL).
Kellen Winslow, TE, Tampa Bay Buccaneers: Winslow's found the end zone three times over his last five games, but has failed to top 50 receiving yards in seven of his last nine outings. Despite the fact that he is playing the Lions this weekend, owners need to recognize the fact that Detroit is allowing opposing tight ends to score an average of just 5.7 fantasy points per week (sixth-fewest in NFL). You're better off going with another option at the tight end position this weekend.
Green Bay Packers, D/ST: This unit currently ranks third in the league in fantasy scoring, so a lot of credit should be given to how far the Green Bay defense has taken fantasy owners in 2010. However, the good times are headed for a crashing halt this Sunday night at Gillette Stadium when the Packers defense will be tasked with the unenviable job of trying to slow down Tom Brady and a Patriots offense that is scoring a league-leading 31.9 points per game this season. Be advised: opposing D/STs that have played the Patriots this year are averaging only 4.6 fantasy points per week (worst in NFL). Time to look for a replacement.
Hit me up on Twitter: @JoeFortenbaugh
Win cash today playing fantasy football with the NFP and FanDuel!