July 29, 2011 -
Barry Dorey
Stealth mode
Like a fine single malt scotch, the race to land free agent cornerback Nnamdi Asomugha had a terrific finish.
In a shocking twist that has left the New York Jets and hated-division rival Dallas Cowboys empty-handed and wondering what went wrong, the Philadelphia Eagles have landed the services of this year's top free agent prospect.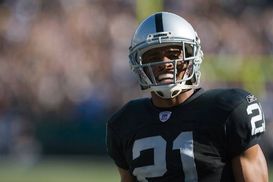 Of course he's smiling. Nnamdi Asomugha just landed a $60 million contract.
Adam Schefter is reporting that the Birds and former Oakland Raiders cornerback Nnamdi Asomugha have reached an agreement on a five-year contract worth $60 million with $25 million guaranteed.
The move—and it's a big one—caps a monster week for the defending NFC East champions as roughly 24 hours ago, the Eagles acquired Pro Bowl cornerback Dominique Rodgers-Cromartie and a second-round pick from the Arizona Cardinals in exchange for backup quarterback Kevin Kolb.
One day later, the front office was at it again as the Eagles put the finishing touches on a blockbuster deal that has already sent shockwaves through the rest of the NFL, not to mention the internet.
If Asomugha and Rodgers-Cromartie are in, what's going to happen to Pro Bowl cornerback Asante Samuel?
Stay tuned to the National Football Post as we'll continue to bring the goods on this week's biggest transaction.
Hit me up on Twitter: @JoeFortenbaugh