February 23, 2012 -
Joe Fortenbaugh
Steelers don't plan on losing Mike Wallace
INDIANAPOLIS—Outside of the Peyton Manning saga, the question of whether or not wide receiver Mike Wallace will be a member of the Pittsburgh Steelers next season has been the dominant free agency story as we approach the new league year.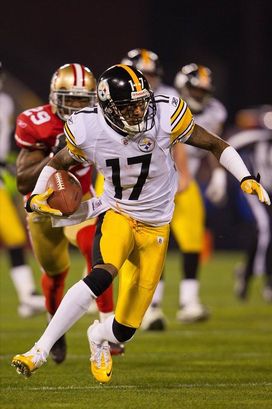 ICONThe Steelers plan to get aggressive in order to make sure Wallace is back next season.
On Thursday in Indianapolis, Steelers general manager Kevin Colbert made it clear that the team doesn't plan on losing the three-year veteran.
"We're going to do everything we can to make sure Mike Wallace remains a Pittsburgh Steeler, and I think that's Mike's belief as well," Colbert told the media at Lucas Oil Stadium on Thursday. "Usually when you've got two parties that share the same goal, it's easier to achieve that goal."
The Steelers are in a tough spot entering next month's free agency period, as salary cap issues will likely prevent the team from using the franchise tag on Wallace.
And while speculation has mounted that the 25-year-old could end up playing elsewhere in 2012 should another team be willing to give up a first-round draft pick, expect Colbert and the rest of the organization to do what's necessary to bring back one of the league's most dangerous deep threats.
Running back Rashard Mendenhall is expected to miss all of next season after tearing his ACL in Week 17 against the Cleveland Browns and quarterback Ben Roethlisberger is playing behind an offensive line that has surrendered a staggering 135 sacks over the last three seasons. No matter how pricey, the Steelers can't afford to lose one of their most reliable offensive weapons.
Hit me up on Twitter: @JoeFortenbaugh