March 05, 2012 -
Joe Fortenbaugh
Stevie Johnson cashes in big, Colston and V-Jax smile
Stevie Johnson may be the wide receiver with the fat new contract, but you can bet Vincent Jackson and Marques Colston are the guys smiling from ear to ear as we approach the start of free agency.
The 25-year-old Johnson came to an agreement with the Bills Monday on a five-year, $36.25 million contract with $19.5 million guaranteed, according to Adam Schefter of ESPN.com. Johnson's payday comes on the heels of impressive back-to-back seasons that featured a total of 158 receptions for 2,077 yards and 17 touchdowns.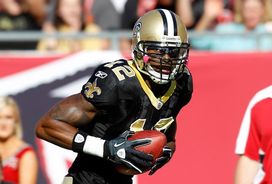 Look for Marques Colston to land even more guaranteed money than Stevie Johnson just received.
So if Johnson is worth $36 million, how much are Jackson and Colston worth? It's safe to assume that the agents for both wide receivers will use Johnson's deal as a jumping off point.
A seven-year veteran who has amassed 1,000+ receiving yards in three of his last four seasons, Jackson's upside centers around his big-play and red zone capabilities. However, negotiators on the other side of the table will no doubt point to Jackson's character and run-ins with the law as reasons why he shouldn't be paid as much as Johnson. In addition, he's also four years older than the newly minted Buffalo wideout.
Colston brings the most impressive statistics of the group to the table, but he's been playing with the ultra-accurate Drew Brees for the past six years. Injuries and questions about whether or not he can produce in an environment surrounded by slightly inferior talent compared to what he was working with in New Orleans are two concerns likely to be raised.
But the bottom line is that once Jackson and Colston hit the open market, both receivers—especially Colston—are likely to land deals that exceed the one signed in Buffalo on Monday.
It's the old theory of supply and demand. You may not agree with a team throwing $20+ million guaranteed at a guy like Jackson, but in a pass-heavy league with several teams in need of a quality wideout, he happens to be one of the only viable options out there.
Hit me up on Twitter: @JoeFortenbaugh