October 06, 2011 -
Barry Dorey
Stick a fork in him: Henne out for the year
0-4 is bad.
0-4 and without your starting quarterback is even worse.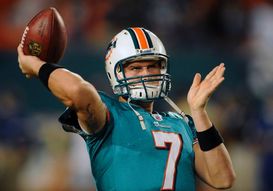 Through four games, Henne ranked just 23rd in the NFL in QB Rating.
As if the 2011 season couldn't get any bleaker, the Miami Dolphins found out Thursday that starting quarterback Chad Henne will need surgery to fix a shoulder separation suffered in Week 4 at San Diego and is out for the rest of the season, according to Jeff Darlington of NFL.com.
The news leaves the Fish with former Carolina quarterback Matt Moore to run the offense, unless the front office decides to get aggressive and bring in another arm. David Garrard is still a free agent, but Darlington reports that the Dolphins are interested in signing eight-year veteran and current free agent Sage Rosenfels.
The good news for Miami is that they're on the bye in Week 5, so the team has some time to make a move.
The bad news is that when the Fish return to work, they'll still be 0-4.
Hit me up on Twitter: @JoeFortenbaugh