June 28, 2012 -
Joe Fortenbaugh
Stock watch: Super Bowl odds
LAS VEGAS—On my way to a conference at the Red Rock Resort & Casino Thursday morning (stop laughing, I really am here for a conference. I swear), I decided to take a quick lap through the sportsbook to check out Station Casinos' current Super Bowl odds for the upcoming season. Then, while pondering whether or not to blow off the conference for a degenerate-esq 8:00am craps session (I held strong and avoided the tables), the thought hit me that we were due for a stock watch update.
Many teams are holding tight as we enter July, but there are quite a few organizations that have seen either significant increases or drastic drops since the opening numbers hit the board. Here are some of the key adjustments that you should be aware of.
And now that I've completed the intro to this story, it's time to hit the tables…err…I mean the conference. Right, the conference. That's why I'm here. I swear.
ON THE RISE
San Francisco 49ers (Open: 12/1, Current: 4/1): Really? Alex Smith and Aaron Rodgers are both listed at 4/1? I know the Niners won 13 games last season and their prospects for making a serious run in 2012 are terrific, but I still don't understand why this team is currently the co-favorite in Vegas to bring home the bacon in February. Maybe Jim Harbaugh—like Roger Dorn in the movie Major League II—activated himself and I missed it.
Denver Broncos (Open: 50/1, Current: 10/1): Two words: Peyton Manning. The future Hall of Famer's signing in Denver sent the public scrambling, forcing the books to make a drastic adjustment. Just keep in mind that investing in the Broncos at this point in time is similar to dumping a bunch of cheese into facebook stock the day Zuckerberg's baby went public. We all know how that one turned out.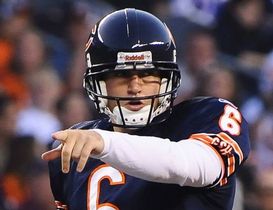 The secret's out. The public is moving on the Bears.
Chicago Bears (Open: 25/1, Current: 10/1): The word is officially out on what was, at one point, one of my favorite bets of the season. The additions of Brandon Marshall, Alshon Jeffery and Michael Bush give the offense a tremendous boost, and you know damn well that Urlacher and Briggs have enough gas left in the tank for one more push. The value is long gone, but you can still make a play on Chicago's season win total, which has moved from 8.5 to 9 with significant juice on the over. I think that ticket cashes.
Buffalo Bills (Open: 60/1, Current: 35/1): Two years after backing up the dump truck and unloading against the Bills, my tune has changed significantly. These guys have what it takes (talent, schedule) to make a run at ten wins. Will they get there? That's up to quarterback Ryan Fitzpatrick.
Oakland Raiders (Open: 40/1, Current: 24/1): Just like last summer, the Silver & Black are feeling the love from the betting public. And just like last September, the Raiders enter the season with yet another head coach at the helm. Instead of focusing on Oakland's chances to win the Super Bowl, we should set a line on whether or not Dennis Allen makes it out his first season alive. And before all of you Raiders fans start blowing up my email talking smack, just remember that this is your seventh head coach since 2002.
Tampa Bay Buccaneers (Open: 100/1, Current: 55/1): A new coach coupled with an offseason spending spree have some thinking the Buccaneers could be a sleeper with solid earning potential this season, but I don't see them getting out of the division. Talk to me next summer.
HEADING SOUTH
New Orleans Saints (Open: 6/1, Current: 18/1): The bounty scandal, the loss of their head coach, the Drew Brees contract situation. New Orleans appears to be a mess right now, but this is still a football team loaded with high quality talent. And don't forget about the addition of Steve Spagnuolo at defensive coordinator. There's a lot of value here, especially when you consider the fact that the Saints' team mantra this season will be "F*$% You."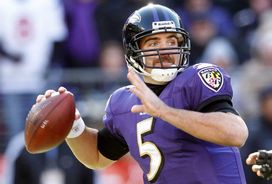 Joe Flacco is looking to prove a lot of people wrong this season.
Baltimore Ravens (Open: 8/1, Current: 15/1): A tough schedule and the loss of Terrell Suggs have the Ravens headed in the wrong direction at the sportsbooks. Plus, it's not like Joe Flacco is inspiring the masses to rush to the counters with Baltimore love in their collective hearts.
San Diego Chargers (Open: 15/1, Current: 25/1): 15/1 as the opener? Has Norv Turner taught us nothing?
Indianapolis Colts (Open: 35/1, Current: 80/1): Manning's gone and that's the only thing that matters. That, and the recent tweets sent out by owner Jim Irsay referencing the fact that his squad is a 10-point dog for the opener at Chicago. Irsay may be surprised, but the rest of the country isn't. The public is going to come in heavy on the Bears.
THE COMPLETE RUNDOWN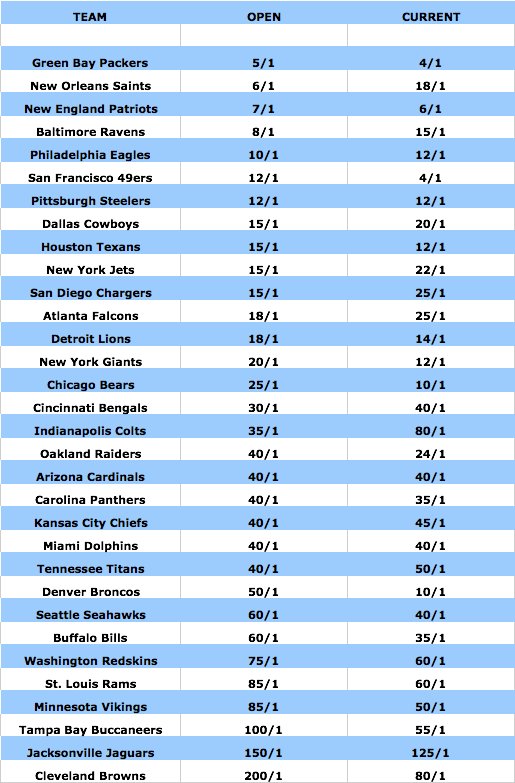 Hit me up on Twitter: @JoeFortenbaugh