March 13, 2013 -
Joe Fortenbaugh
Stop traffic: Patriots sign Danny Amendola
Wes Welker signing with the Denver Broncos surprised everyone. Danny Amendola signing with the Patriots surprised only those who exist on planet Earth without the luxury of internet access. And even then, half of those people probably saw this deal coming from a mile away, anyway.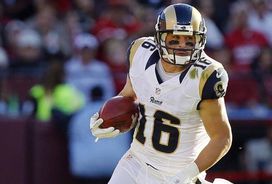 Now a member of the New England Patriots, Danny Amendola looks to become Wes Welker Jr.
With the departure of wide receiver Wes Welker creating a sizeable void on the New England offense, the Patriots acted quickly to find his replacement. Per multiple reports, New England and free agent wide receiver Danny Amendola have come to terms on a five-year deal worth $31 million with $10 million guaranteed.
Yes, you're reading that correctly. The Patriots just gave $10 million guaranteed to Amendola, rather than $12 million total to Welker for the next two seasons.
The big plus regarding Amendola is that he's four years younger than Welker, but he's got durability issues (appeared in just 12 games over the last two years) and currently has no rapport whatsoever with quarterback Tom Brady.
The Patriots will work quickly to remedy the rapport issue. As for the durability concerns, we can only hope that both Amendola and Welker are healthy when Denver and New England inevitably meet in next year's playoffs.
Hit me up on Twitter: @JoeFortenbaugh