July 31, 2011 -
Barry Dorey
Success! Haynesworth passes conditioning test
The Albert Haynesworth era in New England is already off to a much better start than the one in Washington.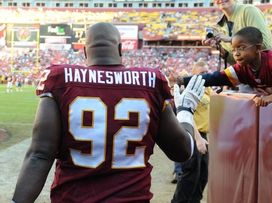 ICONBig Albert is off to a good start in New England.
Don't tell that to the Redskins, who paid this guy approximately $36 million for 6.5 sacks in 20 career appearances.
Adam Schefter of ESPN is reporting that the oft-criticized defensive tackle passed his conditioning test Sunday morning and is expected to practice with the team later today.
It's kind of sad that a successful conditioning test is something that makes news around the country, but when you think about it, it's also kind of funny.
And if Haynesworth doesn't like it, he only has himself to blame.
Hit me up on Twitter: @JoeFortenbaugh