August 17, 2011 -
Joe Fortenbaugh
Suh popped for $20K
It's a good thing Lions defensive tackle Ndamukong Suh entered the NFL a year before rookie salaries plummeted.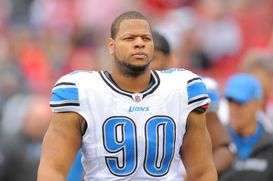 ICONSuh's hit on Andy Dalton cost him a Volkswagen Jetta.
One game into the 2011 NFL preseason and the 2010 Defensive Rookie of the Year has already been fined $20,000 for a hit on Bengals rookie quarterback Andy Dalton. The shot in question came during Detroit's 34-3 win at Ford Field last Friday.
In reaction to the news, Suh tweeted, "$20,000REALLY???," followed by what appears to be 75 or more exclamation points. The big man then hashtagged his tweet "#NFL #BIGFAIL." (Editor's note: Do you think Suh was really excited or really pissed off by the news?)
Whether we like it or not, the NFL is going to continue to levy big fines on players for what they consider to be late and/or dangerous hits.
And whether the NFL likes it or not, players like Ndamukong Suh are going to continue to play football the only way they know how.
Hard.
Hit me up on Twitter: @JoeFortenbaugh