February 05, 2013 -
Joe Fortenbaugh
Super Bowl Champion Ravens posted at 14/1 to repeat next season
We haven't seen a team win back-to-back Super Bowls since Tom Brady and the New England Patriots accomplished the feat in 2004 and 2005, so the current 14/1 price tag on the Baltimore Ravens may not be viewed as appealing for those looking to find some value.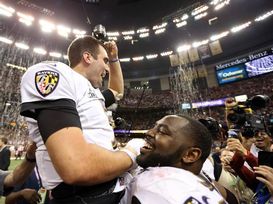 Joe Flacco and the Ravens hit the board at 14/1 on Monday to win the 2014 Super Bowl.
As the Ravens parade through the streets of Baltimore on Tuesday to celebrate the team's 34-31 win over the San Francisco 49ers, the other 31 NFL teams begin the process of looking towards the 2013 campaign. Below is the complete rundown of the current odds for each team to win the next Super Bowl, courtesy of the LVH SuperBook in Las Vegas.
Take note that the sports books are well aware of the fact that the Seattle Seahawks (12/1) will more than likely emerge as the trendy Super Bowl selection come August. What's also interesting is that the Cleveland Browns (50/1) are currently listed with shorter odds than the Tampa Bay Buccaneers (60/1).
We won't be firing on any of these options until the conclusion of both the free agent period and the draft. In our opinion, there's simply too much uncertainty at the moment regarding which teams will emerge for the offseason in better position for a potential championship run.
After an initial glance, the teams we plan to monitor closely include the New Orleans Saints (16/1), New York Giants (20/1) and Cincinnati Bengals (30/1) and Carolina Panthers (50/1).
Current odds to win the 2014 Super Bowl
New England Patriots: 6/1
San Francisco 49ers: 7/1
Denver Broncos: 8/1
Green Bay Packers: 10/1
Houston Texans: 10/1
Seattle Seahawks: 12/1
Pittsburgh Steelers: 14/1
Baltimore Ravens: 14/1
Atlanta Falcons: 16/1
New Orleans Saints: 16/1
New York Giants: 20/1
Washington Redskins: 30/1
Chicago Bears: 30/1
Cincinnati Bengals: 30/1
Dallas Cowboys: 30/1
Detroit Lions: 40/1
San Diego Chargers: 40/1
Minnesota Vikings: 40/1
Indianapolis Colts: 40/1
Carolina Panthers: 50/1
New York Jets: 50/1
Philadelphia Eagles: 50/1
Miami Dolphins: 50/1
St. Louis Rams: 50/1
Cleveland Browns: 50/1
Kansas City Chiefs: 50/1
Tampa Bay Buccaneers: 60/1
Buffalo Bills: 100/1
Arizona Cardinals: 100/1
Tennessee Titans: 100/1
Oakland Raiders: 150/1
Jacksonville Jaguars: 150/1
Hit me up on Twitter: @JoeFortenbaugh