March 18, 2013 -
Joe Fortenbaugh
Super Bowl odds reboot
As Americans, we are compelled to evaluate everything. Maybe that's the case in the rest of the world as well, but I've spent no time in Uzbekistan and/or Uruguay to know any better. What I do know is that we don't have the ability to let professional sports transactions be professional sports transactions. We have to evaluate, assess and decipher. More specifically, we have to grade.
If it hasn't happened already (and there's no reason to believe that it hasn't), the next week will inundate us with a plethora of articles dedicated to grading the performances of each of the 32 NFL franchises during the first week of the free agency period. No games have been played, no teams have won and, to the benefit of Jaguar Nation, no teams have lost. But that won't stop us from proclaiming which football teams are now in better shape as a result of a commitment to spending hard-earned Benjamin Franklins.
Rather than attempt to put a label on last week's transactions, I'd prefer to take a look at what the Las Vegas bookmakers have to think about what went down during the first six days of the 2013 league year. These are the individuals tasked with booking our action. A mistake could mean a six-figure bottom-line adjustment in the wrong direction. So, yeah, I trust their opinion.
Odds courtesy of the LVH sports book in Las Vegas
THE FAVORITES
New England Patriots (Last week: 5/1, Current: 5/1): Despite watching 29.9% of Tom Brady's completions over the last two years sign with Peyton Manning and the Denver Broncos last week, New England stands pat at 5/1 to win the 2014 Super Bowl. Cornerback Aqib Talib is coming back on a one-year deal, wideout Danny Amendola was acquired to fill the gap left by Wes Welker's departure and special teams maven Leon Washington departed Seattle for a new home on the east coast. Many will disagree with New England's spot atop the board, but the bottom line is that the books cannot afford to offer this team at a more realistic price like 10/1 or 12/1. The expected influx of public money on Tom Brady and Bill Belichick would create too much exposure for Las Vegas. It's the same reason why Tiger Woods is listed as the heavy favorite for every single tournament in which he plays.
San Francisco 49ers (Last week: 7/1, Current: 6/1): Division rival Seattle made more noise, but the Niners executed two notable moves in landing defensive lineman Glenn Dorsey (2 years, $6 million) and signing free agent safety Craig Dahl to aid in filling the void left by Dashon Goldson's lottery-strike in Tampa Bay. And don't forget about the draft picks San Francisco picked up in the Alex Smith-to-Kansas City trade, which gave the defending NFC champs five selections within the first 93 picks.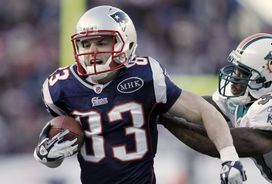 Tom Brady's favorite target signed a contact to play with Peyton Manning last week.
Denver Broncos (Last week: 7/1, Current: 6/1): Busy week for John Elway and the Broncos, who are likely to top the pointless "Free agency grades" articles that have already begun to flood the internet. Denver stole the most prolific pass-catcher of the last six years in Wes Welker from New England (2 years, $12 million), nabbed former Pro Bowl cornerback Dominique Rodgers-Cromartie on a one-year "prove it" contract, snaked offensive guard Louis Vasquez (four years, $23.5 million) away from San Diego and also added defensive tackles Terrance Knighton and Kevin Vickerson. That's a serious haul. Now let's see if head coach John Fox can find a way to meet the lofty expectations after coming up short in last year's postseason.
Seattle Seahawks (Last week: 8/1, Current: 7/1): No team did a better job of upgrading their roster by successfully addressing the most critical of needs like Pete Carroll and the Seahawks. The trade-and-sign for former Vikings wideout Percy Harvin will not only aid in the development of quarterback Russell Wilson, but it's going to be the catalyst for many a sleepless night for opposing defensive coordinators. Pass rushing specialist Chris Clemons (13 or more sacks in each of last three years) went down with an ACL tear in January's postseason win at Washington, so the Seahawks promptly added Cliff Avril (2 years, $15 million) and Michael Bennett (one year, $5 million) for less than the Indianapolis Colts gave to safety LaRon Landry (four years, $24 million). Mark my words, the Seattle Seahawks will be the trendiest Super Bowl pick come next August.
MOVIN' ON UP
Indianapolis Colts (Last week: 40/1, Current: 30/1): America's economic troubles be damned! Colts owner Jim Irsay spent last week burning through greenbacks like a spring breaker in Cancun. Indy shelled out $34 million on offensive tackle Gosder Cherilus, $15 million on cornerback Greg Toler, $16 million on linebacker Erik Walden, $14 million on guard Donald Thomas, $24 million on safety LaRon Landry and $22 million on defensive lineman Ricky Jean-Francois. That type of financial commitment to stimulating the economy deserves a favorable odds bump in itself.
Miami Dolphins (Last week: 50/1, Current: 40/1): The Dolphins protected their investment in quarterback Ryan Tannehill by shooting from the hip to land wide receivers Mike Wallace (5 years, $60 million) and Brandon Gibson, along with former Jets tight end Dustin Keller. Miami also spent some considerable cheddar on the defensive side of the football in the acquisitions of inside linebacker Dannell Ellerbe (5 years, $35 million) and outside linebacker Philip Wheeler (5 years, $26 million). The talent level in South Florida is certainly better after last week's spending spree, but this team is still a couple of years away from being a legitimate contender in our opinion.
SPENDING ISN'T EVERYTHING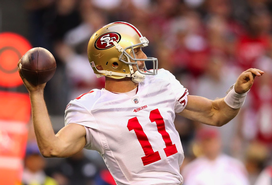 Alex Smith may be an upgrade over Matt Cassel, but that means little in the eyes of Vegas bookmakers.
Kansas City Chiefs (Last week: 50/1, Current: 60/1): Surprising, huh? Not only did the Chiefs improve their quarterback situation in the team's trade for former San Francisco 49er Alex Smith, but Kansas City opened up the bank vault to sign cornerbacks Dunta Robinson (3 years, $15 million) and Sean Smith (3 years, $18 million), tight end Anthony Fasano (4 years, $16 million), defensive end Mike DeVito (3 years, $12.6 million) and wide receiver Donnie Avery (3 years, $11 million). And after all that, the Chiefs still slipped from 50/1 to 60/1. That could have something to do with the fact that few think this team is capable of getting past Denver to win the AFC West.
Cleveland Browns (Last we ek: 50/1, Current: 60/1): I like Cleveland's commitment to upgrading their front-7 with the acquisitions of outside linebackers Paul Kruger (5 years, $41 million) and Quentin Groves (2 years, $2.8 million) as well as defensive tackle Desmond Bryant (5 years, $34 million). But the problem here is that the Browns are still undecided on the future of quarterback Brandon Weeden and are in need of an upgrade at the wide receiver position. Throw in the fact that this organization hasn't won more than five games in a season since 2007 and you can see why the Vegas bookmakers aren't getting all hot and bothered over the Kruger signing.
STEPPIN' BACK</strong>
Baltimore Ravens (Last week: 18/1, Current: 30/1): Panic! at Inner Harbor. The country can't believe the Ravens watched so much talent walk out the front door, yet, the funniest part about it is that everyone is blaming Joe Flacco and his new contract. Yep, that's the same Joe Flacco who went nuclear during the playoffs just over a month ago to deliver Baltimore its first Super Bowl title since 2001. The Ravens aren't going to win the Super Bowl in 2014 because we haven't had back-to-back champs since 2005. Not because Ozzie Newsome—one of the greatest general managers in league history—miscalculated the market. Let's pump the breaks and allow the Ravens to do what the Ravens do.
Minnesota Vikings (Last week: 40/1, Current: 50/1): Percy Harvin and Antoine Winfield are gone, but don't worry, 30-year-old Greg Jennings is here to save the day…at the reasonable cost of $47.5 million over five years. But here's the kicker: The Vikings made sure to install a Plan B in case quarterback Christian Ponder can't get it done. And that Plan B goes by the name of Matt Cassel. I'm guessing the bookmakers bumped Minnesota north because they took a wild guess that Adrian Peterson wouldn't run for 5,000 yards next season.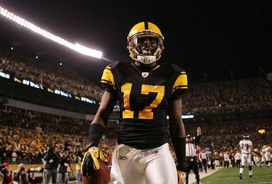 Wallace's departure did anything but help the Pittsburgh Steelers.
Pittsburgh Steelers (Last week: 18/1, Current: 20/1): The Black & Yellow has one of the largest and most passionate fan bases in the country. So as long as Pittsburgh trots out a respectable lineup, Vegas will be hesitant to post the Steelers at a lofty number like 40/1. But with a defense that gets older by the minute coupled with the loss of wide receiver Mike Wallace, you have to ask yourself if 20/1 is worth the investment.
New York Jets (Last week: 40/1, Current: 50/1): Hard to imagine that with a depth chart that features Mark Sanchez, Tim Tebow, Greg McElroy and David Garrard that the Jets would move north from 40/1 to 50/1. You would think with that kind of firepower, New York would be sitting at 5/1 with the Patriots.
BETTER LUCK IN 2014
Jacksonville Jaguars & Oakland Raiders (Last week: 150/1, Current: 200/1): Apparently, 150/1 for the Jaguars and Raiders just wasn't high enough, so the books moved both organizations—who did next to nothing last week—to 200/1 in the hopes of grabbing some easy money from a few suckers hoping to hit it big on either of these doormats.
HOLD THE PHONE
Buffalo Bills (Last week: 100/1, Current: 100/1): Word out of New York is that the Buffalo front office plans on making a transition from cells and laptops to rotary phones and typewriters. As a result, the bookmakers didn't feel compelled to drop the Bills' odds in the wake of last week's communications debacle.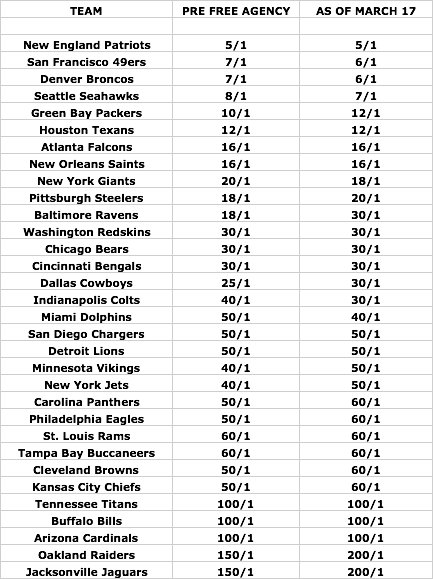 Hit me up on Twitter: @JoeFortenbaugh