February 03, 2011 -
Joe Fortenbaugh
Surprise guests to join the Black Eyed Peas for Halftime Show?
DALLAS—The Black Eyed Peas met the media in Dallas Thursday afternoon and for the most part, the press conference was relatively uneventful…with the exception of some dude trying to land a kiss from Fergie (he failed).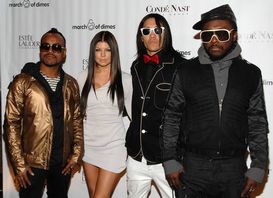 The Black Eyed Peas may have some company on stage this Sunday.
However, just before NFL spokesman Brian McCarthy concluded the Q&A session, a two-part question came from the back in regards to rumors that have begun to pick up that BEP will be joined onstage Sunday by two music legends.
The Black Eyed Peas didn't respond to the interesting part of the question, but that wasn't enough to quell the speculation.
Per the Associated Press, Usher and Slash are scheduled to make surprise appearances during the Super Bowl XLV Halftime Show.
Both musicians have worked with BEP in the past. will.i.am makes an appearance on Usher's single "O.M.G.," while Slash collaborated with Fergie in 2010 on the song "Beautiful Dangerous."
In addition, the Guns 'N Roses guitarist has performed on tour with the Black Eyed Peas in the past.
On a side note, Fergie told the media that she doesn't plan on having a wardrobe malfunction Sunday at Cowboys Stadium.
Lets hope Slash doesn't either.
Hit me up on Twitter: @JoeFortenbaugh