December 20, 2010 -
Joe Fortenbaugh
Survival of the fittest
Your motivational moment of the day…
Movie Videos & Movie Scenes at MOVIECLIPS.com
Players make plays
Michael Vick & the Philadelphia Eagles: Enough will be made of "The Miracle at the Meadowlands II" this week that you don't need to hear about it from a guy who wrote the Birds off at halftime (idiocy at it's absolute finest). What matters here from a fantasy perspective is that the Giants and Eagles got together on Sunday and posted big-time statistical results.
The 2010 NFL Game of the Year produced 782 yards of offense, 69 points and saw seven different players finish the afternoon with double-digit fantasy totals. Eagles quarterback Michael Vick (372 total yards, four touchdowns) led the charge with 42 points after going nuclear during an eight minute stretch to end the game that included 215 yards of offense and three touchdowns.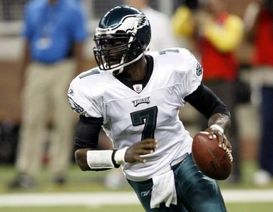 Another week, another huge game from Michael Vick.
Despite going down in history for one of the NFL's all-time worst choke jobs, several New York Giants had their way with the Philadelphia defense. Eli Manning (29 points), Mario Manningham (22 points), Hakeem Nicks (12 points) and Kevin Boss (11 points) all produced for owners during a critical playoff week. On the Philadelphia side, tight end Brent Celek (2-72-1) came through with his best game of a disappointing season while second-year wideout Jeremy Maclin found the end zone twice en route to a 16-point fantasy afternoon.
The only players who failed to make a splash in the most recent installment of one of the game's best rivalries were the running backs. Ahmad Bradshaw and LeSean McCoy totaled just seven fantasy points apiece, while Brandon Jacobs picked up only 34 total yards on 12 touches. Jacobs' afternoon was especially disappointing, considering the big bruiser had amassed 306 rushing yards and three touchdowns over his last three games.
Where do they go from here? That's an excellent question. I'd say be cautious with just about every New York player next Sunday when the Giants travel to Green Bay to take on the Packers. After a loss like that, this team could have trouble getting focused this week.
As for the Eagles, we'll find out over the next two months if this truly is a team of destiny.
**I have that sinking feeling in the pit of my stomach that I forgot to mention somebody…
The best player nobody talks about
Slim Charles: Outside of Vick, how many of you would throw a fit if I were to name Kansas City running back Jamaal Charles the 2010 Fantasy Football MVP?
Think about it: the KC dual-threat speedster was a second or third-round draft pick back in August that has produced double-digit fantasy point totals in ten of his 14 games this season. Charles ranks second behind Houston's Arian Foster in scrimmage yards (1,718) and currently leads all NFL running backs in scrimmage yards per touch (7.1).
In a crucial game that I'm sure few people bothered to watch, Charles was at it again on Sunday as the newly-minted running back rolled up 153 total yards and a touchdown on just 14 touches (10.9 yds/touch) in Kansas City's 27-13 win at St. Louis.
This guy gets the job done week in and week out with a limited amount of opportunities. I know that Foster has rolled up bigger numbers this season, but Charles has been as steady as a surgeon's hands through 15 weeks of action.
Backups blow up
Who saw this coming?
Rex Grossman, QB, Washington Redskins: 25/43, 322 yards, 4 TDs, 2 INTs (QB Rating: 93.4) in a 33-30 loss at Dallas.
Matt Flynn, QB, Green Bay Packers: 24/37, 251 yards, 3 TDs, 1 INT (QB Rating: 100.2) in a 31-27 loss at New England.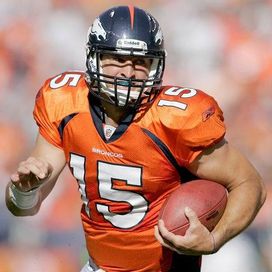 Tebow was impressive in his NFL debut.
Tim Tebow, QB, Denver Broncos: 8/16, 138 yards, 1 TD, 0 INTs (QB Rating: 100.5), 8 carries, 78 yards, 1 TD in a 39-23 loss at Oakland.
Granted, all three quarterbacks failed to deliver a win, but at the same time all three signal-callers played quality football that far exceeded the expectations of most.
Grossman's performance is sure to keep Donny Mac on the bench for the rest of the season, Flynn's outing was the product of a terrific gameplan put together by Green Bay head coach Mike McCarthy and Tebow's debut looked eerily similar to what we used to watch him produce during his glory days at Florida.
They probably won't get it, but all three of these guys deserve credit for the way they played on Sunday.
Speaking of Green Bay-New England…
Did anyone else notice that the Patriots delivered yet another victory despite holding the ball for just 19:12 on Sunday night?
There's no doubt in my mind that this is going to lead to the standard, "time of possession is meaningless" argument, but check out the following intel:
2010 Average Time of Possession: Top-Ten
1. NY Giants (9-5): 33:14
2. San Diego Chargers (8-6): 33:11
3. Atlanta Falcons (12-2): 32:39
4. Jacksonville Jaguars (8-6): 31:48
5. New York Jets (10-4): 31:41
6. Pittsburgh Steelers (10-4): 31:33
7. Philadelphia Eagles (10-4): 31:23
8. Green Bay Packers (8-6): 31:23
9. New Orleans Saints (10-4): 31:22
10. St. Louis Rams (6-8): 31:05
Combined Record: 91-49 (.650)
*9 of 10 teams currently have a winning record.
2010 Average Time of Possession: Bottom-Ten
32. Tennessee Titans (6-8): 25:49
31. Arizona Cardinals (4-10): 26:04
30. Seattle Seahawks (6-8): 26:58
29. Carolina Panthers (2-12): 27:49
28. Buffalo Bills (4-10): 27:55
27. Cleveland Browns (5-9): 27 :59
26. Washington Redskins (5-9): 28:01
25. Denver Broncos (3-11): 28:04
24. New England Patriots (12-2): 28:15
23. San Francisco 49ers (5-9): 28:51
Combined Record: 52-88 (.371)
*9 of 10 teams currently have a losing record.
Still think T.O.P. is meaningless?
The Buffalo Bills are turning up the heat
We're taking a different approach to today's column, but I still have to give the Bills credit when they win. This team won't quit, and they're making the LOCK OF THE YEAR very interesting down the stretch.
LOCK OF THE YEAR: Buffalo Bills UNDER 5.5 wins
After starting the season 0-8, Chan Gailey's crew has won four of its last six games and can still destroy the LOCK OF THE YEAR if they can manage wins against New England in Week 16 and the New York Jets in Week 17.
It may be a long shot, but this team has shown up to play week in and week out this season. No matter how 2010 ends for the Buffalo Bills, they deserve credit for showing heart, when teams like the Texans and Broncos continue to get their asses kicked each and every Sunday.
Delivering the goods when it matters
These five marquee fantasy players came up big in Week 15:
Cedric Benson, RB, Cincinnati Bengals: 31 carries, 150 yards, 1 TD in 19-17 win over Cleveland.
Jason Witten, TE, Dallas Cowboys: 10 receptions, 140 yards, 1 TD in 33-30 win over Washington.
Austin Collie, WR, Indianapolis Colts: 8 receptions, 87 yards, 2 TDs in 34-24 win over Jacksonville.
Matt Ryan, QB, Atlanta Falcons: 20/35, 174 yards, 3 TDs, 1 INT in 34-18 win over Seattle.
Brandon Marshall, WR, Miami Dolphins: 11 receptions, 106 yards, 1 TD in 17-14 loss vs. Buffalo.
Week 15 saw Benson and Witten turn in their best fantasy performances of the season, while Marshall posted his second-highest fantasy stat line of the year.
Better late than never
Be honest. How many of you started Vincent Jackson in Week 15?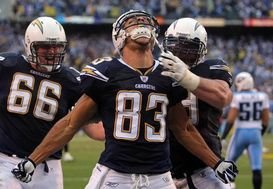 Jackson's Thursday night performance set the stage for a monster week.
Prior to last Thursday night, the San Diego wideout had appeared in just two games and recorded only two receptions for 29 yards on three targets in 2010.
Then, the 6'5" monster out of Northern Colorado dropped a bomb.
In a fantasy performance that almost certainly set up owners for a Week 15 win, V-Jax hauled in five passes for 112 yards and three touchdowns en route to a 29-point outburst.
Believe it or not, that was Jackson's highest fantasy total in 74 career games.
Nice timing.
Saints lose, still produce ridiculous highlights
For as great as the NFL is, scheduling the Saints-Ravens, Eagles-Giants and Jaguars-Colts games at the same time was a big mistake.
Regardless, if you somehow missed the highlights from what went down in Baltimore on Sunday afternoon, I've got you covered.
Jimmy Graham only needs one hand
Did Lance Moore make the catch of the year?
Mark my words, Jimmy Graham is going to be on EVERYBODY'S sleeper list next season. The 6'6" tight end out of Miami was a college hoops standout before giving football a try. He's only caught 25 passes on the season, but expect the Saints to move him into the starting lineup for good come 2011.
Ray Rice!
Prior to Sunday's showdown with the Saints, Ravens running back Ray Rice had scored just one rushing touchdown over his last eight games. As if that didn't cause enough of a problem for fantasy owners, Rice entered Week 15 with only one 100+ yard rushing performance in 13 starts.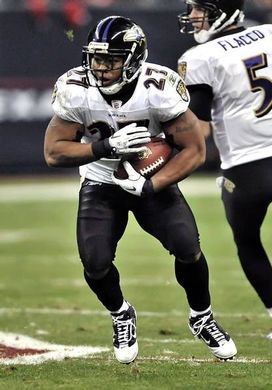 ICONWhen it mattered most, Ray Rice made a splash.
But when it mattered most, the former Rutgers standout delivered.
Rice carried the ball a career-high 31 times for 153 yards and a touchdown in Baltimore's impressive 30-24 win over New Orleans on Sunday. In addition, the third-year back racked up another 80 yards and a touchdown on five receptions.
This guy was a top-five pick back in August, but Rice has been a bit of a disappointment this season.
However, I think we'd all agree that Sunday's clutch performance demonstrated exactly why this guy is one of the league's most dangerous players.
NFP Expert's League Update
Earning the No. 1 seed appears to be a jinx.
For the second consecutive year, the top-seeded team in the NFP Fantasy Expert's League made a quick exit. RotoWorld put a big-time hurting on Yahoo! Sunday afternoon and will advance to next week's Championship game.
The other semi-final matchup featured a rematch of last year's Title game, as the National Football Post and CBSSports went head-to-head for a chance to play for the championship.
As it currently stands, the NFP is trailing by 2.3 points with Vikings running back Adrian Peterson yet to play. CBS Sports has nobody left.
Will my top pick deliver in the clutch?
CLICK HERE TO FOLLOW THE ACTION.
Fail
These five players were M.I.A. when it mattered most: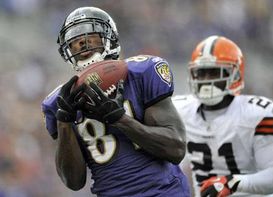 Paging Anquan Boldin.
Anquan Boldin, WR, Baltimore Ravens: 1 reception, 2 yards, 0 TDs on 2 targets in 30-24 win over New Orleans.
Knowshon Moreno, RB, Denver Broncos: 5 touches, 6 yards, 0 TDs in 39-23 loss at Oakland.
Reggie Wayne, WR, Indianapolis Colts: 5 receptions, 34 yards, 0 TDs on 9 targets in 34-24 win over Jacksonville.
Maurice Jones-Drew, RB, Jacksonville Jaguars: 17 touches, 68 yards, 0 TDs in 34-24 loss at Indianapolis.
Dwayne Bowe, WR, Kansas Chiefs: 2 receptions, 53 yards, 0 TDs on 6 targets in 27-13 win at St. Louis.
MONDAY NIGHT PICK 'EM
Leave a comment below with your pick for who will win tonight's game as well as the total amount of points that you think will be scored (this serves as the tiebreaker). I'll email the winner on Tuesday and will send out some stuff courtesy of the good folks at Procter & Gamble.
You are picking against the spread and your comment should look as follows:
VIKINGS, 41
The Enter the red zone Monday night picks are currently 8-8.
It's an NFC North showdown as the Bears and Vikings get set to butt heads on Monday night.
Opening Line: Bears -9/33?
Current Line: Bears -8/33.5
Joe Webb at quarterback? I'll take the Bears and will lay the eight points.
Who ya got?
Hit me up on Twitter: @JoeFortenbaugh
Win cash today playing fantasy football with the NFP and FanDuel.