January 07, 2013 -
Joe Fortenbaugh
Swing and a miss
It's easy to stand on the mountaintop and beat your chest like a gorilla when a prediction you made days, weeks or even months in advance turns out to be correct. You want people to bow down in awe, reveling in The Great Prognosticator's marvelous powers. Never mind the fact that you may have biffed once or twice in the past. That doesn't matter. You were money on this occasion and the world deserves to know it. After all, it's much more fun to be right than it is to be wrong.
This is an article about what happens when the opposite of being right occurs. I'd use the term wrong or incorrect, but that just doesn't do it justice. You're about to be reminded of one of the most gloriously inaccurate NFL predictions that made its way onto the internet during the preseason. If time-traveling DeLoreans did, in fact, exist, the present version of myself would be well within his rights to visit the August version of myself for the sole purpose of punching him square in the jaw.
This is what I had to say about Russell Wilson and the Seattle Seahawks back on August 27, when writing a preview on NFL season win totals:
Time to put my money where my mouth is. I've got nothing against Russell Wilson as a person. He's dedicated, hard-working and intelligent. But I believe he's a vastly overrated quarterback and I think the twitter universe is putting way too much emphasis on what he's done in meaningless preseason games. Wilson isn't a fourth quarter closer (Oregon & Ohio State games in 2011, Virginia Tech game in 2010) and is going to struggle once the games start counting. I'm going to sit tight for a few days to see if the hype forces oddsmakers to adjust north before I lock this one in, but rest assured, I'm making this play.
Good stuff, right? And don't feel bad about laughing because that's something I've been doing for the last three months.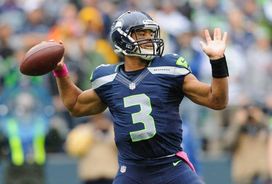 Wilson's 100.0 QB rating ranked fourth among NFL quarterbacks in 2012.
The past version of myself appears to make it through the first three sentences without much of a problem. Dedicated, hard-working and intelligent? Yep, Wilson personifies all three characteristics. But the prediction falls apart shortly thereafter to the point where the only accuracies occur with the capitalization of the first letter of the first word of each sentence. Outside of that grammatical marvel, it's a total mess.
"Wilson isn't a fourth quarter closer…"
This is my favorite part. In 17 starts as a rookie, Wilson led four fourth quarter comebacks against teams with a combined record of 43-21. Three of those teams (Green Bay, New England, Washington) qualified for the postseason. Wilson came back to beat all of them, as well as the Chicago Bears, while amassing 903 passing yards, 173 rushing yards, eight touchdown passes and zero interceptions in the process. That's clutch. That's how you close out football games.
This article is equal parts admission and declaration. Admission of failure on the Seattle prediction and declaration of the bandwagon I've been riding since early December. Russell Wilson didn't just prove me wrong, he got me watching every minute of every Seattle game from Chicago in Week 13 through Sunday's thrilling comeback win over Washington. I'd say this well-spoken, 24-year-old has made me a believer, but that's a corny and overused statement. Instead, Wilson has turned me into an admirer, of both his on-the-field electricity and off-the-field demeanor. He doesn't play like a rookie. Instead, Wilson plays like a guy who has been doing what he does in the NFL for close to a decade.
I originally planned to pen this piece at the conclusion of Seattle's season. But after Sunday's performance on the road at Washington, down 14-0 in a hostile environment less than a quarter into the contest, I realized that today was the day. Not because Seattle won, but because of how they did it. Their rookie quarterback, making his first career postseason start, was unflappable.
And when Wilson sprinted downfield to throw the block that paved the way for Marshawn Lynch's game-winning score, I knew that the time had finally come. Not just to write this article, but to start planning my first trip to CenturyLink Field for a primetime Seahawks game. And not to take up space in the warm and comfortable press box, but to sit in the stands, with the true believers. The ones who have supported Wilson and this Seahawks team from day one.
Hopefully, they'll welcome me. If only to tell me how wrong I had been last August.
Hit me up on Twitter: @JoeFortenbaugh