March 15, 2013 -
Joe Fortenbaugh
Talks heating up between 49ers and Asomugha, Woodson
The San Francisco 49ers went 11-4-1 during the 2012 regular season thanks, in part, to a lockdown defensive unit that ranked fourth in the league against the pass (200.2 yds/gm) and second in scoring (17.1 pts/gm).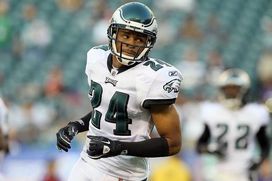 Nnamdi Asomugha looks to put his disastrous two-year stint in Philly behind him.
But it was a different story when the Niners reached the playoffs. Despite taking out both Green Bay and Atlanta en route to a much-deserved trip to New Orleans, the San Fran secondary was victimized to the tune of 306.0 passing yards and 29.7 points per game during their three postseason contests. As the competition got better, San Francisco's weaknesses were exposed.
In an effort to upgrade the backend of the secondary before another possible trip to the Super Bowl, the 49ers have engaged in "serious discussions" with free agent defenders Nnamdi Asomugha and Charles Woodson, per Akbar Gbaja-Biamila of the NFL Network.
With Woodson scheduled to turn 37-years-old in October and Asomugha turning 32 in July, it's unlikely that either player would be offered a long-term deal to join the defending NFC Champions. For Woodson, this would likely be the final contract of his illustrious NFL career. For Asomugha, it could be a one-year "prove it" contract that sends the former Philadelphia Eagle right back out into the free agent waters next season.
Those arrangements may not be ideal for either player, but at least it would give them a chance to play for a legitimate contender.
Hit me up on Twitter: @JoeFortenbaugh