June 03, 2014 -
Joe Fortenbaugh
Tar Heels rising?
Friday, June 13 marks the next football-related "holiday" in Las Vegas, as swarms of Phil Steele magazine-toting gamblers will stake their positions in line at the Golden Nugget sports book to bet into the shop's 2014 College Football Games of the Year. An annual rite of spring in Sin City, the Nugget's release of point spreads for over 200 notable college football showdowns will not only draw nationwide attention, but will also serve to bust open the floodgates for more CFB offerings such as the highly anticipated season win totals, which will follow at a variety of sports books shortly thereafter.
Throughout the summer months we'll be taking a more in-depth look at a variety of college football programs around the country based more on the buzz these specific schools are generating amongst betting circles in Las Vegas rather than their overall popularity. The goal, as always, is to try and identify which opportunities present the most value.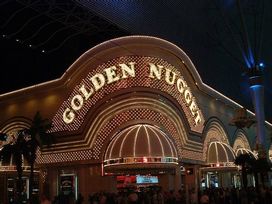 The Golden Nugget will be ground zero for sports bettors on June 13.
Following a 7-6 campaign in 2013 that featured a 6-1 record (both straight-up and against the spread) over the program's final seven contests, the North Carolina Tar Heels are one of the teams we've heard mentioned repeatedly amongst professional bettors in Las Vegas over the last few weeks. Head coach Larry Fedora and his high-speed offense look to utilize last year's solid finish as a stepping stone towards a breakout campaign this fall.
2014 marks year three of the Fedora administration, which opened with an 8-4 season in 2012 before last year's 7-6 result. But while the Tar Heels took a small step back in the win department from year one to year two, Fedora's crew improved its conference point differential from +35 to +46, sack differential from +5 to +7 and overall third down completion percentage from 36.7 percent to 40.0 percent. UNC recorded a +2 conference turnover differential in 2012, with that number dropping to +1 last year. But don't forget about the fact that 15 starters return to the field for North Carolina this season.
Remember, Fedora is the guy who went 7-6 in each of his first two years at Southern Mississippi (2008, 2009) before blowing the door off the barn with a 20-7 record over his final two seasons with the Golden Eagles before taking the North Carolina job.
THE OFFENSE
Led by dual threat junior quarterback Marquise Williams—who stepped in and guided the Tar Heels to four wins over their final five games last season—the North Carolina offense looks to be every bit as explosive as advertised. Yes, leading pass-catcher and All-ACC tight end Eric Ebron departed for the professional ranks, but the return of wideouts Quinshad Davis (48-730-10), Ryan Switzer (32-341-3), Bug Howard (22-278-4) and T.J. Thorpe (24-267-2) means the Tar Heels will take the field with four of last season's top five receivers. The running back position is especially deep thanks to the return of game-changer T.J. Logan (93-533-4) and addition of freshman power back Elijah Hood.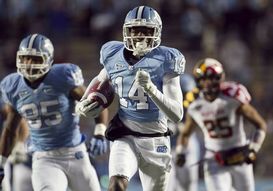 Davis led all UNC receivers with ten touchdown receptions last season.
The issue for UNC's offense will be whether or not the offensive line can come together quickly and provide adequate protection for Williams. Three starters (LG Caleb Peterson, RG Landon Turner, RT Jon Heck) are back, but this unit lost stud left tackle James Hurst and center Russell Bodine during the off-season.
Note: While Williams closed out the 2013 campaign on a high note, there's no guarantee he'll win or even hold down the starting job in Chapel Hill this season. Fedora said he's comfortable with both Williams and redshirt freshman Mitch Trubisky under center.
THE DEFENSE
This blitz-heavy unit with a 4-2-5 alignment took a big step forward from 2011 to 2012, as the Tar Heels went from surrendering the staggering averages of 452.6 total yards and 32.8 points per conference game to 388.7 total yards and 22.3 points per conference game. Sack specialist Kareem Martin (11.5) is gone, but senior Norkeithus Otis (7.5 sacks, 13 tackles for loss in 2012) will fill that void from the Bandit position while starting safeties Dominique Green (3 interceptions) and Tim Scott (2 interceptions) return to hold down the secondary. Three-year starter Travis Hughes (76 tackles, one sack) will anchor the linebacking unit while looking to close out his collegiate career with a bang.
THE SCHEDULE
8/30: vs. Liberty
9/6: vs. San Diego State
9/20: at East Carolina
9/27: at Clemson
10/4: vs. Virginia Tech
10/11: at Notre Dame
10/18: vs. Georgia Tech
10/25: at Virginia
11/1: at Miami (FL)
11/15: vs. Pittsburgh
11/20: at Duke
11/29: vs. North Carolina State
FROM THE EXPERTS
Nine of UNC's 12 games (vs. SDSU, at Clemson, vs. Virginia Tech, at Notre Dame, at Virginia, at Miami, vs. Pittsburgh, at Duke, vs. NC State) are scheduled to hit the board at the Golden Nugget on June 13. In addition, while no sports book in Vegas has released a slate of college football win totals yet, offshore shop 5Dimes.eu recently listed the Tar Heels with a win total of 7.5 (over: -140, under: +100).
"North Carolina has a good nucleus coming back, but they were pretty inconsistent last year," Chris Andrews, bookmaker and co-founder of the website Against The Number told the National Football Post. "They have the talent to have a good season with maybe eight or nine wins, but they have an early test against a good East Carolina team. That game will mean a lot more to ECU and if North Carolina loses in that spot, it could send the Tar Heels into a tailspin. They follow that game with a trip to Clemson, then home against Virginia Tech and then back on the road to Notre Dame. UNC could easily lose every one of those. I doubt they could win them all."
Andrews recently posted his own 2014 college football win totals, with North Carolina listed at 6.5 (over: +120, under: -140).
"I think 6.5 if a fair number for them, but I tend to skew numbers low," said Andrews. "After all my years of bookmaking, I know the wise guys bet about 65-75% on unders when it comes to season win totals."
But what about UNC's upside?
"Realistically, if they get a lot of breaks, go injury free and have much more consistent play, they could finish 10-2," said Andrews. "That would be with a hell of a lot of things going their way. If they lose to ECU and it puts them on tilt, they could wind up going 4-8."
2013 RESULTS
8/29: Loss, 27-10 at South Carolina
9/7: Win, 40-20 vs. Middle Tennessee
9/21: Loss, 28-20 at Georgia Tech
9/28: Loss, 55-31 vs. East Carolina
10/5: Loss, 27-17 at Virginia Tech
10/17: Loss, 27-23 vs. Miami
10/26: Win, 34-10 vs. Boston College
11/2: Win, 27-19 at North Carolina State
11/9: Win, 45-14 vs. Virginia
11/16: Win, 34-27 at P ittsburgh
11/23: Win, 80-20 vs. Old Dominion
11/30: Loss, 27-25 vs. Duke
12/28: Win, 39-17 vs. Cincinnati (Belk Bowl)
Hit me up on Twitter: @JoeFortenbaugh
Follow Chris on Twitter: @andrewssports