March 12, 2012 -
Joe Fortenbaugh
Tebow listed as favorite to land cover of Madden 13
If the Broncos get their way and the internet decides to rebel, the video game makers over at EA Sports could have an interesting situation on their hands.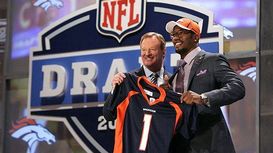 IconLook out for Broncos linebacker Von Miller at 30/1.
For the second straight year, EA Sports is leaving it up to the fans to decide which NFL player will grace the cover of the latest installment of the popular Madden video game franchise. 64 players—two from each team—were announced as the candidates for this year's cover on March 7.
And since time has shown us that people will bet on just about anything, offshore sportsbook Bovada.LV recently posted odds on which candidate will win the vote and wind up on the cover of Madden 13. To nobody's surprise, current Broncos quarterback Tim Tebow was listed as the favorite at 5/1.
But what happens if the Broncos sign Peyton Manning, ship Tebow out of town and then the popular quarterback wins the vote? Would Tebow appear on the cover as a member of his new team?
The opportunity is there for the fans to cause a boatload of havoc. The next few weeks should be fun.
Hit me up on Twitter: @JoeFortenbaugh