July 29, 2011 -
Barry Dorey
Texans continue to make moves on defense
The Houston Texans are currently listed at +225 to win the AFC South this season, right behind Peyton Manning and the Colts at -175.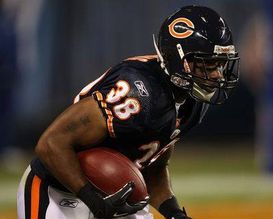 After five years in Chicago, Manning is headed to Houston.
We have a feeling those numbers will be a bit closer to each other once we get to Week 1.
After spending their first five selections on defenders this past April and then following that up with Thursday night's acquisition of free agent cornerback Johnathan Joseph, the Texans have struck again, agreeing to terms with free agent safety Danieal Manning.
John McClain of the Houston Chronicle reports that it's a four-year deal worth $20 million with $9 million guaranteed.
The 28-year-old from Abilene Christian wasn't a star during his five-years in Chicago, but he did start 56 games and amass 331 tackles.
More importantly, he's another upgrade to a Texans team that ranked 30th in the league in total defense last season.
Hit me up on Twitter: @JoeFortenbaugh