August 05, 2013 -
Joe Fortenbaugh
Texas A&M lines begin to disappear in Vegas
The Johnny Manziel summer rock star tour made yet another national headline-grabbing stop on Sunday, as ESPN's Darren Rovell reported that the NCAA is investigating whether or not the Texas A&M quarterback and Heisman Trophy winner was paid to sign autographs and sports memorabilia in Florida this past January. Should Manziel be found to have violated NCAA Bylaw 12.5.2.1, the star signal-caller could be ruled ineligible to play in 2013.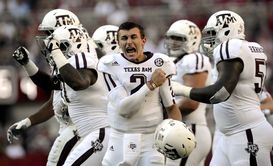 Johnny Manziel continues to make headlines for all the wrong reasons.
Manziel's return to the front page of the sports section comes just over two weeks after reports surfaced that the quarterback was asked to leave the Manning Passing Academy due to arriving late and hungover for a Saturday practice session. But these two reports, while both carrying a negative connotation, have already had a very different impact in the eyes of Las Vegas bookmakers. The Manning Passing Academy incident had little effect on the betting market, but Sunday's report has been interpreted a much different way.
Our friend David Purdum broke the news on Sunday evening that the LVH SuperBook in Las Vegas had yanked their Texas A&M season win total and Games of the Year point spreads off the board in the wake of Rovell's report. In addition, the LVH has since moved the Aggies from 12/1 to 15/1 to win the National Championship and 6/1 to 8/1 to win the SEC this season.
Texas A&M was previously listed as a 6.5-point underdog for their September 14 home showdown with Alabama. That game is now off the board.
For the moment, bettors interested in wagering on or against Texas A&M for individual games or the team's season win total will have to wait for more information on the Manziel autograph controversy to surface before having the opportunity to do so.
Hit me up on Twitter: @JoeFortenbaugh