September 17, 2012 -
Joe Fortenbaugh
Thank you, Michael Vick
It's been a long time since I've sat in front of the television and enjoyed the game of football as a fan.
There was a time in my life when Sundays followed a much darker path than they do today. Seven years ago when I was living in San Diego was probably the height of my insanity. I was a die-hard Philadelphia Eagles fan who followed a very strict routine each and every Sunday: Wake up at 8:00am pacific, shower and throw on my freshly washed Donovan McNabb jersey, arrive at the Pennant in South Mission Beach by 9:00am, start obsessing over the day's opponent.
I was living in my own world during that three-hour stretch of fandom, screaming at the television, cursing the officials, slugging beers and telling Cowboys fans they suck. Eagle losses stayed with me for days. Victories meant the party kept going until the bartenders threw me out. My fantasy football rosters meant nothing, while any bets I may have placed didn't even register on the radar.
At the time I had a girlfriend who tried to support the madness by going so far as to buy her own matching Eagles jersey. She learned the roster, studied the opponents and showed up on Sundays just before kickoff to witness my absurd and classless behavior.
She lasted two games, resigned to the fact that her time would be better spent doing literally anything else. Watching me slip into an inconsolable mess when the Eagles failed to convert on third down wasn't something she found to be sexy.
Her loss.
But things change and as people get older, I'm told they become more responsible. Priorities are altered and maturity takes over. The wild beast becomes housebroken.
For me, the fandom came to an end when I had the opportunity to join the National Football Post just over four years ago. I didn't plan for it to happen, but when you spend 365 days a year covering 32 NFL teams, that lunatic fan inside you that lies dormant during the summer no longer comes out of hibernation to rear his ugly head on Sundays.
I had become desensitized. In my mind, the Eagles were just another team.
But something unexpected happened on Sunday morning when I noticed that the Eagles-Ravens showdown was the national CBS game here in Las Vegas. I was getting ready to bolt out the door when I heard the Rocky theme music blasting from the speakers at Lincoln Financial Field in the background of the pregame telecast. I took a step back, thought about all those people who had already crowned the Ravens as the 2013 Super Bowl Champions and I stopped dead in my tracks.
I needed to watch this game.
I still can't explain what exactly came over me, but for the first time in as long as I can remember, I stayed at home by myself to watch an Eagles game. No sportsbooks, no bars, no parties, no tailgates. Just me and the Birds.
And the beast, who was brought out of a five+ year hibernation by the most unlikely of people.
Michael Vick.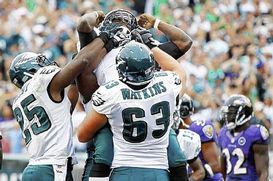 Vick to some heavy physical abuse, but still emerged victorious in Sunday's showdown with Baltimore.
I've made it no secret over the last few years that I'm not a fan of Vick. I think he's overpaid and overrated. People confuse his electrifying play with quality NFL signal-calling. Aaron Rodgers isn't electrifying, but he's a damn good quarterback with a Vince Lombardi Trophy under his belt. Vick is a turnover-prone scrambler with a career 2-4 postseason record whose deepest playoff run ended in a 27-10 loss at—you guessed it—Lincoln Financial Field in Philadelphia.
But none of that mattered on Sunday. In fact, none of that may ever matter again after spending three hours watching Vick peel himself off the turf play after play after play to help keep the Eagles in the game. Every time it appeared that Baltimore was going to put the matchup to bed, Vick and the Eagles responded.
And when the game was on the line with 1:57 remaining in the fourth quarter on third and one from the one with the Eagles down by six, Vick did what Vick does best. He ran off tackle and took yet another shot from defensive tackle Haloti Ngata as he dove headfirst across the goal line for the game-winning score.
The fans erupted, the Philadelphia offense celebrated and the beast—for the first time in years—was smiling from ear to ear over an Eagles victory.
Vick's final stat line wasn't what did it for me. I've always valued toughness in NFL players over anything else. I'll take Ray Lewis any day of the week and twice on Sundays over a dancing ballerina with a choreographed end zone celebration.
What did if for me was the way the guy kept responding to the onslaught of physical abuse he took over the course of three hours in South Philly on Sunday. I'm not sure I've ever seen a quarterback take as vicious a pounding as Vick took against the Ravens and keep coming back for more. No matter what your opinion is of the guy, you have to respect his toughness.
How Vick is capable of getting out of bed today is beyond me. Just one of the shots he took yesterday would be enough to land my out of shape, pillow of a body in a hospital bed for a month. That's probably one of the reasons why I was on the couch and he was on the field Sunday afternoon.
The beast is back in hibernation now and it's uncertain if we'll ever see him again. But for one Sunday afternoon in September, he came back in full force to watch the team he grew up rooting for gut out a win over one of the best teams in the NFL.
Thank you, Michael Vick. I had forgotten how much fun that could be.
Hit me up on Twitter: @JoeFortenbaugh