February 05, 2012 -
Joe Fortenbaugh
That Tom Brady safety earned one lucky person $50,000
While a good portion of the betting public was sweating out the final quarter of Super Bowl XLVI, one lucky person in Las Vegas was already sitting pretty and smiling from ear to ear.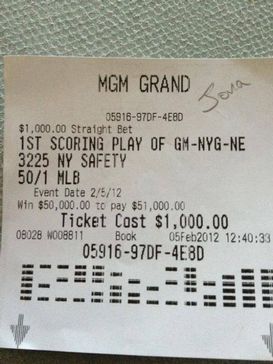 Cha-Ching!
That's because that aforementioned person bet $1,000 at 50/1 that the first score of the Giants-Patriots Super Bowl would be a safety.
For those of you who aren't too quick on the math uptake, that's a smooth $50,000 profit thanks to an intentional grounding call on Tom Brady that resulted in a safety on the Patriots' first offensive play of the game.
We don't have the name of the individual who made the bet at the current moment, but @benjaminlyons tweeted me a picture of the betting ticket that is going to make the MGM Grand cringe when they're asked to cash it.
There are sure to be more stories that surface in the next 48 hours regarding people who hit it big in Vegas over the weekend, but as of Sunday night, the dude who just cracked the MGM Grand is clearly the frontrunner for top prop bettor of the weekend.
If you come across any stories like this in the next few days, feel free to shoot me an email at Joe.Fortenbaugh@NationalFootballPost.com.
Hit me up on Twitter: @JoeFortenbaugh